With summer fast approaching, travel is inevitable. You might be going on a European adventure or maybe a local trip to a nearby lake, but either way it's a huge time for travel. I have been lucky enough to get to travel a lot in my life, and over the years I have been able to weed out the items you do and do not need for travel. Here are a few things you absolutely need for travel, at least in my opinion. Let's get into it!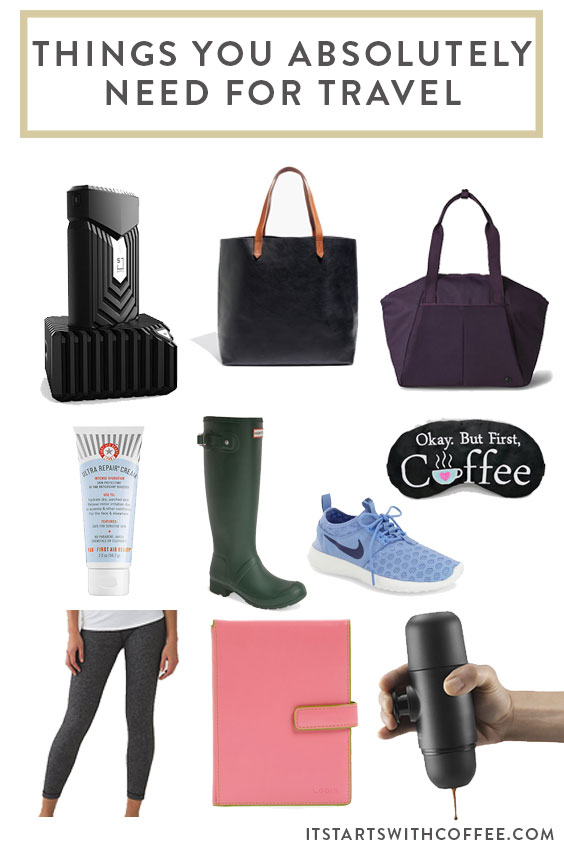 A good bag: I am kind of a tote bag hoarder. We have an entire closet upstairs with a big pile of tote bags. However, there are a few travel bags I really love. I find having a good bag for travel to be paramount. Nothing like going through an airport with a horrible carry-on bag that annoys you. Being on an airplane isn't fun, so your bag should be easy! My two favorites are the Madewell transport tote which I have gushed about before, or a cute Luluelmon gym bag with lots of pockets!
A way to charge your technology: I am not sure how I ever functioned without portable chargers. I have a small one I keep in my purse, and a larger one for travel. The larger one is slightly more bulky, but it has several slots to charge more than one thing at a time. It also lasts a lot longer. I think I can get 3-4 charges out of it which can be great if you are at the airport all day or on a long trip! If you're in the market for a durable (and super-fast) portable charger try the Simpiz iTron from Apollo Box. iTron is the world's fastest charger that beats out the rest in the market. It only takes a few minutes to recharge fully for usage. Lifesaver for sure.
Coffee in a pinch: You guys know I love my coffee. Specifically I am a latte drinker. Here is the thing though, as much as I love Starbucks it's not everywhere (small towns, lakes, etc…) and it's not the most economical thing during travel. Enter into your lives the Minipresso from Apollo Box! Making coffee has never been so easy! Whether you plan to go hiking, camping, boating, or stay in a hotel, the Minipresso's compactness makes it the ideal espresso machine to put into your bag or backpack. Basically it's as if someone asked me exactly what was missing from my life and then made it for me! We are heading to the lake soon and this bad boy is coming right along with me! It is compact, lightweight and does NOT require electricity! Hallelujah!
The right outfit: For me, no matter what kind of trip it is, I want to be comfortable when I travel. If I am going on a plane I almost always wear Lululemon high times pants because they are breathable and they keep me warm on cold flights. I also almost always wear Nike running shoes. Depending on the airport there can be a lot of walking. Plus if you are flying to a city where you might be taking a train or subway from the airport to a hotel you will be walking for sure. If we are in the car I will either wear the high times pants or workout shorts depending on the season. Comfort is key! A cute sleep mask for long flights doesn't hurt either!
Shoes that pack well: Shoes take up a lot of space. No matter what kind of trip you are going on, shoes can be the bane of your existence if you let them. I am a pretty typical girl in that I like to take a lot shoes with me when I travel. Over the years I have found that there are certain shoes that just work better for travel. Either because they pack well or they go with several outfits or better yet they accomplish both! A few of my favorites are Nike Juvenate sneakers, Tieks, and Hunter Tour Rainboots. All of these shoes pack super well and depending on the color you have can go with TONS of things!
Good Skincare: Travel, no matter what kind, will kill your skin! Late nights, alcoholic beverages, and changes in altitude can all hurt your skin. I always always always travel with moisturizer. I tend to not wear much makeup, usually just mascara, concealer, powder and lip gloss, but I apply tons of moisturizer. I also sometimes wear no makeup and do a sheet mask on a long flight. This is the best sheet mask for travel detox!
A way to organize everything: If you are traveling abroad or even going on a long trip a good travel wallet is a must. When we went on our cruise I snatched this guy up and I love it! It was really inexpensive and held the basics (license, debit card, credit card, and passport). It also has space for a little cash!
Make sure to check out Apollo Box. Apollo Box introduces you to unique, trendy products you'll love. Membership to Apollo Box is free and comes with special discounts and offers. Apollo Box is a platform of creative and fancy products. They help customers discover the coolest stuff in the world. All products are available for purchase online, offered with exclusive member-only discounts
I would love to know what things you absolutely need for travel! Please let me know in the comments!
This is a sponsored conversation written by me on behalf of Apollo Box. The opinions and text are all mine.