My current eyeliner sponsor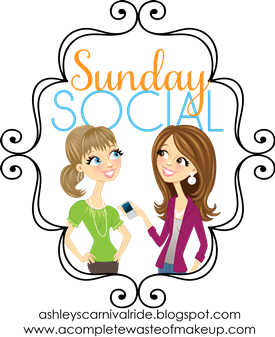 Before we get on with it dont forget to link up Tuesday with my one day amazing linkup NEVER EVER EVER! Click that post for info and the button and I hope to see you all there!
It's Sunday Social time again! I can't believe we are a few weeks away from one year of the Sunday Social and honestly we couldn't do this without the amazing feedback we get from you guys so thank you so much!!
This Weeks Questions:
Did you sleepwalk as a child? Ha so here's a story. When I was maybe 5 or 6 I woke up to a banging on my bathroom door(my bathroom was down the hall from my bedroom). It was my parents. They were banging on the door. Why? Cause in my sleep I had walked into the bathroom. Locked the door. Then I fell asleep in the empty bathtub clutching a bath toy. Thats the night we all learned how easy it was to break the lock on that bathroom door. True Story.
Did you ever try to run away or sneak out of your house? Run away? Yes once my friend and I packed nutter butters and capri suns in a backpack and ran away to the elementary school on our bikes. Lasted about an hour. Snuck out? No because I never had to. My mom had an honesty policy and if I wanted to go somewhere I could.
Did you have any imaginary friends? Yes I had 3. I wont name names but I had 3. They left when I was 6…assholes.
Did you ever go toilet papering? Yes and as a result most Saturday mornings were spent cleaning up toilet paper in my front yard….thanks high school jerks.

(Not my house)
Did you ever sneak tv shows you weren't allowed to watch? Not TV shows cause I was pretty much allowed to watch whatever but movies yes. I snuck movies I was not allowed to watch all the time. Bonus to having cable in my bedroom as a kid 🙂
Next Weeks Questions:
1. 4 favorite things to do on a weekend
2. 4 favorite things about your best friend
3. 4 things you would do with $100,000
4. 4 favorite books you've ever read
5. 4 favorite snack foods
6. 4 things that you must do daily
Come link up with Ashley and I and I challenge you to go read and comment on 5 new blogs! Make someones day and make new friends! Happy Sunday!