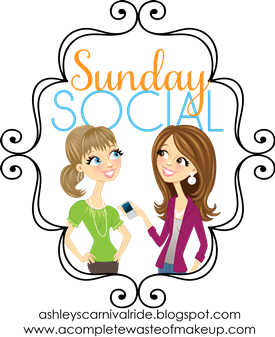 Happy Sunday! I am in CHICAGO!!!! Bloggy Boot Camp was yesterday so I will have a full post on that later this week. Today I am hanging with friends, doing brunch, shopping and enjoying this fab city! My flight is late tomorrow evening so I have all of tomorrow too! WOOHOO!
So lets get some Sunday Social going
This Weeks Questions: Catch us up with your life
What is currently on your wish list? New Macbook Pro, New iPhone, an apartment in Chicago hehe also this keychain…
Share a new iphone, droid, ipad app you have recently discovered that we all need: I am late to the party here but I love Flipboard and Evernote
What is a new Fall TV show you have added to your DVR? Nashville for sure! This show is CRAZY GOOD! Also I really love Partners and The New Normal.
Share your Social Media links for us to follow you on(pinterest, twitter, facebook, etc) Tell us which is your favorite and why? Pinterest Twitter Facebook Instagram Tumblr
My favorite is Twitter obviously but I also love Pinterest and Instagram…I could really give or take Facebook.
What is a TV show or Movie or Song you could listen to or watch over and over and over and never get tired of…feel free to name one of each: TV show either The Hills or Teen Mom because I just love mindless crap. Movie: The Holiday or When Harry Met Sally. Song: Anna Begins by Counting Crows …its so mellow…so perfect.
Next Weeks Questions: All about Thanksgiving
Favorite Thanksgiving Memory
Favorite Thanksgiving Food
What is a Thanksgiving Tradition you and your family have?
Show us a favorite Thanksgiving picture(or 5) from years past
What are you most looking forward to about this Thanksgiving?
Link up with Ashley and I and get Social!
Linky: