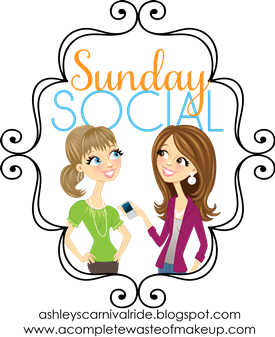 Happy Sunday Friends! This weekend has been very relaxing which is exactly what I needed after 2 solid months of crazy weekends! Saw Argo again(AMAZING), spent some time with my dad having breakfast at the Jew Deli(yes I can say that) and spent time with my best friend. What's better than that?
So its Sunday lets Get all Sunday Social on this blog
This Weeks Questions:
Favorite Thanksgiving Memory: So in 2009(may have been 2010) I believe the Cowboys weren't doing great and the Saints were being the Saints and being awesome and the Cowboys beat them on Thanksgiving…big deal in my family! Also last year was really great. My cousins were home, Dad was healthy, everyone was happy and it was really a great day.
Favorite Thanksgiving Food: OK Im a carb person…rolls and any kind of potato
What is a Thanksgiving Tradition you and your family have? Eating during half time of the Cowboy game for sure. Im sure other people do this but the Cowboys ALWAYS play Thanksgiving Day so we watch the first half, make our plates during half time and sit in front of the TV and watch halftime and the rest of the game. WINNING!
Show us a favorite Thanksgiving picture(or 5) from years past
Cousins 2007(the cups are wine)
Cousins 2011
We are 18 months apart…love her
Daddy and I last year
What are you most looking forward to about this Thanksgiving? I wrote about it on Friday but just having my dad here, getting healthier and being thankful for him. I am looking forward to running the Turkey Trot for the 6th year in a row….8 miles may kill my knee…we will see.
Next Weeks Question:
Tell us what you are most Thankful For this year, it can be one thing or 25 things. Include pictures, reasons, whatever you want. Lets kick off Thanksgiving week by being Thankful on Sunday!
Come link up with Ashley and I today and get Social!