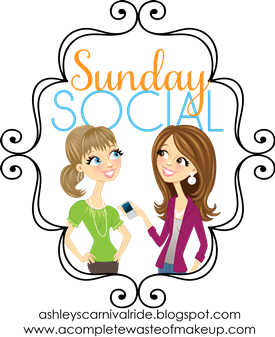 Happy Sunday Social day! I hope you had a great Thanksgiving and you are enjoying a relaxing weekend! Yes we are having the Sunday Social even on Holiday weekends so make sure you link up!
This Week's Questions:
1. Name 4 jobs you've had in your life: Nanny, Camp Counselor, Advertising Copy Writer, Social Media Manager
2. Name 4 movies you would watch over and over: The Holiday, St. Elmos Fire, Up in the Air, It's Complicated
3. Name 4 places you have lived: Dallas, Plano(haha), Nacogdoches and Denton
4. Name 4 of your favorite foods: Mac and Cheese(obvi), Pizza, Apples, and Spinach(Im weird)
5. Name 4 things you always carry with you: iPhone, lip gloss, gum, wallet
6. Name 4 places you have been on vacation: Paris, Chicago, Savannah, GA, and New York…the favs
Next Weeks's Questions: We are getting into the Holiday Spirit
1. What is your favorite Holiday season tradition?
2. Do you have a certain Holiday movie you watch more than others? If so what is it?
3. Show us your favorite decoration or pinterest decoration you wish you could have
4. Favorite Holiday song?
5. Favorite Holiday dessert?
6. What is on your wish list this year?
Link up with Ashley and I and we hope you have had a great Holiday weekend!!