This post brought to you by Evolution Fresh®. The content and opinions expressed below are that of It Starts With Coffee.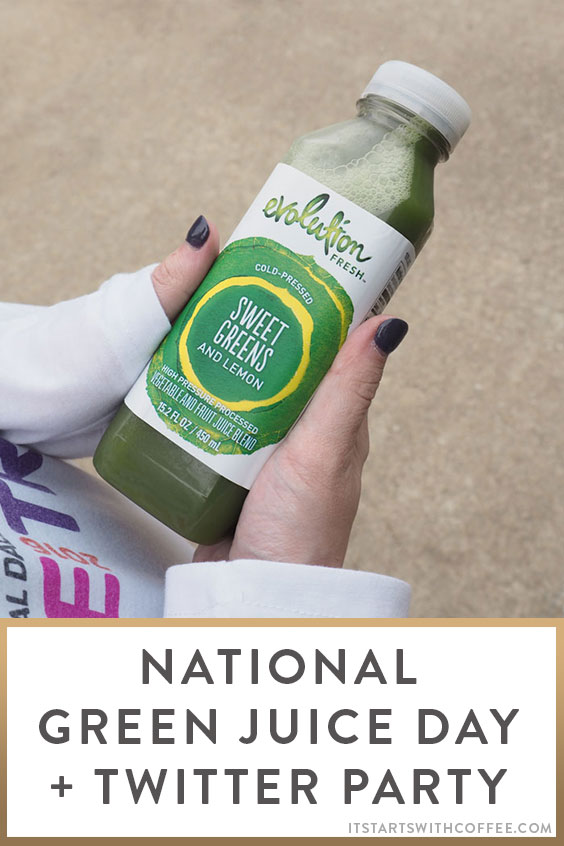 Did you guys know that January 26th 2016 Evolution Fresh had their first national green juice day (NGJD)? This was to celebrate the love for green juice and drive excitement amongst super premium juice drinkers. In its first year, multi-platform NGJD initiatives and messaging made a HUGE SPLASH! They delivered more than 15,000 bottles of free green juice and a consumer sweepstakes for a year of free green juice. Sign me up! As you know I am taking a sip in a brighter direction this year by incorporating more green juice into my daily life, both during and post pregnancy!
This year, Evolution Fresh and Postmates will celebrate "Taking a Sip in a Brighter Direction" with green juice in 10 select markets. Juice fanatics will be invited to enjoy three free Smooth Greens & Kale bottles (three 15.2 fl oz bottles), delivered on demand via Postmates, while being able to share their love of green juice with their friends and coworkers. With this year's sampling, even more people will become aware of the Evolution Fresh brand, and will be able to "Take a Sip in a Brighter Direction." The markets included are: Los Angeles, New York, San Francisco, Chicago, Seattle, Washington, DC, Miami, Phoenix, Orange County, and San Diego. If you aren't in one of those cities you're encouraged to visit your local grocer or Starbucks to purchase an Evolution Fresh green juice and celebrate National Green Juice Day.
I've talked about why I love Evolution Fresh before here. Evolution Fresh cold presses their juice using high-pressure processing to help protect nutrients and taste! Learn more here!
Want to be a part of the NGJD celebration?
The National Green Juice Day Celebration Includes:
Free Evolution Fresh green juice delivery via Postmates in 10 select markets
Details: Postmates offers free delivery of free green juice to customers on January 26, 2017 valid starting at 1:00 pm local time and ending when supplies are depleted.
Customers will have the ability to order three (3) free juices per delivery, with a maximum of one (1) order per customer.
Plus a SUPER fun Twitter Party with AMAZING prizes!
The hosts are: @ModernDayMoms and co-host @HealthyVoyager
Make sure to RSVP here:

The Prizes Include:
5 Swag bags
2-$50 Gift Cards
2-$100 Gift Cards
1-$300 Giftcard
You can win by participating and responding to and Retweeting the hosts!
So are you going to partake in National Green Juice Day?
Make sure to check out Postmates on their social media as well: Twitter, Instagram, and Facebook!