Do you ever read a blog and think you really know the blogger? I know I do. Then they write post about things we may not know and I always find it fun! So today I am sharing with YOU 10 things YOU don't know about ME!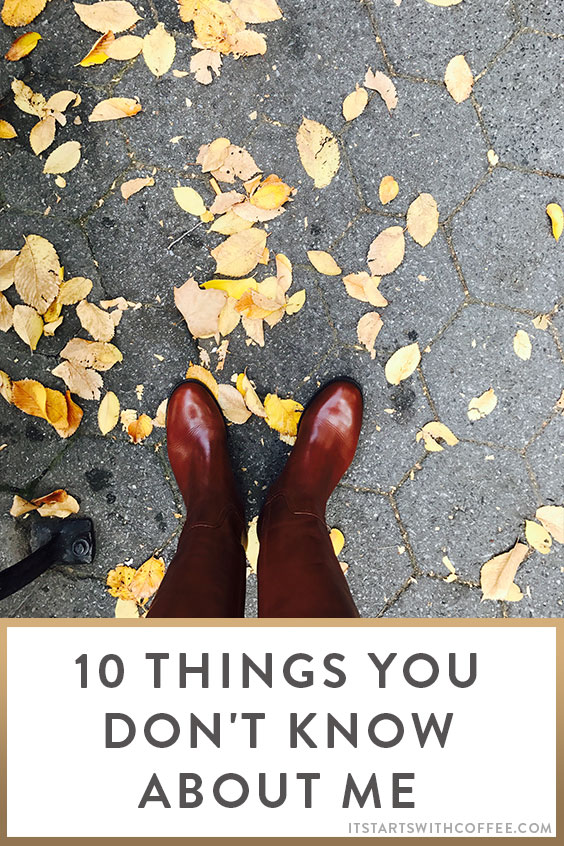 10 Things You Don't Know About Me
I am a really picky eater. I do not eat most fish, sushi, mustard, mayo, pickles, and about a million other things most people love.
I rewatch shows and reread books. Some of my favorite books I've read 5 or 6 times. I have watched all of Greys Anatomy, Friends, HIMYM, Gilmore Girls, and Everwood at least 10 times all the way through. Probably more.
I have an oddly large collection of tumblers. Seriously I love water tumblers. Probably more than coffee mugs.
I jokingly said once "I want a job where I can wear workout clothes all day." Now I have a job where I wear workout clothes all day.
Our son is named after 4 family members. My grandfather, both of Andrew's grandfathers, and a woman who was basically my second mom. It was really important for us to use family names.
I am an introverted extrovert. It's easy for me to talk to people but I prefer to keep to myself. I am really quiet when I first meet people and I have always considered myself VERY shy. I have a VERY hard time going to events where I don't know people and have to give myself a huge pep talk before.
I am still really good friends with my first friend. He and I have known each other since Mothers Day Out. We went all through Pre school, elementary, middle and high school together. We attended each others weddings and still hang out with our spouses. He was actually an usher in our wedding and gave a toast at our rehearsal dinner.
My favorite color is gray. Most things I own are gray. My go to handbag is gray. Every room in our house is painted graceful gray. Our bedding is even gray. I find it very soothing.
I would rather read and be in jammies than go out any day of the week. Like I said above, I'm a huge introvert. I also married an introvert. We prefer to be just us and our babe.
My husband and I met on Match.com, we said "I love you" after 4 weeks, we moved in together after 3 months. We then got engaged right at one year and married 10 months after that! We've never looked back.
Now that I have shared 10 things you don't know about me, comment with one thing I don't know about you!