One of my favorite things in life to do is read. I love all kinds of books from romance to fiction, to non-fiction and self help. To me there is nothing more enriching than finishing a book. Since I had a big book goal this year I have really been trying to expand my horizons. I have read a lot of cheerful uplifting books, and I wanted to share the 10 books to read for a happier life. These are the kinds of books that will improve your life in so many ways!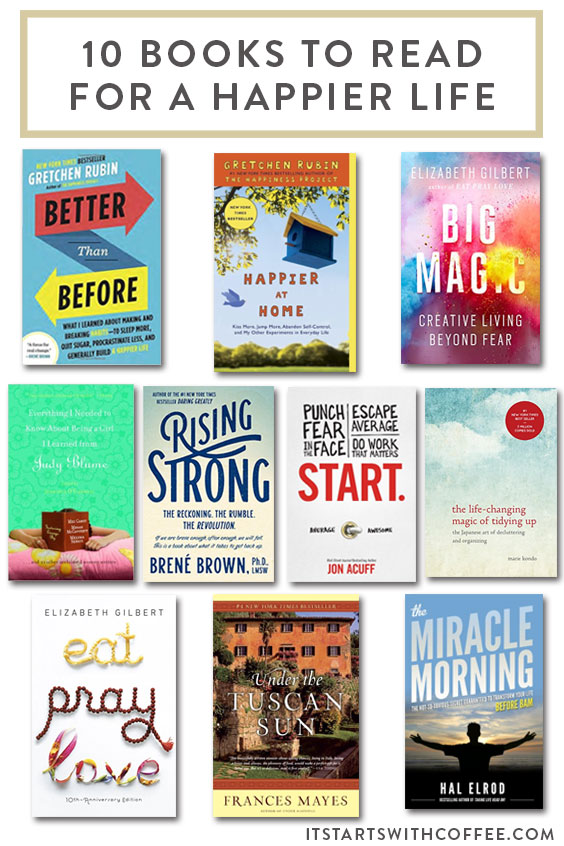 10 Books To Read For A Happier Life
I am a huge fan of Gretchen Rubin. I read the Happiness Project several years ago and I have reread it a few times. I really LOVE Happier At Home and recently I picked up and read Better Than Before. All three of her books are amazing and really give you a new perspective on things.
Big Magic was recommend to me no less than 10 times by people who read my blog. Whenever I asked for recs on books I got this as a comment. So of course I had to read it! Oh my goodness it was such a tremendous book. I could not recommend it more!
This next book is a bit random. As someone who grew up loving Judy Blume books, Everything I Needed to Know About Being a Girl I Learned from Judy Blume will really make you laugh. If you read her books growing up you will probably related to a lot of the stories. The best part is the stories are all by other amazing authors.
If you are a business owner, blogger, or something who aspires to work for themselves Rising Strong and Start are two books you need in your life. I have seen Jon Acuff speak several times and now even my husband is a huge fan of him. I also saw Brene Brown speak at the same blog conference where I saw Jon Acuff.
If you need to clean out your house, I highly suggest picking up the life changing magic of tidying up. I mentioned it in a previous favorite books post. It really made me rethink about all of the things I owned.
Eat Pray Love and Under The Tuscan Sun are both books I read years ago. They are also two of my favorite books turned movies. If you are going through something major in life I suggest reading these. The worst that happens is they make you want to leave everything behind and have an adventure.
The Miracle Morning is a book I recently read after a friend suggested it. The author, Hal Elrod, has a really amazing story and his life tips will make you want to be better. Trust me!
I would love to know what books to read for a happier life you'd suggest! Leave them in the comments!