Hard to believe that school starts next month. Liam will be in Kindergarten which is CRAZY! With this time of year, I start to think about the back-to-school traditions to do with your kids that we do! I thought for some of you first time first day of school mama's this would be helpful!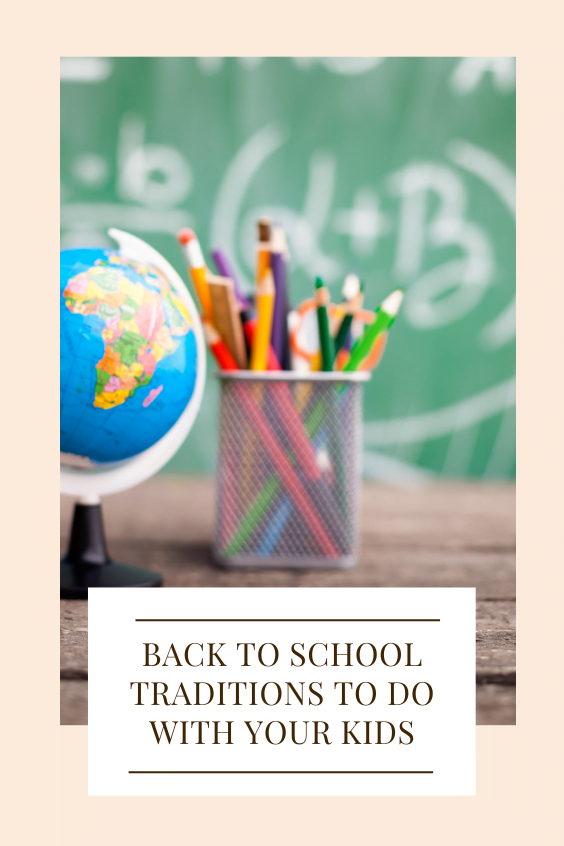 Back To School Traditions To Do With Your Kids
First Day/Last Day Pictures: This is a big one for me and I do a few things that I have done in the last 4 years. I actually take a picture of my kids on the first and last days of school wearing the same outfits. So whatever they wear on the first day they wear on the last day! Also, we use a chalkboard that we've used every single first day of school since Liam was 18 months old. Pro tip: take your first day pictures the DAY BEFORE. Put them in their outfit, snap the pic and have it ready. That way the morning isn't stressful.
New Outfit:  I think it's fairly common to wear a new outfit on the first day of school so nothing crazy here. The last 2 years Liam wore a uniform so this year he actually gets a fun new outfit. Incidentally, Charlotte will wear a uniform starting next year so this is her last year of preschool to wear what we pick out.
Special breakfast: Nothing too crazy but maybe some fun sprinkle pancakes, or a yummy egg dish. Just something filling and fun!
After-school treat: Our kids love ice cream so last year on the first day of school we went and got ice cream with some other school friends. In the past, I have also done special first-day cookies!
School countdown: The year leading up to going back after the Covid lockdown we made a link chain countdown to the first day of school for Liam. He loved tearing a link off every day leading up to it. He loved the visual and it made it fun!
Read a special book: I just ordered Liam this book for the night before kinder. We have also read books about starting preschool and I assume there are books about the first days of other grades as well!
What back-to-school traditions do you do with your kids?