Having a clean house is something that's a non-negotiable for me. I remember when I was pregnant with Liam and people would say things like "your house will never be clean again." I would laugh because no amount of momming was going to make me not have a clean house. Sure I have less time to do a lot of the house things, so we get creative. I have 3 busy mom cleaning hacks that mom or not you will love!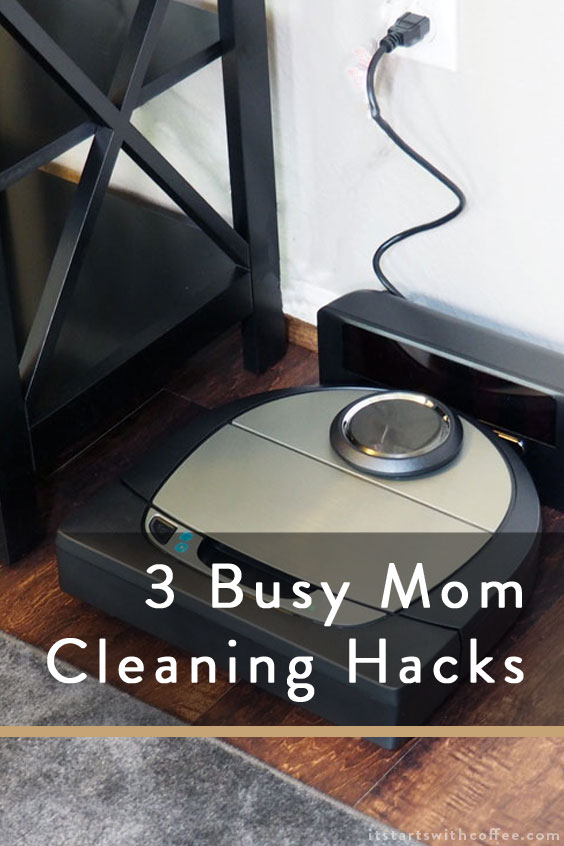 3 Busy Mom Cleaning Hacks
Hack 1: Have a nightly 15 minute speed clean. This is what we do every night before we go to bed. We fold up blankets on the couch, wipe down the kitchen counters, straighten up toys, and put things in their spot. It doesn't take very long but it makes a huge difference.
Hack 2: Let the Neato do it for you! We were sent the Neato D7 robot vacuum recently and it's been a game changer! This is unlike any other robot vacuum I've seen. Neato's laser guided mapping technology means the D7 can create and save a map of your home so that you can have a custom clean. What I like about this is that not every single space NEEDS to be cleaned all the time. No-Go Lines and Zones mean you can split up the work to tackle the playroom while baby naps, but visit the nursery during bath time. This is the one we use the most. We tend to have it clean the playroom and other hallway areas while Liam is sleeping, but clean his room while we are in the playroom. We also have it clean the kitchen very last! And smartphone compatibility means you can deploy your Neato for whenever, wherever, allowing you to clean differently. So say I am not home but we are having company over, I can have it clean before we get home! Plus unlike round robot vacuums, Neato's D-Shape design means that every corner will be cleaned. Dust and crumbs can't hide in crevices anymore.
Hack 3: Lemons clean everything. Use lemons to get stains off of faucets and handles. Lemon and vinegar will also make a great mixture to clean your stove burners! Harsh chemicals are the worst. Also lemon and water boiled in a bowl in your microwave will steam clean it! Lemons are basically the do all of the cleaning world.
I would LOVE to know if you have any busy mom cleaning hacks you can share with us too! We all need them! Also if you want to get your own amazing Neato D7 use promo code Neely20 (20% off D7, no end date)!! ***US residents only
If you would like to win your own Neato D7 enter below! I will select the winner and contact them in one week! Good luck!
This is a sponsored conversation written by me on behalf of Neato. The opinions and text are all mine.