No matter what size closet you have, closets can be hard to organize and even harder to keep organized! I am a self described Type A neat freak. I hate things out of place and I can't relax until the kitchen is cleaned. My closet is one place I used to struggle with though. So I can understand how our closets can become the land where things are lost. My favorite closet organization hacks are below and these are LIFE CHANGING things you should implement RIGHT NOW!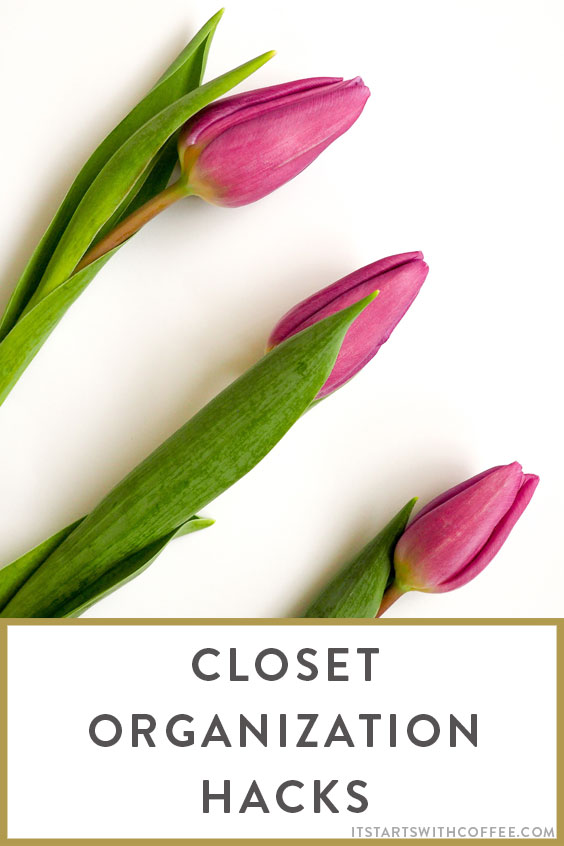 Best Closet Organization Hacks You Need In Your Life
Hack 1 Hangers: I read this tip once about turning your hangers the opposite way when you wear something. That way you see within a year what things are still facing the correct way and you can get rid of them. This is a great test to see what you really wear. I mean we all hold on to certain things. There are items such as leather jackets, or special dresses that you may not wear right now or even again but you want to hold on to. I bought a dress specifically for our wedding rehearsal dinner and I know I won't wear it again but it was such a special dress with a special memory. I love the tip about hangers to see what you wear and what you don't wear. This is hands down one of my favorite closet organization hacks!
Hack 2 Shoes: As far as organization goes I keep my nicer shoes (heels, flats, boots) in their boxes when I buy them. My other shoes (flip flops, workout shoes, casual shoes) I keep in a cubby I bought at Container Store for easier access. One of my biggest pet peeves and one thing I think make closets look messy is shoes all over the floor! The key to keeping shoes organized it to have a place for them so they don't pile up.
Hack 3 Re-folding: I have these amazing built in shelves in my closet where I keep most of my workout clothes, summer shorts, and tank tops. They are awesome for storage but they get messy a lot. I know that friends of mine with built in shelves in their closet love them or hate them. I personally have a love hate relationship with mine. I try as hard as I can to keep them tidy, but things just get messed up. Once a month I take everything off one section at a time and refold it. Honestly, it takes me maybe 15 minutes at most. This helps keep my closet shelves organized and tidy looking.
Hack 4 Shelves: The other shelves in my closet are at the top. It is really easy for us to just throw stuff up their and not worry about it. Out of sight out of mind, right? I use most of our shelving up top for nicer shoes and boots. We also use it for boxes that we don't need all the time that may have items in them. I try to keep all of these things neatly lined up so that even though the shelving is being used for storage, they don't look like you are just throwing things up there. One hack I have learned is to buy dividers. You can get these at Lowe's, Home Depot, Walmart, Target, etc. The Dividers can be used to section items off. People can't usually see them in fact you won't really see them but they keep things from spilling over on top of each other.
Hack 5 Organization Bins: Several years ago I got some really cute little fabric bins at Target. I now use these for clutches, wallets, small purses, etc. I highly suggest finding a few storage pins like this that you can easily organize them in. These aren't too deep and so I actually don't pile them, I line them up so I can easily see each one. I also have a deeper bin I use for workout shorts. They are all folded neatly in the bin. Then I have a REALLY large bin for scarves. This is almost impossible to keep tidy, but I try. I live my life by storage bins.
Hack 6 Purses/Bags: I keep my nicer designer handbags in the dustbags they came in on a shelf in our closet. But what about the less fancy purses? I actually use a hanger and hang 3-4 purses per hanger. This also works great for tote bags. It keeps them from getting piled up on the floor or lost somewhere. It also looks a lot more tidy.
Those are my best closet organization hacks that I use constantly to keep our closets organized and tidy! It takes some work at the beginning but if you implement these things it stays organized well!
What is one of your favorite closet organization hacks?