One of the brands I discovered when I first started using clean beauty was ILIA. Since then it has truly become one of my go-to brands when it not only comes to clean beauty but makeup in general. I haven't tried one product of theirs that I did not love! If you have never tried any ILIA products I think this ILIA beauty review will be super helpful to you.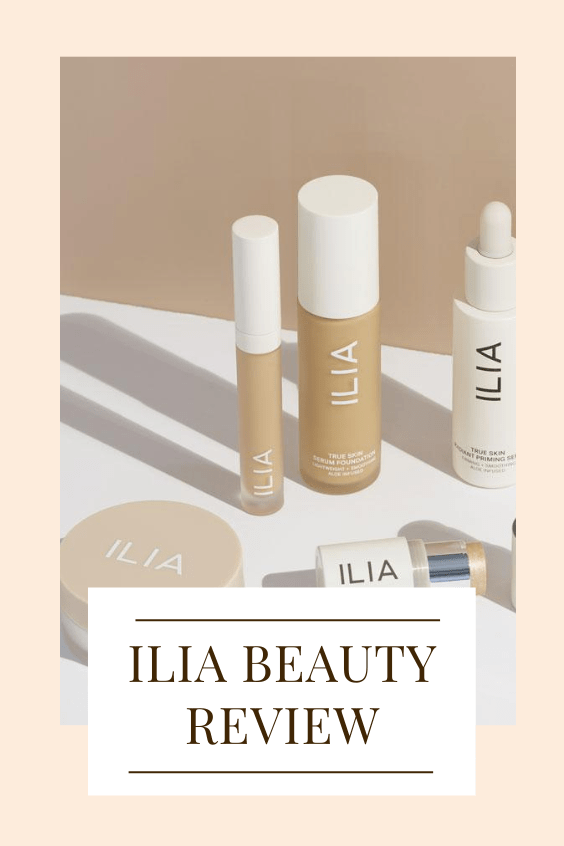 ILIA Beauty Review
Limitless Lash Mascara: Truly the best everyday mascara. I have others I use for a bit more volume when I am going out but this is a good one to build up.
Super Serum Skin Tint SPF 40 Foundation: A truly amazing tinted foundation. I love that it has SPF and it also isn't overly heavy. I don't love most foundations because they feel so heavy and especially during the brutally hot summer months I just can't handle that. I use the color Tulum ST2
Multi-stick: This is one of my favorites! I only use it as a blush but like 14 years ago I was obsessed with a similar product from Tarte and I love how you can build the color up so easily. You can do a little or a lot and it's a great product. I use the color, Tenderly.
Essential Brow Gel: My favorite brow gel. I would say it compares nicely to the Glossier brow gel but I really love this one more. The tube is bigger and the formulation seems to go on less clumpy for me. I always carry this with me. If you buy one product on this list, buy this!
True Skin Serum Concealer: My favorite concealer! It's a great clean alternative to NARS radiant creamy concealer. It goes on very smoothly and I use a little bit of eye cream under it as a base so it doesn't crease. Although even when I don't use the eye cream I do not see it crease. I use the color, Chicory.
Lip Conditioner: This is a great lip balm and I usually have it with me and I have one on my nightstand. I use the balmy days which is a bare plain just moisturizer. They do have TONS in different colors though for some tint.
True Skin Radiant Priming Serum: The only primer I use. It's super similar to the Laura Mercier primer if you've tried that one but a great clean alternative.
Clean Line Liquid Eyeliner: This was probably the last thing I switched over to with clean makeup because I just couldn't find a clean liner I loved. Until I tried this. I only use liquid liner and this is the best!
These are ALL products I would recommend from ILIA beauty and I have a few more I want to try including their foundation and their gel eyeliner.
Have you tried any ILIA Beauty products?