The week of Liam's spring break Andrew and I went on a short trip to Naples, Florida. Our reasoning for picking this week was that it was going to be a lot easier for my mom and a sitter to watch Liam without having to worry about taking him and picking him up from school. We only went Sunday-Wednesday but it was plenty of time. Any longer and I don't think I could take it being away from him! Neither of us had been to Naples before so I am excited to share our Naples travel guide in case you plan on visiting!
Naples Travel Guide
Where to stay: We stayed at the Naples Grande Resort which was AMAZING! *note we did pay for this ourselves and this is in no way sponsored. We looked at several hotels and this one was price friendly and also VERY nice! Honestly one of my favorite hotels we've stayed in. What sold me was the balcony in our room. Two huge chairs with cushions and pillow and an ottoman. It was covered so it never got too hot. I probably spent at least 2-3 hours a day out there reading. The bathroom was HUGE and we had tons of dresser and closet space to unpack. I hate feeling cramped in a hotel room, it makes me anxious and the basic rooms are VERY spacious! The hotel also had incredible food! We had food at the beach restaurant Rhode's End one day, we tried the pool restaurant another day, and we had pizza from the brick oven pizza by the pool a few times. There was also an ice cream bar near the pool. We ate breakfast at Aura as well which was SO SO SO good! Plus the few times we ordered snacks or dessert from room service everything was great. I feel like a lot of time resort food can be kind of meh, but this hotel has incredible food! The location is also great! We were able to easily walk to some shops.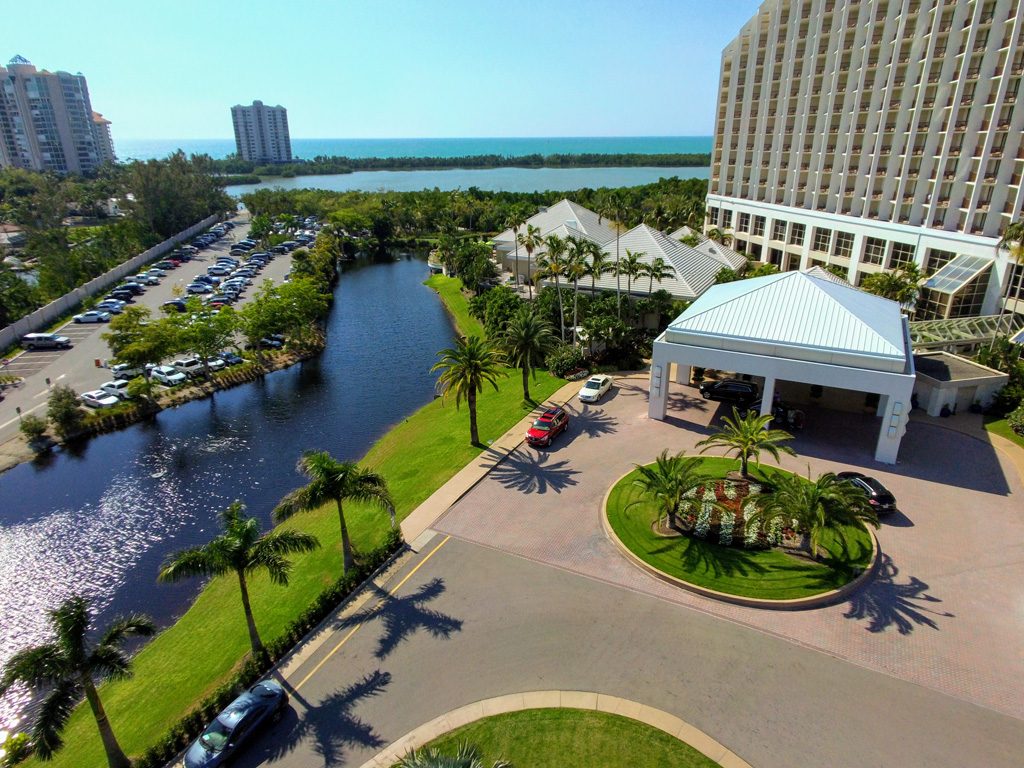 Where to eat: We tried a few places while in Naples. We got smoothies from The Bowl and Delicious Raw. Both were fantastic! We ate Italian food one night at Molto but make sure to make a reservation! Another great Italian option was Mino! We love Italian food, what can I say. For brunch/breakfasts we tried Blueberry's Cafe which was so good especially if you want some VERY good waffles and Jane's Garden Cafe. Both were delicious! As mentioned above we also ate several meals at our resort!
What to do: For us we didn't go on this vacation to do a ton of activities. We checked out the Waterside Shops one afternoon which is an outdoor mall with shops they have pretty much everywhere (Nordstrom, Lululemon, Vineyard Vines). It was really pretty and a fun place to walk around. We also checked out 5th and 3rd streets which is where a ton of restaurants are! Mostly we went to the beach. Our hotel had it's own private beach and there were little shuttle carts that would take you to and from it. We did this each morning right when the beach opened to get a good spot. We rented clamshells each morning and had a great time laying, reading, napping, and looking for shells together. Honestly we just wanted to relax together.
I would LOVE to take Liam back with us next time as I think he would have a blast on the beach 🙂 If you plan a trip to Naples I hope you find this Naples travel guide helpful!
Have you been to Naples before?