So when we decided we were going to sell our house and move there were a lot of logistics that went into it that we didn't have to deal with last time. When we bought our last house we didn't have to simultaneously sell a house. To buy a new house we HAD to sell our house first. But that wasn't going to give us a TON of time to find a house. So today I want to break down what we did, how we did it, and how Callbox Storage was invaluable to us.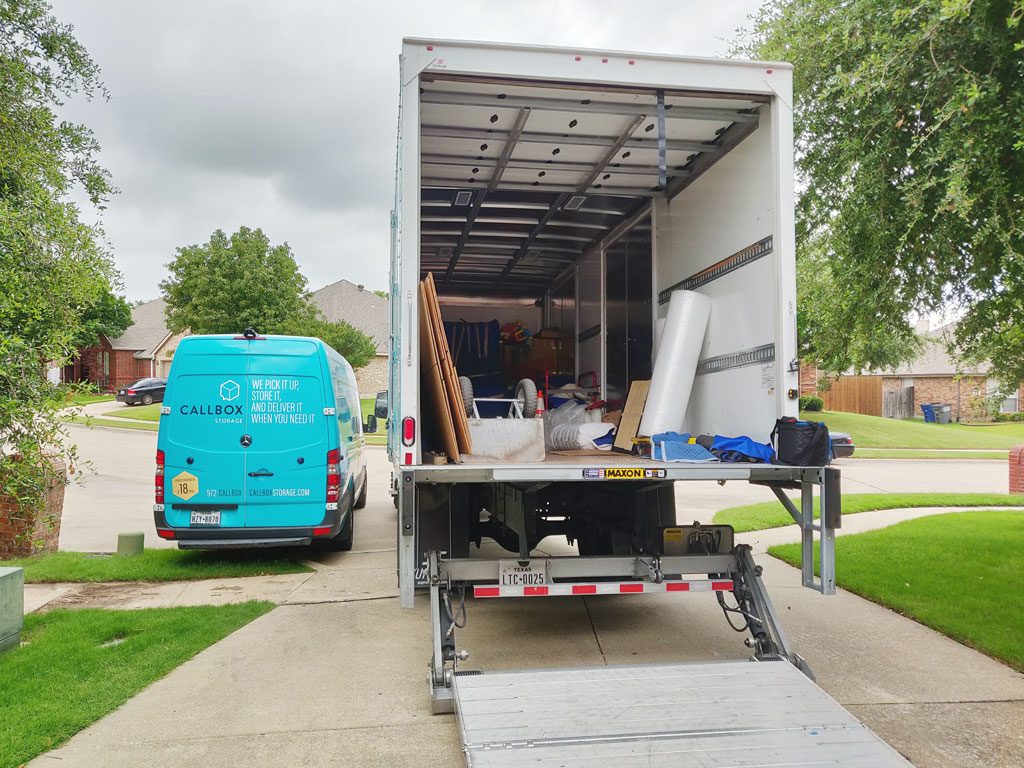 So at the end of April we casually were driving around a neighborhood we knew we liked and thought hmm maybe we should just look. Well you know what happens when you set out to JUST LOOK yeah exactly. Within a few days we met with a realtor and started getting our house ready to sell.
I had no idea that would mean needing to rid our house of about half its things to make it look appealing to potential buyers. See potential buyers don't want to see family pictures, knick knacks, etc. They want to be able to imagine what it will look like with their stuff. So I worked with Callbox Storage. Basically Callbox Storage is a service that stores your items. You may be thinking "OK yeah I have storage unit, what's the big deal?" Well Callbox comes to your house, catalogs the items you are storing, takes photos of them, takes them to the storage unit for you, keeps them safe, and then when you are ready to have them delivered to your new house they bring them. Not only that but they also have a moving service. More on that later.
So once we had our house all packed up (literally about half of our house) Callbox Storage came and loaded it up and took it for us. They pick up your items for free! You are not charged. Once they see how much stuff you have (you can send pics before or they can see when they pick up) they will tell you the size unit you need. Here is how they are decided with great visuals. Their complimentary home exchange every 30 days (for up to 5 regular sized items) makes it easy to access your belongings while they are in storage. So had we needed a few of our items quicker it would have been really easy. We also have an online account (every customer does) so you can easily access and see photos of what is in storage so when you need something you can request just those things! We actually left a few things in storage even after our move.
Then we had Nancy Dobbs (local Dallas people pay attention) come and stage our house. I had no idea how important this part would be either. Just simple things like where plants should go, and where art should be placed made SUCH a difference. Nancy did an incredible job and I am convinced it's why our house sold so fast.
We listed our house right before Memorial Day and 8 days later we got an offer. We were shocked and excited. We had looked at about 15 houses at this point in 3 different areas of Dallas and none of them felt right. Then I remembered a house I had originally x'd out because I thought it only had one living area (we needed a playroom) but I went back to look at it and fell in love. It was a bit smaller than our previous house but we went to look at it and just felt at home. We knew it was OUR HOUSE. It was in the neighborhood we wanted, the elementary school we wanted, 10 minutes from my mom, 10 minutes from Liam's current school, 15 minutes from Andrew's work and just made sense.
Spoiler alert we got the house.
So cut to July 3rd our moving date. We knew it was going to be a long stressful day because middle of summer heat, toddler, me being pregnant, and just general moving stresses. But Callbox really made it so stress free. I went to the new house while Andrew stayed back with them at our house. There were random things we hadn't packed that we figured we would just throw in the car but they even packed those. They packed our clothes in wardrobe boxes. They brought boxes for our art and TVs and wrapped our furniture up so well nothing got so much as lint on it.
We also had so many hiccups that they handled amazing. We wanted to move the old fridge into the garage and put our fridge in the kitchen. The doorway was so small they actually took the fridge apart and put it back together. They were all sweet, calm, and lovely and even cracking jokes with us during this. Oh and it was 11 PM! Seriously rockstars. Just so you know they drug screen and background check all their employees.
So with Callbox Storage not only are you getting an amazing service throughout your home selling/buying/moving process but you are getting the nicest humans imaginable. We really wanted Liam's room set up first and they were so accommodating with that so we could get him down for the night easily.
I am pretty sure I have told everyone I know about Callbox Storage and so I really wanted to share with you guys since so many of my readers are in the areas they service. I sincerely hope you use them for your storage and moving needs and please let me know if you have any questions- They can also do packing, provide packing supplies, etc.  I am happy to answer any questions or point you in the right direction.
Other things you may not have thought of you can use Callbox Storage for:
Clearing out the garage/attic spaces that are filled with items you only need occasionally (example: holiday decorations, camping gear, pool floats, etc.)
When downsizing, there may not be garage/attic space and closets can be small at times, so storing seasonal items and/or clothing is a great way to use them!
Home renovations: Redoing your floors? They can come pick up all of the furniture, etc. that may get in the way during the project and deliver them back, once the project is over
Buying a new build home? They can come pick up the entire home and store during the duration of the home being built.
Use code NEELYKINS for 10% off and $50 off your first pickup! They service Dallas–Ft. Worth, Austin, Houston, Phoenix, and Seattle! 
This post was NOT sponsored however we did partner with Callbox for our move. I am under no obligation to write this post and all opinions are my own.