I think it's pretty normal to go through reading ruts. Times you just can't find a book to hook you. Maybe you've gone years not reading consistently or maybe you've never been a big reader. If you are wanting to read more I have a list of 15 spicy books to get you back into reading. Not only are these enjoyable but they will get you hooked on some amazing authors.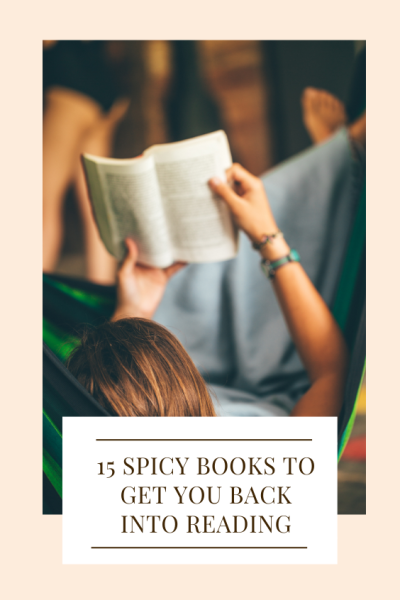 15 Spicy Books To Get You Back Into Reading
A Not So Meet Cute: One of my favorite tropes: Fake dating AND enemies to lovers. You guys this book is laugh out loud funny and so much spice!
So Not Meant To Be: Kind of a sequel to A Not So Meet Cute but follows different characters. Workplaces/forced proximity trope. Lots of spice.
The Idea Of You: This will give you a major book hangover but it's so so so good. 39 year old divorced mom has a world spanning affair with a hot 20 year old boy band singer.
Say You Swear: Best book boyfriend ever? Check. You will fall in love with these characters and this heartwarming but very spicy book.
Archer's Voice: Small town vibes, girl running away from her past, dreamy guy.
Things We Never Got Over: Grumpy guy, beautiful girl trying to clean up her terrible sister's messes, small town vibes, fake boyfriend. All the tropes. All the feels. All the spice.
It Happened One Summer: Wild girl moves to a small town and meets a grumpy local. Lots of spice.
To Love Jason Thorn: Childhood friends turned lovers when one is a famous actor starring in a movie based off of a book the other wrote. Also fake dating!
Ugly Love: Heartbreaking story but super sexy. He's closed off about his past, she definitely wants a future. They try no strings attached sex.
The Unhoneymooners: Enemies to lovers, fake dating. So so good!
The Upside Of Falling: This story will not end how you expect it but it's the first of four parts and they are all amazing. I read all 4 in about 5 days.
The Two Week Stand: Girl goes on her honeymoon alone and has a really steamy 2 week affair.
Blind Side: Fake dating, lots of spice.
Twisted Love: Brothers best friend. The first of four books.
Royally Not Ready: He's training her to be royalty but they are doing a lot more than training.
Are you a fan of spicy romance books? Have you read any of these?