My Current Eyeliner Sponsor: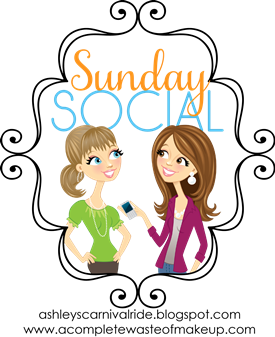 Hi guys happy Sunday Social day!
This Weeks Questions:
1. What is the name if your blog? A Complete Waste of Makeup 🙂
2. What do you love most about blogging? The people I have met, The opportunities it has brought me, the things I have learned about myself
3. Why did you start blogging? Boring story really: I was reading a lot of blogs and didnt think they were much different than I was…I go to Starbucks, I do fun things on weekends, so one boring Sunday morning I started a blog.
4. What is something you'd want to tell someone just starting out in the blog world? Dont focus on the numbers…It will drive you BANANAS!
5. Biggest blogging learning experience you've had? Have a thick skin…the bigger you get the more people will try to drag you down.
6. What are three blogs you love? I wont go for my obvious blog best friends who you all probably know if you have read my blog more than once so I'll think outside the box a little.
1. Peanut Butter Fingers
2. Gal Meets Glam
3. Design Darling
All super fun girls who have great style, write great and just have fun with life!
Next Weeks Questions:
1. What is your favorite handbag you've ever owned?
2. What is your dream handbag you lust over?
3. What are the daily essentials in your purse or work bag?
4. What's in your purse (with pictures)?
Come link up with us and if you are like me let me know if you are checking out Target today for that Phillip Lim collection and also GO COWBOYS!
If you comment on 5 new blogs today you will have good luck all day 🙂