My Current Eyeliner Sponsor: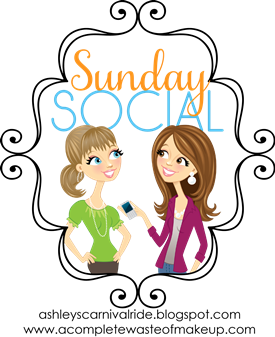 Hi guys happy Sunday Social day!
This Weeks Questions:
Favorite Thanksgiving Memory: Last years Thanksgiving was right after my Dad had almost died from complications due to Cancer and he was better. I felt so thankful for him. That is my favorite memory.
Favorite Thanksgiving Food: My moms twice baked potatoes and Apple Pie
What is a Thanksgiving Tradition you and your family have? Watching the Cowboys!!!
Show us a favorite Thanksgiving picture(or 5) from years past:

What are you most looking forward to about this Thanksgiving? Spending it with A of course 🙂
Next Weeks Questions:
1. Name 4 jobs you've had in your life.
2. Name 4 movies you would watch over and over.
3. Name 4 places you have lived.
4. Name 4 of your favorite foods.
5. Name 4 things you always carry with you.
6. Name 4 places you have been on vacation.
Happy Sunday Social Everyone! I hope you link up with us and get a little social meet new friends and comment on some new blogs!