Kind of crazy to think that I will be in the hospital so soon having this baby! We are just a little over 2 weeks away! Since I have done this before I have a much better idea of what I would actually NEED at the hospital. Last time we didn't plan to be there for 6 days so I had to send Andrew home at one point to get more clothes. This time we live MUCH closer which is nice. But I figured since I have had a few requests I would share what's in my hospital bag for a second-time mom.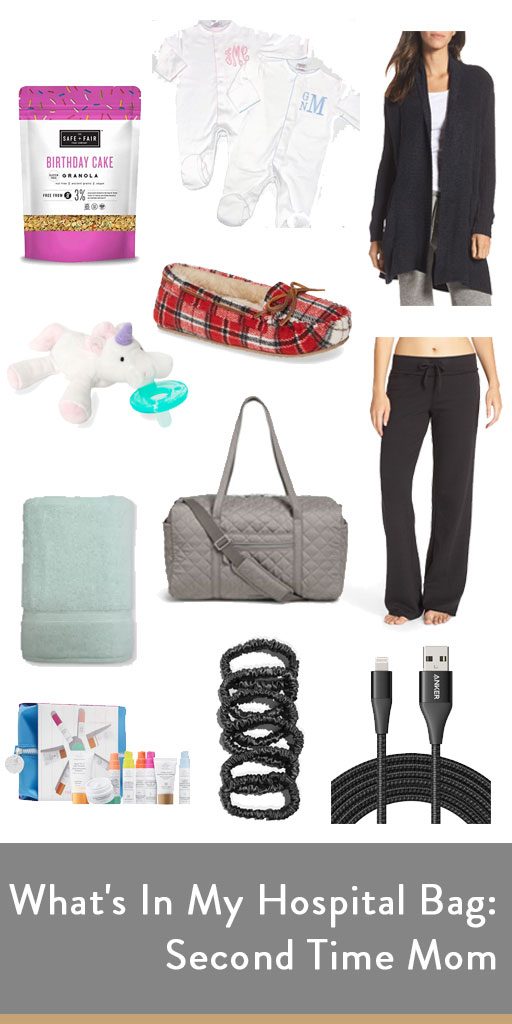 What's In My Hospital Bag: Second Time Mom
The bag I am using is a Vera Bradley large duffel. It's what I used last time and it holds so so much!
For me:
A few pairs of these lounge pants (my favorites)
T-shirts
Shower shoes
Skincare set from Drunk Elephant (they sweetly sent me this for my hospital bag)
Dry shampoo
Toothbrush, Toothpaste, floss, mouthwash, body wash, deodorant, lotion, loofa, hair ties
Minimal makeup: brows, bronzer, mascara, concealer, lip balm
iPad
My own towel (the ones at the hospital are so rough)
Blanket
Pillow
Snacks
For the baby: *our hospital provides pretty much everything I could possibly need for her so we aren't bringing much.
Matching mama and me swaddle for our fresh 48 photos
I am having a c-section so my hospital also provides a c-section recovery wrap. If you can think of ANYTHING I should pack or add to this please comment below! I always feel like I am forgetting something important.