I am a pretty avid reader which you can probably tell by my monthly goals. I also post book recommendations pretty frequently. I get asked a lot who my favorite authors to binge read are and I thought I would share the 10 best!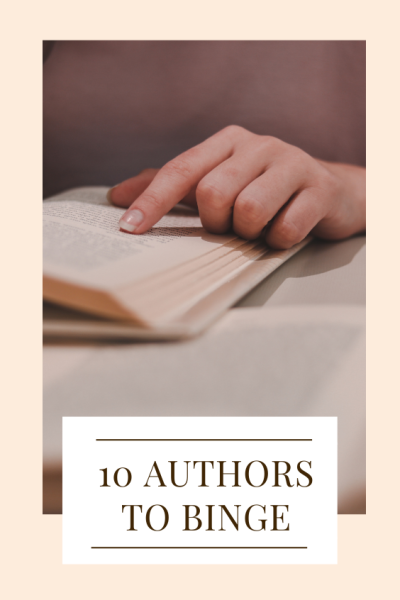 10 Authors To Binge
Colleen Hoover: I have been a fan of Colleen Hoover since someone recommended Slammed. While that one was probably my least favorite of her books I have loved them all. A few of my favorites are All Your Perfects, November 9, Ugly Love, Reminders Of Him, and It Ends With Us.
Taylor Jenkins Reid: I need to preface this by saying I do not LOVE Daisy Jones or Evelyn Hugo. I liked Malibu Rising, and I thought Carrie Soto is Back was OK but kind of problematic. I love her first 4 books so much more. I read After I do and Forever Interrupted on my honeymoon and just fell in love with her writing. One True Loves and Maybe In Another Life are two of my very favorite books. Something really interesting about each of these books is they are written to tell you two stories at the same time.
Renee Carlino: I have not read all of Renee Carlino's books but the ones I have read are WONDERFUL! She really writes characters that are flawed so well and I will say most of the books end with me crying. My favorites are: Wish You Were Here, The Last Post, Swear On This Life, and Before We Were Strangers.
Jasmine Guillory: I went into a deep Jasmine Guillory dive earlier this year. I started with The Wedding Date and just went through them all! You don't have to read them in a particular order but they do have overlapping characters even though each book focuses on a different couple. I hope that makes sense 🙂 I still think The Wedding Date is my favorite but Party Of Two is a close second.
Christina Lauren: Fun fact Christina Lauren is actually 2 different women who write together. Don't ask me how long it took me to realize that. Anyways, Christina Lauren writes TONS of great books and a few of my favorites are My Favorite Half Night Stand, The Unhoneymooners, Roomies,  and Love and Other Words.
Bethany Chase: I am so glad I randomly stumbled upon The One That Got Away by Bethany Chase which remains one of my favorite books. She has written two others I really enjoyed as well Results May Vary and One Night At The Lake.
Meghan Quinn: I am honestly trying to read all of Meghan Quinn's books but she has A TON! So far the best I've read were A Not So Meet Cute, So Not Meant To Be, Royally Not Ready, and The Duets (2 sets of 2 books that all go together). They are all super spicy and funny which I love!
Meagan Brandy: Say You Swear was one of my favorite books of this year and it's what made me fall in love with her writing. I then read Dirty Curve and the Fumbled Futures 3 book series. I loved all of them! Also super spicy!
Lucy Score: The only book of hers I have read is Things We Never Got Over. However, I put her on this list because pretty much all of her books that been recommended to me and I do plan to read them all.
Tessa Bailey: Oh you guys she was one of the most recommended authors to me! I first read It Happened One Summer, then I read Hook Line and Sinker and LOVED both! I have a few of her other books on my kindle ready to read. Lots of spice and I really love her writing!
If you are looking for romance, spice, and real characters you will find them with these bingeable authors!
Who are your favorite authors to binge?
This post was written in 2020 but has been updated for 2022.