Charlotte is almost 3 (HOW!?) and is very busy! She loves to play play play and half the time at the expense of eating meals. I digress. She is very into make-believe and into anything that keeps her active. I wanted to share these 9 toys that preschoolers will love regardless of gender. They are all toys both my kids have loved and played with!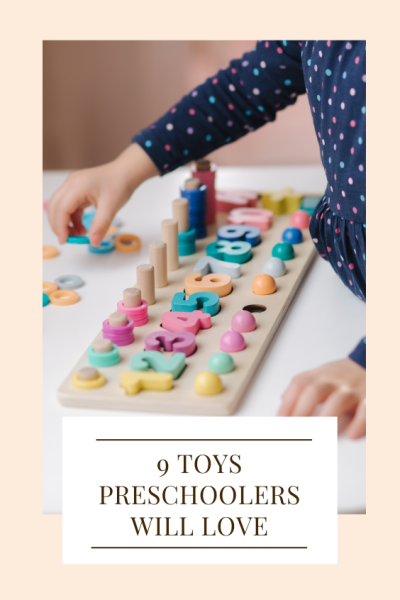 9 Toys Preschoolers Will Love
Wiggle Car: This is so fun that I need to get a second one. Liam and Charlotte love it and honestly, I do too.
Dollhouse: We got this gender-neutral dollhouse for Liam and now he and Charlotte play with it together. It's really great for pretend play.
Play House: The kids got this last year for Christmas and it's been a great addition to our backyard! I love seeing the kinds of fun things the kids come up with!
Nugget: Seriously SO MUCH fun! I know there are tons of similar options now too which is great. The kids love making forts, ships, etc with this.
Scooter: We love spending time outside and scooters are one thing our kids love to do! Neither of them are super into bikes yet but they do enjoy these. We have this one!
Trampoline: We have had this little trampoline since Liam was about 1 and it has been played with SO MUCH! Truly withstands the test of time.
Elmo Letters: These are awesome for learning letters and have this great carrying case that makes them easily mobile.
Little Figurines: Pretty much any movie or TV show that our kids like we have little play figurines for them. They love to use these in the dollhouse mentioned above for pretend play.
Mop and Broom set: Another thing we've had since Liam was little and both my kids still love to play with this.
All of these are not only great for preschoolers but older kids as well, they are just very preschool-age focused.
What is a toy your preschooler loves?