At the beginning of 2016 I made it a huge goal of mine to find a skincare routine that worked and make it a priority to really take care of my skin. This is not to say I wasn't before, but I am getting older (I just turned 33) and skincare needs to be a priority! I had some questions recently about what skincare products I used daily so I thought I would share my 2017 skincare routine. A lot of these are products I've been using for quite a while but some are new-ish.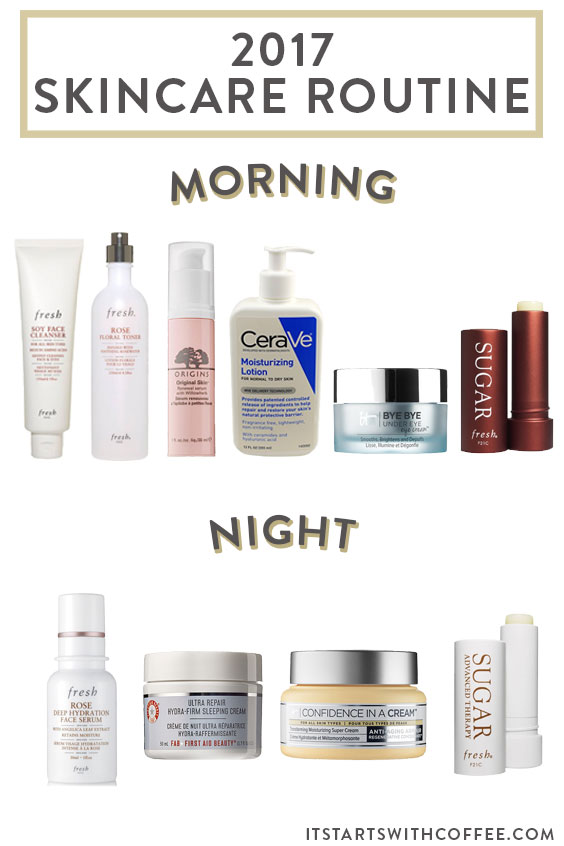 2017 Skincare Routine
Morning:
First I wash my face with the Fresh Soy Face Cleanser. This has been a huge game changer for my skin.
Then I spritz the Fresh rose toner on my face and let it soak in.
I then put this origins serum on. I use this EVERY SINGLE MORNING.
I then moisturize with Cereve moisturizing lotion. Which is my holy grail. I have been using it forever.
In the morning I use the It Cosmetics Bye Bye Under Eye eye cream to help wake up my skin.
I always use fresh lip balm with SPF. I actually reapply it about 20 times during the day.
Night:
I wash my face with the same cleanser and every other day use my Clarisonic Mia Fit.
I use the same toner.
Then I use this Fresh rose serum EVERY SINGLE NIGHT.
I moisturize with the same Cereve moisturizer.
At night I use the It Cosmetics confidence in an eye cream under my eyes.
I use this First Aid Beauty hydra firming sleeping cream on my neck and chest at night. Necks need skincare too!
Finally I use regular fresh lip balm at night to keep my lips hydrated while I sleep.
These are the skincare products I have been using everyday and will probably use all of 2017!
I have also recently added monthly facials! I go to Fresh Faces in Dallas. She is AMAZING! The facial I have been getting is the hydrafacial with an added hydrating nutrient mask and collagen boosting infusion! I seriously love my hour with her and I get a little sad when it's time to leave. Not only is she super nice and knowledgeable, but my skin has never felt and looked better! If you are in the DFW area I highly highly recommend her! You can find here at Fresh Faces.
I would love to know what your 2017 skincare routine is.