The more I blog and the longer I am a blogger the more things I learn. I honestly think I learn new blogging tips every single week. A lot of times it's from discovering something new and teaching it to myself, or even just reading helpful articles. Today I want to share some things I've learned recently with you. I have 5 blog tips you never knew you needed, and until recently neither did I!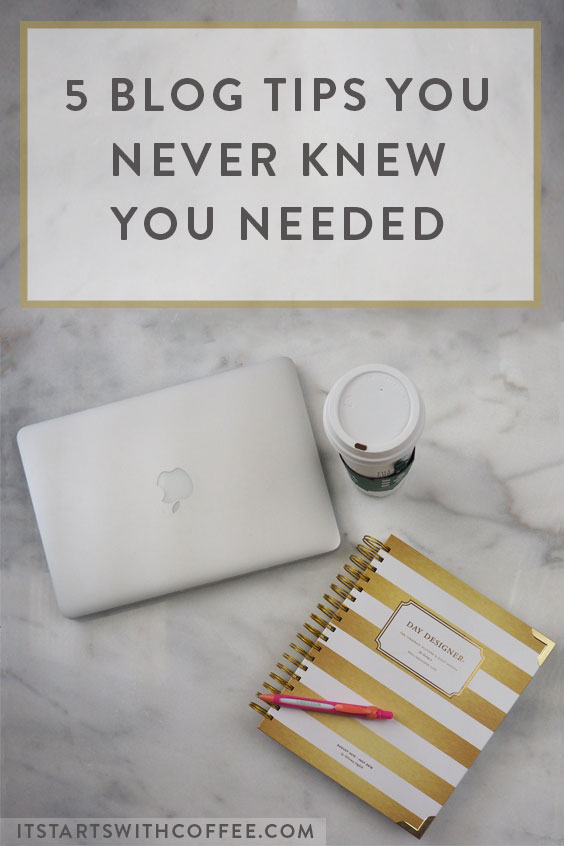 Tip 1: Looping on BoardBooster*: You know how you will pin something and you think to yourself "man that post and pin were awesome and this is 100% going to get repinned 50K times." Yeah. Then it gets pinned twice and you think WHAT!? Well I recently rediscovered the looping tool on BoardBooster. I have talked about BoardBooster several times. What I love about looping is you can set up which boards you want pins looped from, then you can decide how many pins a day. So your older content that you love can get looped through again and be at the top of your pins. Think about posts you did a year or three years ago. You don't have to go through and pin it yourself BoardBooster will do it for you!
Tip 2: Blog Templates: I have a few blog templates in Photoshop that I use for blog posts and pinnable images. This is helpful because I can change the photo or the wording and the template is already made. It takes less than 2 minutes to create an image. This is helpful because it saves A TON of time when creating blog posts! I personally see this a lot on Pinterest too. I will see bloggers that use the same 2-3 templates and change the photo or change the wording over the photo. I highly suggest making a few templates you can use on the fly!
Tip 3: SEO your about page: So your about page is probably something you don't think of a lot. You think ok I have a photo on it, it's there, it has some words, it says "hey this is me come read my blog." But really you're missing out on an amazing opportunity. Several months ago I wrote in this post how to change your about page URL and why that's important. But it doesn't stop there. You need to SEO the crap out of that page. That page is a big way brands find your blog. They are not going to Google and searching "about", they are going to Google and searching for a "Chicago Lifestyle Blogger" or a "Miami Fitness Blogger." Make sure your page notes who you are! Are you a San Diego Beauty Blogger? Are you a Dallas Food Blogger? Make sure Google knows!
Tip 4: Schedule Pins on Tailwind *: Pinterest is just something I am bad about keeping up with. It's the social media for me that falls by the wayside. I am way too busy focusing on Twitter or Facebook or Instagram and I tend to forget about ole Pinterest. Well a few months ago I started using Tailwind and it all changed! I love being able to sit down for an hour or two and go through and pin my blog posts, or others posts or things I find on Pinterest and schedule them out. Tailwind gives you the best times for you specifically to post. It lets you shuffle your queue of pins so that you can spread them out how you want. There are SO MANY THINGS you can do with Tailwind and it also gives you really great analytics. Highly suggest it!
Tip 5: Know your analytics: You have Google Analytics right? If you don't please go set that up RIGHT NOW! OK now that you're back… Know your analytics. What do I mean? I mean take time and really look through your analytics. Look at certain posts and see how some performed vs others. Know what types of posts perform the best. That's a really great way to know what kinds of posts you should be looking at doing in the future. Look to see what times your posts are getting read. Who is reading your posts? Where are your readers coming from? What keywords are people using to find your blog? Really, get to know your analytics. It will make you a better blogger. I promise.
Some of you may know these tips, or maybe you don't. Either way I really hope these 5 blog tips you never knew you needed will help you become a better blogger and help you really know your blog and what it can be.
If you enjoyed this post, I would love if you saved/heart it on Bloglovin!
I hope you found this post helpful! If you enjoyed finding out what 5 blog tips you never knew you needed are make sure to check out my other blog advice posts!
Also: I have started offering blog critiques and strategy sessions! Go here for more info. They are $25 for a limited time, and they come with a blog critique where I will evaluate every aspect of your blog and a one-on-one 30 minute strategy session! This is worth over $200 and you get it for $25! Seriously, don't wait on this! Check it out here and sign up!
*Notes an affiliate link