This is a sponsored post written by me on behalf of LastPass. All opinions are 100% mine.
When I started blogging I really didn't think much about keeping my blog secure. I mean up until about four years ago I had the same password for nearly every website! My bank, my credit card, my blog, you name it! Yes, that was a dumb choice. But really who thought much about their blog password when they started their blog (especially seven years ago). Thankfully I married an internet security guru who whipped my butt into shape on that front. Today I am partnering with LastPass to share 5 security tips for bloggers that, TRUST ME you will be glad you know!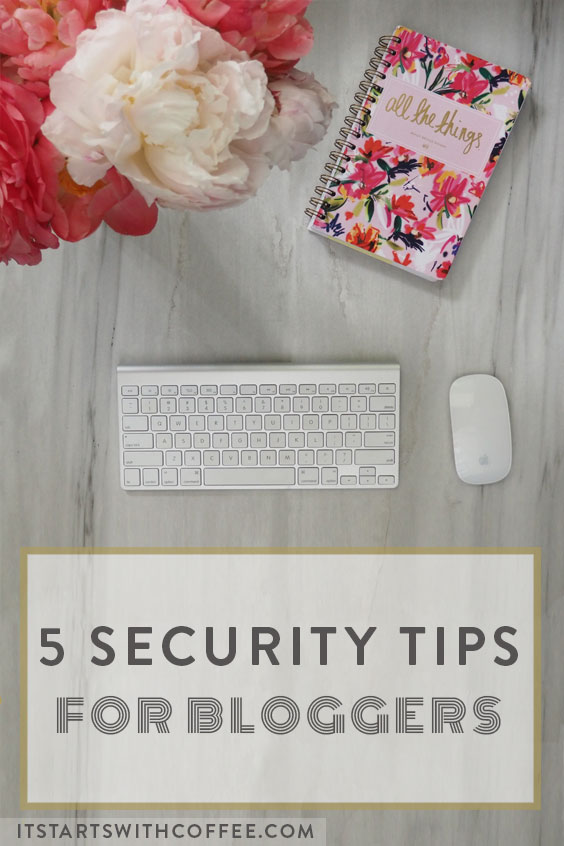 5 Security Tips For Bloggers
1. Use a Password Manager
Like LastPass! I can't tell you how many times LastPass has saved me. Especially if you are someone like me who now wants to make sure that every aspect of your blog is safe and secure. This doesn't just mean your WordPress, Blogger, or SquareSpace login. This means your Facebook, Google, Twitter, Instagram, Pinterest, Etsy, Buffer, Hootsuite, BoardBooster, and so one and so forth. Basically anything and everything somewhat related to your blog. But really, why stop at your blog? Your checking account, credit card, even your Jcrew.com account should have a secure password. So what does LastPass do? Well not only does it store all of your passwords so you only have to remember ONE password, but it also generates secure passwords for you (you pick the number of characters, what kind of characters to use, etc) and it reminds you when you need to update a password. So if you haven't changed your Gmail password in a year, it will show you the last time it was changed so you can change it. You can also use LastPass to store "secure notes" such as credit card account info, bank account info, insurance info, even your alarm company info. Basically everything you need to remember in one place safely guarded by one password. A great thing about LastPass is that you can have it on your computer, your phone, and your tablet! You can easily access everything from any device! So not only is your blog secure, but your entire life is secure.
2. Never Reuse a password on another website
So yeah I'm the girl who used a dumb password like puppy35 for every single website. OK that wasn't the exact password, but it may as well have been. You guys you CAN'T use the same password twice. Not even if it's a great password. If you used the same password for Gmail and for say Facebook and someone figured it out you are screwed. That's why LastPass is so great. They will help you so you don't ever have to use the same password or even remember the passwords you do have. With all these security breaches happening recently, it's really important to never reuse a password.
3. Use Two-Factor Authentication
The idea behind two-factor authentication is providing two different forms of proving you are actually you. It's usually something you know (your password) followed by something you have (your phone, for example). You can setup two-factor authentication on many websites such as Gmail and then you have a 6-digit random number assigned to your account that changes every 60 seconds. You can use LastPass Authenticator to manage this. You can set it up for many things such as Facebook, Gmail, or even LastPass itself!
4. Review what websites/apps have access to your accounts
You know how you go to comment on a blog and say they use Disqus, well you need to login and you can use Facebook, or Twitter etc. You can use those for Buffer or Hootsuite and to comment on WordPress blogs. All day long you are allowing apps to have access to your account. Depending on the settings, those websites can have access to your emails, post things, or even have full control to your account. So it's smart every now and then (once a month) to go to your settings and review any third party app. Just another way to stay secure!
5. Keep your phone and computer up-to-date
I am the WORST about updating my computer. I am on it so much and the thought of sometimes having to have it update for 30 minutes or an hour just never seems convenient. You know what else isn't convenient? Your stuff being hacked. Take the time to update your phone and computer when it says you need to. Trust me, the longer you wait the worse it gets!
If you want to try out LastPass Get LastPass for Free and you will not regret it!
Some of these things may seem "inconvenient" but remember short term inconvenience is better than potential disaster in the long run.
If you enjoyed this post, I would love if you saved/heart it on Bloglovin' and check out my other blog advice posts!
What are your best security tips for bloggers? Share them with us below!