Another year in review post but to me, this one is the most fun to write. I love to see what people loved each year in terms of books, movies, TV shows, Podcasts, etc. It's so fun to discover new things and review the things that I loved. This list of the best things I watched, read, and listened to in 2022 isn't everything but it's the stuff I really deemed to be the best or things I still can't stop thinking about.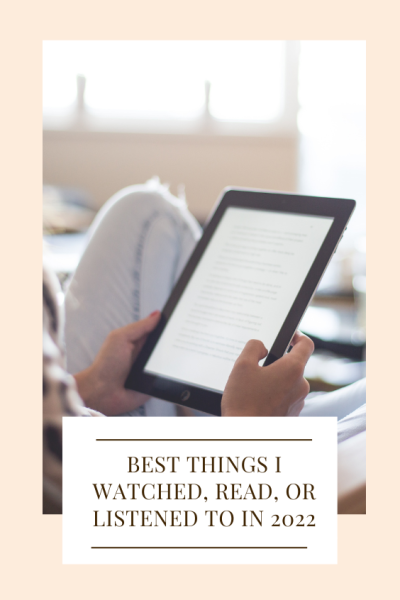 Best Things I Watched, Read, and Listened To In 2022
The Best Things I Read in 2022:
When We Were by Diana Elliot Graham: I have mentioned this book a few times and it is probably the book I read this year that shook me the most. It's nothing like I have ever read before and I felt like I could completely relate to so many parts of it.
First Down and Breakaway by Grace Reilly: I realized this year that sports romances are my jam. I really had no idea and there are a lot of them on this list. I love Grace Reilly's writing and she really writes flawed characters well. Both of these books were ones I really loved.
The Off Campus Series by Elle Kennedy: I saw the Off Campus series all over TikTok and read through the entire thing in a week.
Things We Never Got Over by Lucy Score: This one really blew up this year and it was honestly so good. What I loved about this book is that it really showed difficult relationships so well, especially family ones.
Lotus by Jennifer Hartman: I put off reading this for a while because there is a SA trigger warning and to me, that's hard to read but it's interwoven into the book very well and the story is absolutely heartbreaking and beautiful.
Icebreaker by Hannah Grace: My favorite hockey romance of the year. I loved Stassie and Nate's relationship and how much he truly wanted to help her. Their romance was so great.
Reminders Of Him by Colleen Hoover: My favorite Colleen Hoover book I've read in years. Clearly the theme of my reading this year was flawed humans because this one is that and more. The romance is beautiful and I love a story of redemption.
A Not So Meet Cute by Meghan Quinn: I love Meghan Quinn's books and this is still my favorite. Nothing quite like a forced proximity, fake relationship that turns real. Also, the humor, banter, and spice are THE BEST!
Say You Swear by Meagan Brandy: Ugh I loved this book so much! This is probably what made me fall in love with sports romances. Noah is still the best book-boyfriend ever.
Every Summer After by Carley Fortune: Everyone read this book this year and for good reason, it's fantastic!
The Unhoneymooners by Christina Lauren: Such a cute story of an enemies to lovers situation where they both assumed the other hated each other, then they go on another couple's honeymoon when the couple comes down with a nasty bug. I'm sure you can assume what happens.
Love and Other Words by Christina Lauren: This book is a bit similar to Every Summer After but I really loved both for different reasons.
The Best Things I Watched in 2022:
The White Lotus: I think everyone has watched this. It's so great. The second season has been amazing.
Tell Me Lies: I loved the book and was so excited about the series. I will say every episode is very triggering if you've ever dated a sociopath.
Below Deck: Andrew and I watched every season of Below Deck this year and it became one of our favorite shows.
The Circle: Andrew's favorite reality show and one of mine too! It's a really interesting social experiment on Netflix.
The Dropout: This is the Elizabeth Homes miniseries and Amanda Seyfried was AMAZING in it. It really told the story well and I sympathize so much with all the victims.
The Crown: The most recent season is honestly my favorite. Now that the show is into the more modern 90's storylines it's become so good.
The Best Things I Listened to in 2022:
Beck and Call Podcast: I love Merritt Beck's podcast. All the interviews she did this year were great.
Celebrity Memoir Book Club: My favorite episode from the year was the Matthew Perry episode and I'm still recovering from reading that book.
Pop Fiction Women: Such a fun podcast that talks about different books, movies, and TV shows and how women are portrayed.
Pantsuit Politics: My go-to political podcast.
The Glossy Podcast: A very good podcast that delves into a lot of companies and people in the fashion industry.
What was the best thing you read, watched, or listened to this year?