Having a newly minted 3-year-old boy I feel like I have a handle on what toddler boys are into. So for any people out there who have no idea what to buy a toddler boy today I am sharing the best toddler toys for boys. I know for me when I need to buy a toddler girl gift I have no idea where to start. I end up Googling for hours. So hopefully this helps! Your gift-giving anxiety is over! Also please note girls can obviously LOVE these toys too. I just only have experience with toddler boys.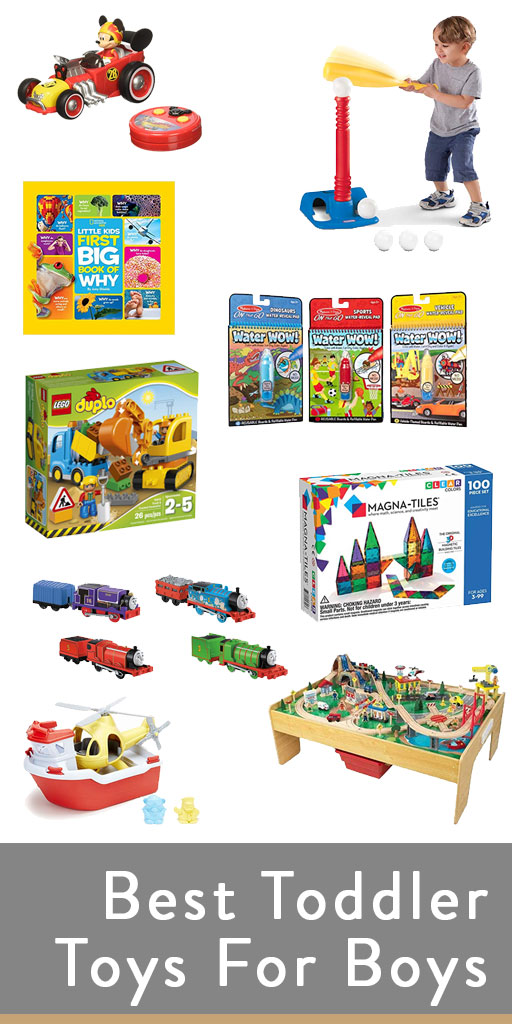 Best Toddler Toys For Boys
Liam is REALLY into Thomas The Train right now. One day Andrew got him this little toy Thomas and you can actually get the same on in a set of 4. Such a great gift idea.
We are huge fans of the Green Toys brand. We tend to find great deals on them at Homegoods and TJ Maxx, and Liam has quite a few of them. The trucks, buses, and planes are his favorites.
For Christmas this past year we got Liam a Train Table or rather Santa did 🙂 Let's just say it's been a HUGE HIT!
I know so many toddlers boys and girls alike love the magna tiles. Liam does, his friends do, they are huge hits. These make such a great gift for birthdays too!
For both boys and girls water wow books are amazing! This is one of my biggest go-to gifts for any 2-4 year olds birthday because they are mess-free and kids LOVE them!
Duplo legos are great at this age. Liam has been playing with them for a while and loves to build things. They are so great for their problem-solving skills and fine motor skills.
I think any outdoor sports gift is great. This t-ball set is a huge hit (we actually found ours at TJ Max for $10)! We also have the basketball hoop and golf set. All are very well-loved and used.
Books are always a good gift. No matter what age. I love any book that teaches something and this National Geographic book has become one of my go to's for gift giving.
Liam's grandma surprised him with this Mickey remote control car on a visit last year and he has loved it ever since. If you have a Mickey Mouse lover in your life I highly suggest this.
What are some of your ideas for the best toddler toys for boys? Anything you would add to this list?