One thing I am not good about is sharing the products I try and end up loving or the products I buy over and over again. One of my goals this year is to be better and more consistent about that! I have purchased some new clean beauty lately and gone through more of my favorites. These are my clean beauty empties for February 2023.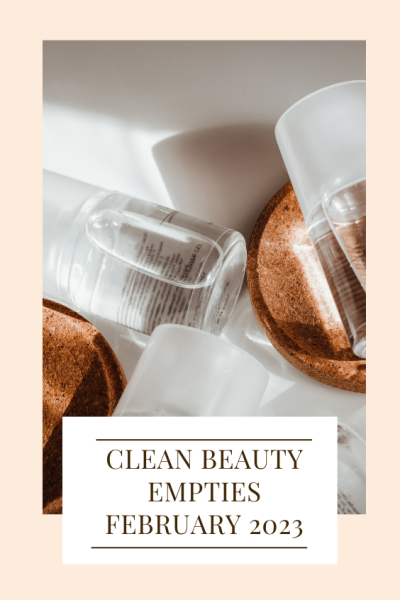 Clean Beauty Empties February 2023
Merit Beauty eyebrow gel: I ordered a TON of Merit beauty products several months ago and I have been trying them out. This is hands down my favorite tinted eyebrow gel I have used. I have said that about others before but this is my favorite for sure.
Merit Beauty highlighting balm: This is a more recent Merit beauty find and I am LOVING it! It's perfect to throw on and make myself look a bit less tired.
Necessaire body lotion: I can't tell you how many of these I have purchased but it's my favorite body lotion and I will buy it over and over again because of that. It's unscented and just makes my skin so soft.
Kosas the big clean mascara: Another repurchase. This is one of my favorite weekend mascara's. Gives a bit more volume than an everyday mascara and can be built upon well.
ILIA multi use pigment: This is one of my favorite things for travel because I love that I can use it as a lipgloss and as blush! It's super buildable and you don't need a ton!
Tata Harper regenerating cleanser: This is the BEST exfoliating cleanser. I have purchased it numerous times. It's best used once a week and followed by the Tata Harper resurfacing mask.
Biossance squalane and peptide brightening and depuffing eye gel: This is a new to me product. I really like it though! It was great to use in the morning before concealer and felt like it did help a ton.
What is one of your favorite clean beauty empties lately?