Being a busy mom, wife, and working full time, I don't spend a TON of time on my beauty routine these days. However, I do like to feel good about myself and look somewhat decent when leaving the house. My current favorite beauty products are both makeup and skin related, but mostly just things that make me feel good!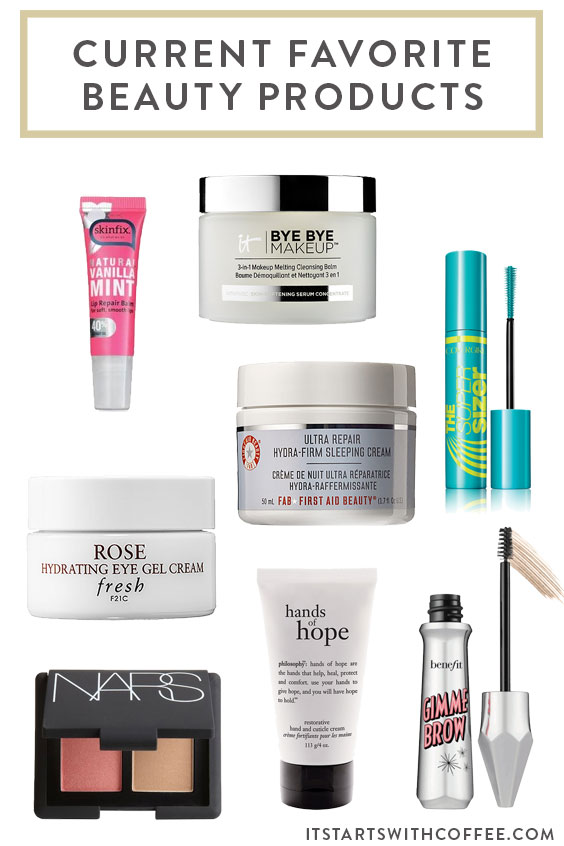 Current Favorite Beauty Products
I still try to make time every morning and evening for my skin care routine. I have perfected the art of getting it done as fast as possible. Taking care of my skin is really important to me. One of my favorite products in my arsenal of skincare is the First Aid Beauty Ultra Repair Hydra-Firm Sleeping Cream. I use this on my neck exclusively and only at night.
Do I look tired? uhh yeah all the time. So I am loving the Rose Hydrating Gel Eye Cream from Fresh. It's really helping my eyes look a little less tired.
On the off chance I wear a full face of makeup I always use this to take it off. The It Cosmetics bye bye makeup is AMMMMMAAAAZING! I used it a few times before but recently it has become a godsend. It really gets makeup off well and doesn't make my skin feel dry. Win.
I am a lip balm junkie and one day I saw someone talk about the Skinfix Natural Vanilla Mint Lip Repair Balm and I had to try it. It's been perfect for these colder months and I think I have gone through two tubes!
The Covergirl super sizer mascara is one of my tried and true favorite drugstore mascaras, and when I want to look a little more awake these days I put this on. Instant fix.
The Benefit gimme brow, brow gel has been a favorite of mine for years. It's so great to give your brows a put together look when you only have seconds.
When I need to make my face look more awake the NARS duo blush and bronzer is the best. My favorite blush and my favorite bronzer all in one! It really gives my skin a bit of a glow when otherwise I probably would look somewhat dead.
Lastly, having a new baby means lots of hand washing and lots of cracked dry hands. Between diaper changes and trying to keep germs away from my little guy. I have rediscovered my love of Philopshy's hands of hope hand cream. I keep it everywhere in our house!
These are the current favorite beauty products that have been getting me through my days. I would love to know what some of your current favorite beauty products are!