This post is sponsored by Travelers Insurance. All Opinions are my own.
Moving is the WORST right? I mean who LIKES to move? Well I am here to say I love a good fresh start and clean slate but when we bought our first home 2.5 years ago and moved into our house we made some mistakes. As part of this new partnership with Travelers Insurance, I want to share with you the 5 mistakes we made when moving in the past.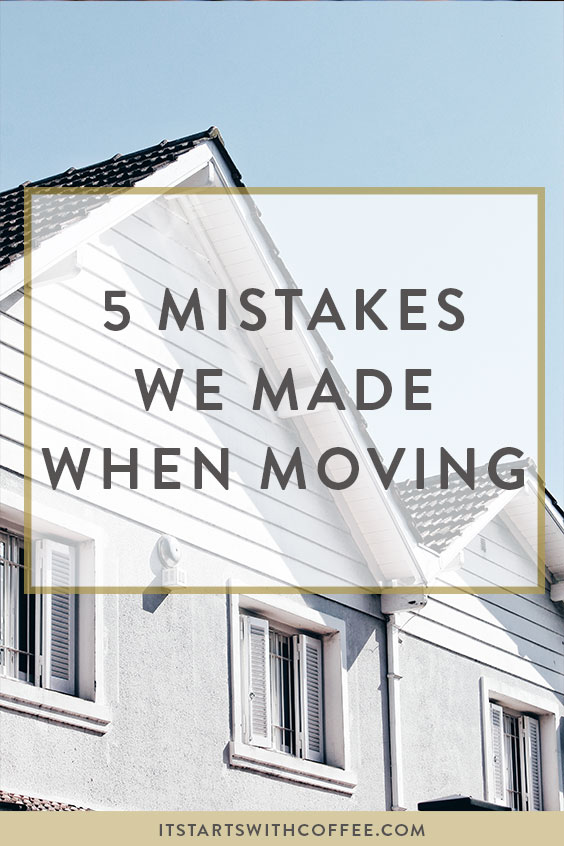 5 Mistakes We Made When Moving
We weren't organized enough: We were supposed to close on our house in early March but it got pushed a little so you would have thought we were SUPER organized. Well Andrew had a work trip the week before we moved so I ended up doing a majority of packing and dealing with house stuff myself that week. Workers in and out everyday, packing, moving stuff over, picking things up, etc. I felt so disorganized and literally like a chicken with my head cut off. Travelers Insurance recently showed me this great 30 day moving countdown calendar. which I wish I had back then. It lays it out for you in 30 days so that you can really breathe and feel like you have it together. It goes into labels, donating items, taking inventory, updating your address, what you should pack when, and so much more.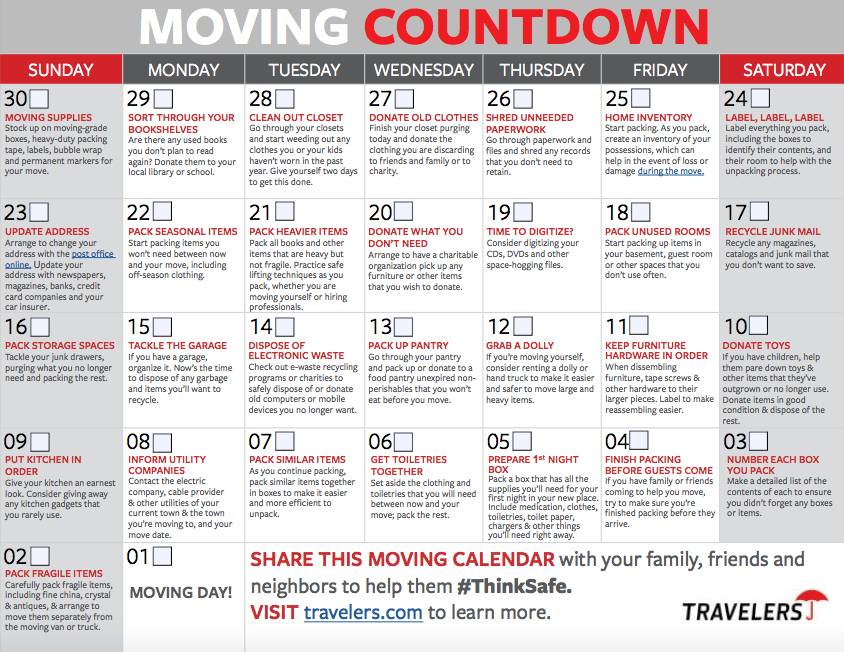 This is the IDEAL for not only first time home buyers but ANYONE moving anywhere. This is exactly what we will use for every single move in the future!
We tried to do too much ourselves: I remember Andrew telling me he could paint the entire house himself. Cut to about 2 hours into painting when he admitted he bit off more than he could chew. Thank god we had a great painter that got our entire downstairs done in just a few days. We also recruited my mom the day of moving to help us unpack, my dad to help with our yard, and my mom again to help stain our front porch swing. Ask for help!
We tried to do too much too soon: Remember you do NOT have to have your entire house furnished and unpacked the day you move in. While we did wait quite a while to completely furnish our house in fact it took us the entire 2.5 years we've lived here to feel settled furniture wise, I did feel like I needed everything unpacked and put away on day 1. Well the day we moved I came down with a nasty cold. I was in such panic trying to unpack and oh yeah it was pouring down rain. Let's just say I learned quickly that it's OK if it takes a few days or weeks.
We didn't take into account unforeseen costs: You've heard the term money pit right? Well that's kind of what buying your first house is like. The weekend we moved in the dishwasher broke. A month later the backdoor flooded, not to mention buying new toilets(expensive), painting, and random repairs. It adds up very quickly. When you are planning a move take this into account and set aside an emergency fund for those unforeseen costs. They will happen!
We ALMOST bought the first house we loved: I will keep this one short but do not buy the first house you look at. The first house we looked at we fell in love with. It was exactly what we wanted, updated, 4 bedrooms, etc. Well it was the top of our budget and a completely different area of town than we ended up moving to. I am so glad we both snapped out of it and realized we should look at a few more. We looked at over 25 houses and even went under contract on another one that fell through due to foundation issues. It happens!
Travelers Insurance has TONS of great free resources for anyone moving, whether it's your first home or your 5th. There is something for everyone and tons of helpful info! Make sure to check it out!
What is one mistake you made when moving?