If you follow me on any social channel you would know that coffee is my love language. For as long as I can remember (probably since my late teens/early 20s) I have been a huge coffee drinker! I honestly blame late night study sessions in college and our campus library for having a Starbucks. But here is the deal, it has a major downside. That would be stained teeth. I'm not a huge red wine drinker, so coffee stains are the bane of my existence. It is also something that for a long time made me super self-conscious! No one wants to feel insecure and self-conscious. If you are like me and love coffee but hate the stains, I am here to tell you about my dental care routine that can get rid of those coffee stains!

Dental Care Routine
So first things first, make sure you go to the dentist every six months. That's key for the basis of your dental health. We even started taking Liam to the dentist right around his first birthday!
Next is white strips. I use Crest 3D white strips every other day! I put them on at night while I'm washing my face, getting my clothes for the next day ready, etc.
Once those are off, I brush my teeth with my Oral B Toothbrush! This thing is AWESOME! It really gets all the gunk off my teeth, and once I switched to an electric toothbrush I could never go back! I have no idea how it took me so long. We make sure we are always stocked up on replacement brush heads. In fact, we picked more up just this past weekend at Sam's because we both use these toothbrushes!  I use the Crest 3D white toothpaste as well for another round of extra whitening power.
Flossing is SO IMPORTANT! I do it every single night and honestly sometimes throughout the day too! This is my go to floss! The Oral B Glide Pro-Health.
Finally, I use the Crest 3D white brilliance whitening mouthwash! For yet another round of ooomph with whitening power! Those coffee stains are TOAST!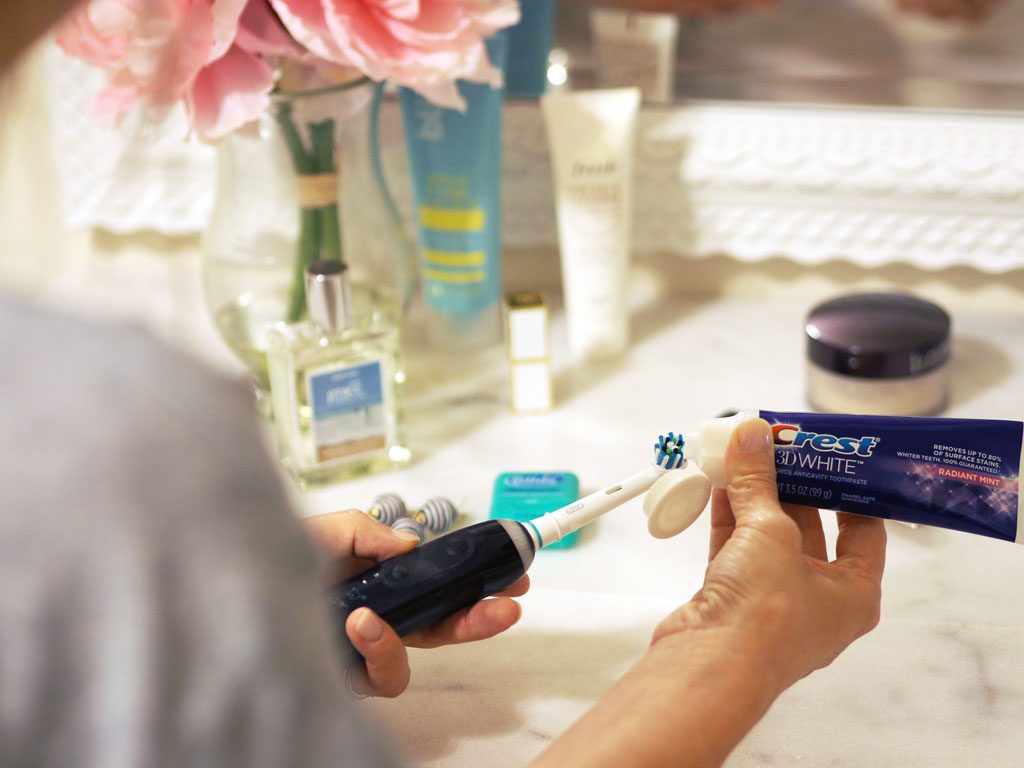 Are you ready for the great news? Right now, Sam's is having an amazing deal on all of these products! We're talking up to $40+ worth of instant savings! The savings is available from 5/9/18 through 6/3/18!!
Check this out:
Get $25 instant savings on a the Oral-B Pro 500 rechargeable electric toothbrush.
Also get $8 instant savings on Oral-B brush head refills.
To complete the routine, save $2 off Crest toothpaste, $2 off Crest rinse, and another $2 off Oral-B floss.
You can also save $2 if you stock up on Oral-B manual brushes.
Dental care is very important to me and who wants coffee stained teeth all the time? Not me! Like I said, this routine is really helping my confidence and smile by keeping it white but still allowing me to enjoy the 3rd love of my life… coffee.
What kind of dental care routine do you have?
This is a sponsored conversation written by me on behalf of Oral-B and Crest at Sam's Club. The opinions and text are all mine.