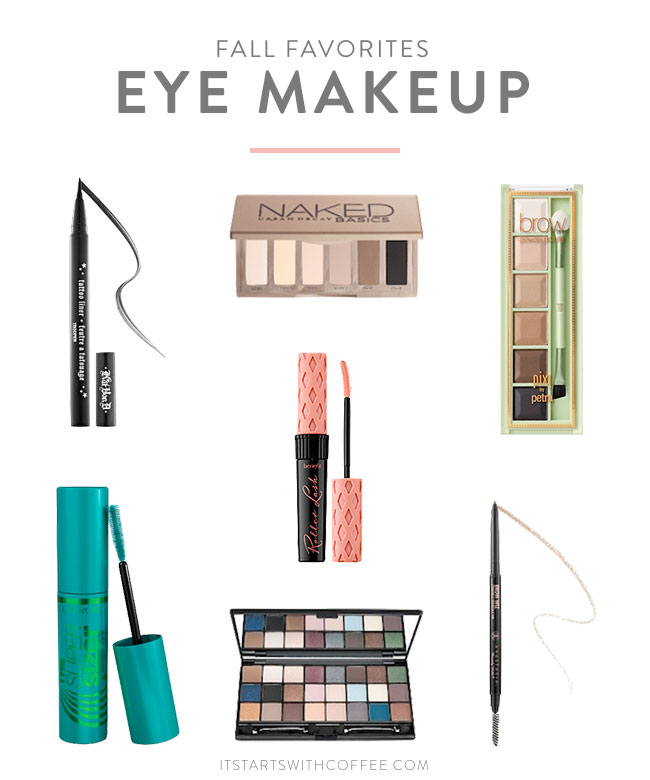 The temps are down, the pumpkins are out and the nails are a burgundy beautiful for fall. Guys it's time to talk fall eye makeup favorites.
I like to split my eye makeup into 4 categories: liner, mascara, shadow and brows.
Brow game is what everyone is wanting to look perfect now or rather on fleek but you know what I don't talk like that. So we will say "on point" in regards to the brow game.
I digress….
So lets talk liner:
My hands down favorite liner as of late is the Kat Von D Tattoo liner. Good lord this stuff is bomb. It looks amazing and goes on so smooth and perfect. For people who are afraid of liquid liner this is perfect because it takes the guess work out. A really great dupe for a fraction of the price is Maybelline line stiletto.
Let's talk mascara:
So I have two favorites that I alternate between daily. I love Benefit roller lash and I have been lucky to get 3 samples of it in various boxes so I have never had to purchase it. For a drugstore favorite I really love the Covergirl super sizer. The super sizer is great because it is so similar in application, style and result to the roller lash. I highly suggest grabbing one or both.
Let's talk shadow:
I many eyeshadow palettes but there are only two I use regularly. The naked basics palette from Urban Decay and the Nyx Wicked Dreams palette. Both of these honestly are all you need. The nyx one to me isn't too powdery it has great coverage and lasts a long time. The naked basics is also great for travel because it's so small!
Let's talk brows:
I swear by the Anastasia brow wiz but recently at Target I picked up the Pixi brow kit and as far as brow powders go I love this. It also has a great color for brow highlighting. Guys go to target and buy this now. It fills the brows so great and makes them look super natural. Also the brow wiz is amazing and I love it so much because it's idiot proof.
So I have shared my fall eye makeup favorites and now I am curious what your fall eye makeup favorites are. Comment below and let me know!