There are so many things in my life I regret buying. So many bad purchases or things I just didn't use enough. But there are also items I will never regret buying. Items that have ended up being amazing purchases. Things that I use over and over and over again.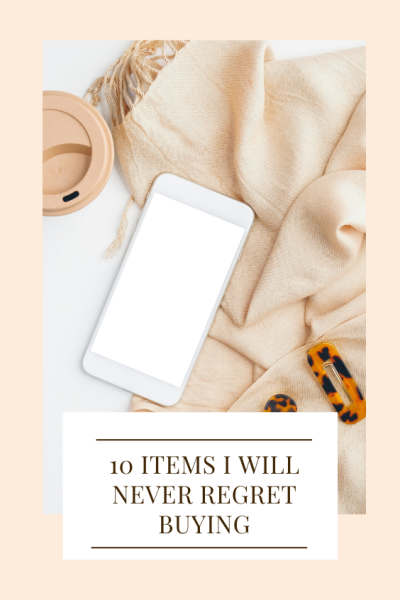 10 Items I Will Never Regret Buying
Louis Vuitton Neverfull: I purchased this in 2012 and 11 years later I still use it and wear it. It is a classic that will never go out of style. The cost per wear is probably in the pennies at this point.
Nespresso Machine: We purchased our Nespresso a little over 2 years ago and use it every single day. I have been to Starbucks maybe 5 times since. We have saved so much money and honestly I prefer the Nespresso coffee.
Kindle Paperwhite:  If you know me at all you know I am a HUGE reader. I read every single day and last year I finally got a Kindle Paperwhite. It has been amazing for me with reading because I am not distracted by my phone. I am able to put my phone away and focus on reading.
Clean Makeup/Skincare: It is always a little more expensive to buy clean products but in my opinion, it is WORTH IT! You can find all about my favorite brands, reviews, etc here.
Quality swimsuits: I have two swimsuits from Cosie and Co and while they are big splurges they are so worth it. They fit amazingly, and the quality is unmatched.
Well-fitting jeans: At the end of the day whatever brand of jeans you buy needs to fit you well. That's going to be different for everyone. Find jeans that work for you and invest in them. Madewell jeans are my absolute favorite and I think the quality is amazing.
Belt bags: I regret ZERO of my belt bags. I wear them nearly every day.
Washable rugs: We finally got a washable rug for our playroom and it is a game-changer! Our kids are little (6 and 3) and spill things all the time and it was becoming such a pain with our old rug. This rug is so great and it's VERY price friendly!
Chappywrap Blankets: I have raved about these for years. I think we have 10 including the ones we have for the kids and they are worth every single penny!
Lake Pajamas: As I have gotten older and moved from ratty t-shirts to actual pajamas I discovered that Lake Pajamas are just the best. I love their nightgowns and sets and also have their robes. My kids also have their pajamas and Andrew loves their men's t-shirts. I would rather spend a little more on quality sleepwear.
What is something you'll never regret spending money on?