Thank you, Libby's® Fruits & Vegetables, for sponsoring this post. All opinions are my own. 
One of my favorite things about fall is the fall recipes! And one of my favorite ones to make for our family is a Fall Spiced Pear Cobbler. It's very easy and very yummy. Who doesn't love their whole house smelling like pears and cinnamon?
I can remember waking up on Thanksgiving as a kid, and the first thing I would notice before my eyes even opened was the smell. Something about the smell of pears and cinnamon baking away just bring me right back to that time. So, now that I have my own family, I want to create the same kind of memories for them.
We all know the usual smells of Thanksgiving: turkey, stuffing, potatoes. But I can't help but get a warm and comforting feeling from the desserts. I hope you love this Fall Spiced Pear Cobbler recipe as much as we do, and maybe it's something you can incorporate into your home this Thanksgiving and fall season as well!

Fall Spiced Pear Cobbler Recipe
INGREDIENTS
For the filling:
2 (15 oz.) cans Libby's® Pear Halves (in Pear Juice)
3 tablespoons of the butter of your choice
3/4 cup of sugar
1/4 cup of all-purpose flour
1/2 teaspoon cinnamon
1/4 teaspoon salt
1/2 teaspoon vanilla extract
For the topping:
1 & 1/2 cups of all-purpose flour
1/2 cup of brown sugar
1 teaspoon baking powder
1 teaspoon ground cinnamon
1/4 teaspoon ground ginger
1/4 teaspoon ground allspice
1/8 teaspoon ground nutmeg
tiny dash of salt if you want (not required)
1/4 cup of butter
1/4 cup milk
INSTRUCTIONS
To make the filling:
Preheat oven to 350°F.
Melt the butter in a skillet over medium heat. Add the Libby's® Pear Halves, sugar, flour, cinnamon, and salt, and stir to combine.
Continue cooking, stirring frequently, until the sugar has dissolved, and the mixture is bubbly. Allow the mixture to bubble for 2 or 3 minutes, or until thickened.
Remove from heat. Stir in the vanilla.
Transfer the filling to a glass baking dish. Set aside and make the topping.
To make the topping:
Combine the flour, brown sugar, baking powder, cinnamon, ginger, allspice, nutmeg, and salt.
Add the butter and mix until the butter is about the size of peas.
Add about 3 tablespoons of the milk and continue mixing the dough. Add the remaining milk, a small amount at a time, and mix just until the dough comes together.
Drop the dough by tablespoonfuls over the top of the filling. It may look clumpy at first but when it cooks down it spreads out so don't worry if it looks a little odd.
Bake 30 to 35 minutes, or until the topping is browned and the filling is bubbly.
Serve warm or at room temperature.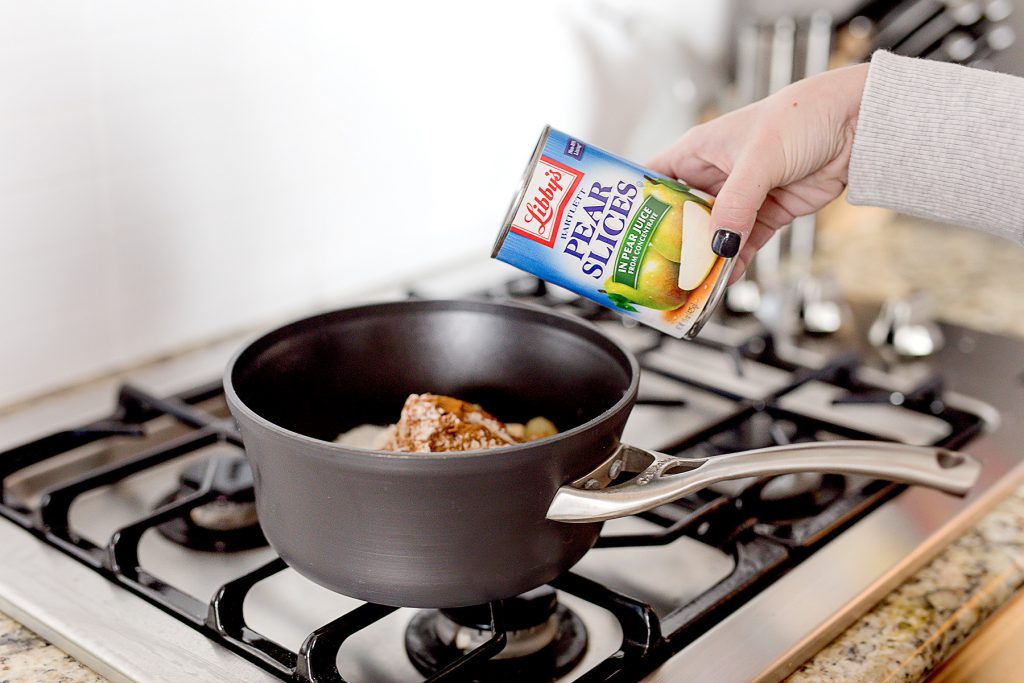 One reason I love this recipe is that, while there are a lot of ingredients, it's VERY easy but looks like it's something that took all day to make. Libby's® Canned Fruits does all the prep work – no need for washing, peeling, and dicing, allowing you to spend more time with those that matter most: friends and family. That's what's important this time of year, spending time with loved ones! Like I mentioned above it's such a huge favorite in my family and the smell is enough to knock any fall-scented candle out of the water!
In addition to whipping up delicious recipes for your holiday table, don't forget to enter the Libby's® Cansgiving sweepstakes from Nov. 4th – 22nd! Share your favorite recipe using Libby's® Canned Fruits & Vegetables by going to https://bit.ly/36OSW0H. You can also enter via Instagram or Twitter using the hashtags #Cansgiving and #sweepstakes and tagging @LibbysTable! Two lucky winners will receive a $1,250 cash prize. Terms and conditions may apply.