I am a pajama addict. Not just for me either, I buy way too many for my kids. Admittedly my son mostly sleeps in Nike shorts and t-shirts now because it's what he likes but when he slept in PJs he had SO MANY. I thought I would share my favorite places to buy pajamas in case you ever need to grab some for yourself or as gifts!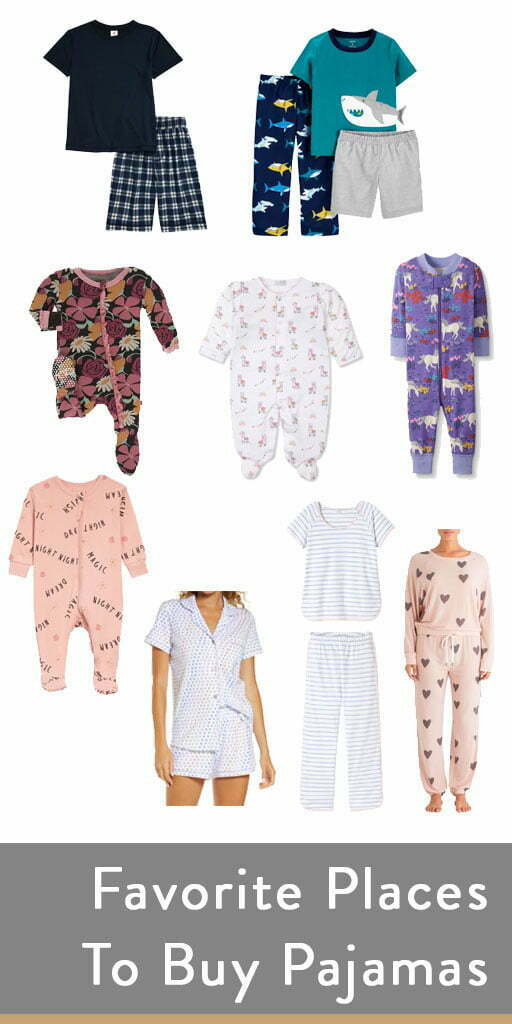 Favorite Places To Buy Pajamas
For Mama: I tend to only shop for pajamas at a few places: Target, Nordstrom, Old Navy, and Lake Pajamas. My favorite soft, luxurious feeling pajamas are definitely sets from Lake Pajamas. They honestly feel like my daughter's kissy kissy pajamas and I joke all the time they should make kissy kissy for adults. I also love the Honeydew Intimates and PJ Salvage brands at Nordstrom. Target and Old Navy have amazing budget-friendly pajamas. I always get my pajama leggings from Old Navy in the winter and they are the best! I also LOVE LOVE LOVE my favorite sleep shirts from B.P. at Nordstrom and wear them all the time.
For Boys:  As I mentioned at 3.5 Liam mostly sleeps in shorts and a t-shirt. Nike shorts and Canvas brand t-shirts to be exact. But, in the winter I usually have him sleep in fleece pants I get from Target or Carters. When he was a baby Carters and Hanna Anderson were my go-to favorites! I loved the Hanna Anderson zip up sleepers until he was about 2.5. They are seriously the best and last so well!
For Girls:  I have a lot of favorites for Charlotte. When she was an infant she was mostly in Kickee Pants, Angeldear, Magnetic Me, and Kissy Kissy. Now she wears those brands some but mostly Carters and Hanna Anderson. I also have random ones from Gap and Old Navy (fun fact you can shop their outlets online and get amazing deals on pajamas)! She is very petite so at 9.5 months shes still in a lot of 6-month pajamas but also some 12 month (Carters runs really small IMO). I also don't like her pajamas to be super tight fitting.
Where are some of your favorite places to buy pajamas?