I have always been more of a handbag girl than anything else. I don't get dressed up a ton as I work from home and pretty much live in athleisure and pajamas. But I LOVE a good handbag. I have quite the collection but so many of my bags are not designer labels you may be thinking of. I tend to prefer affordable leather handbag brands. I love a good everyday tote or crossbody and I want to share some of my favorites with you all!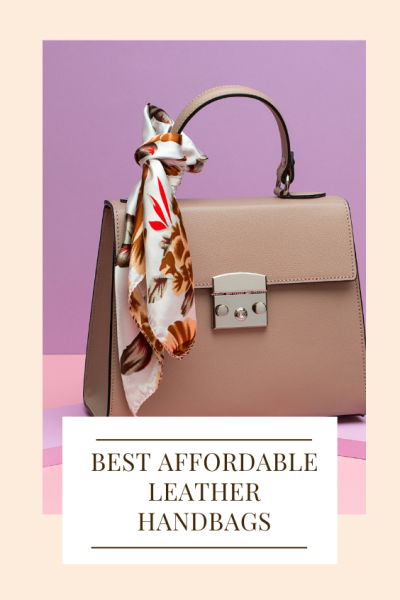 Best Affordable Leather Handbag Brands
Cuyana:
Cuyana is one of my favorite brands. I got my first bag about 3 years ago and quickly got another. They have a ton of great items (not just bags) but I am drawn to their sophisticated simple leather bags. I got the Classic Leather Tote in camel and the Medium Carryall Tote in black. The Classic Tote is great for an everyday bag or work bag. The Medium Carryall is actually the one I prefer for travel since it zips and has a crossbody option. They do have a Classic Leather tote with a zipper and I wish I had gotten that one instead just because I love the zipper feature. You can also have the Cuyana bags monogrammed.
Madewell:
Madewell handbags are some of the best quality handbags out there. I have had my Madewell Transport Tote for 6 years and it's in perfect condition. I have used this bag for work, travel, out and about errands, etc. I have also thrown a bag in there with diapers and wipes when on the go with the kids. It's truly one of the most versatile bags I own. I also recently got the Madewell Sydney bag. It is SO GOOD! I love that it's a crossbody and the size is perfect for everyday items. I have this one in burnished caramel. I ended up having both bags monogrammed which you can do on their website (not in stores). I love the way they look with the simple monogram.
Leatherology:
I am such a huge fan of Leatherology. I have two of their bags. This smaller crossbody and this tote. The tote is GREAT for every day but especially great for travel. It can hold a laptop, all the essentials, and more and it has a zip closure. The customer service of this company is also phenomenal!
Mark and Graham:
One of my favorite places to buy leather goods! I have a few of their small pouches which I use every day in my bag. But when it comes to handbags I have one. I have the Brooklyn Carryall which I have had for years and is a great bag if you are carrying your laptop and other items with it. I really LOVE the Elisabetta Slouch bag and if I had a reason to buy it I would!
The bottom line
I love that with these affordable leather handbag brands you know the quality is not something you are sacrificing. Their reputations speak for themselves. You can find beautifully made, great handbags for a fraction of the price of "designer" bags but still amazing quality.
Do you have any of these handbags?
Do you have any other affordable leather handbag brands you love?
This post was written in 2021 and has been updated for 2023.