Happy Holidays friends! It's time for my gift guides to start. Yes, I know you're getting gift guides from all over the place, but hopefully each one gives you a little something different. Today I am sharing my gifts for the beauty lover gift guide. Enjoy!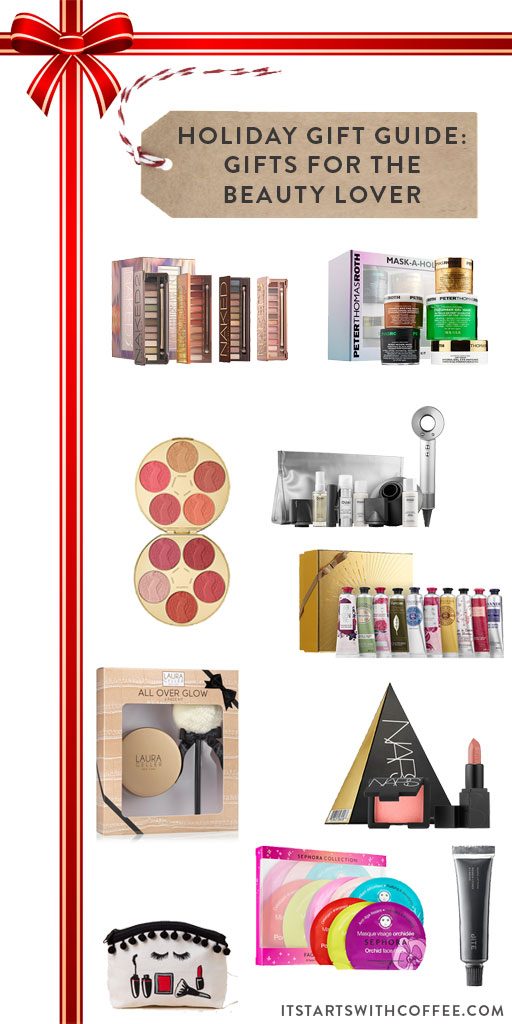 Holiday Gift Guide: Gifts For The Beauty Lover
One thing on my wishlist this year is this Agave set from Sephora. Sephora always has amazing gift sets and I always find one or two I must get. I have mentioned my love of Agave lip mask before and this Agave set of a scrub, mask, and balm is amazing!
This next thing is the splurgiest item ever! So I got to review a Dyson hairdryer several months ago (p.s. I loved it). This gift set has the hair dryer, accessories, and a ton of hair products! So if you need a splurge gift idea for yourself or someone else this is it.
This Tarte blush set is also on my wish list this year. I love the Tarte blushes and this set would have you set for quite a while! Plus it's UNDER $50!!!
Have you always wanted the Urban Decay Naked Palettes? Well this set has 4! Naked 1-3 plus Naked Heat! What a fun gift to get or give!
OK where my mask lovin ladies at? This Peter Thomas Roth Mask a holic set is RIDICULOUSLY cool! I am already a huge fan of the Pumpkin Enzyme mask and the Cucumber Gel mask so this is something I would love and something I would buy for someone too!
Need a glowy look? This Laura Gellar all over glow set is the perfect way to brighten up your winter look!
Oh man who wouldn't want this L'OCCITANE advent calendar? A new product everyday? Yep!
I have loved the NARS X Man Ray collection and this lip and cheek duo is the perfect beauty stocking stuffer!
Another great face mask option is this Sephora Collection of sheet masks! You would be set in masks for a while!
Nothing like a cute makeup bag to complete all the Makeup essentials you need in life! I love this one!
Did you like these gifts for the beauty lover suggestions? Would you want any of them?