Back again with another gift guide! Today I am sharing gifts for the fitness lover which lets be honest, I would be pretty pumped to get any of this stuff and I think any other fitness lovers would agree!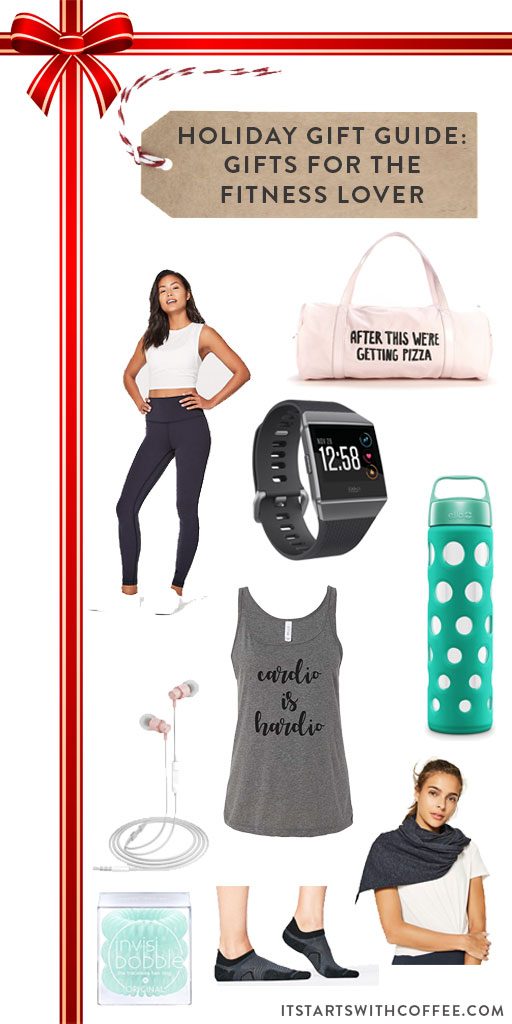 Holiday Gift Guide: Gifts For The Fitness Lover
Right now the ONLY hair ties I have been using are invisibobbles. I had a few before but in my swag bag at the Makeup Show I got more! Since then I have been a loyalist. These DO NOT CREASE your hair at all. Seriously I wear my hair up most days and when I take them out no creases! Perfect for a friend, a stocking stuffer, etc.
The only leggings I wear are Lululemon Align Pants. These are the softest, most comfortable leggings ever. They are high waisted, and I even wore them throughout my entire pregnancy! They now have full length, cropped, and 7/8. You really cant go wrong! Another great pair of leggings are the Zella live in leggings. They are super similar!
I have raved about the Lululemon socks for years and always ask for them in my stocking! They are a little pricey but they last forever!
When it's cold and I still go running or walking outside I love the Lululemon Vinyasa scarves. You can wear them a TON of ways and they are also amazing for travel. Such a great gift to get a friend!
I mean a pair of rose gold ear buds would be a great gift for anyone. They are stylish, super cute, and necessary! Everyone needs ear buds!
I'm a sucker for cute and fun accessories. A gift I actually recently got for a friend is this gym bag. It's price friendly, cute, and sensible because you could use it for the gym, or a weekend away!
A cute and fun water bottle is always a great gift to give or stick in someones stocking! You can't have too many!
I know so many people lusting after this Fitbit Iconic watch and it would be a great gift to get for anyone who loves staying in shape! I love my Fitbit and being able to see my steps, heart rate, etc is amazing!
I don't know anyone who doesn't love cute and punny workout tops! Puns are great.
What is something you would add to my list of gifts for the fitness lover?