Travel is the best right? Something I'm sure we all wish we could do more of. For the lucky ones who get to travel all the time (we all have those friends) I have put together a list of gifts for the travel enthusiast that I am sure anyone hopping on their next flight would LOVE!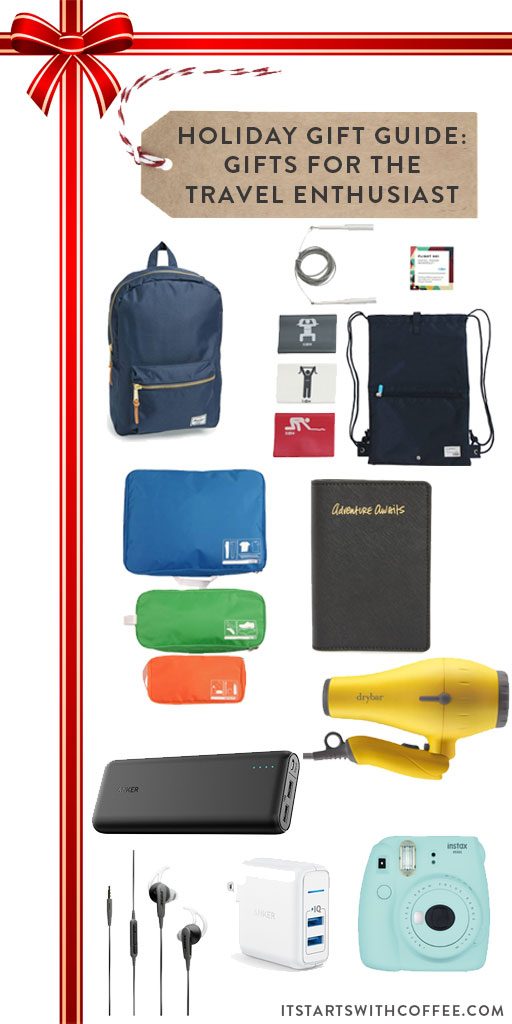 Holiday Gift Guide: Gifts For The Travel Enthusiast
This is the cutest leather passport holder and the price is super great!
For that travel enthusiast friend who also hates to miss a workout this is a great option you could do workouts with anywhere! In a hotel, HomeAway rental, etc.
There are few things in life as crappy as hotel blow dryers. For those of us with thick hair at least. This Drybar travel blowdryer is bomb! First of all it folds so perfect for a suitcase or even a carry on. It's also pretty light weight!  WIN!
If you want to get someone who travels a lot a nice pair of ear buds these are them. They will last for years and are great quality!
Maybe not the most exciting gift but certainly one that someone will use are packing pouches! The bags tell you what will fit in there. Great gift!
Perhaps when you think of backpacks they don't seem very glam. But since having a baby I for one love them. They are a great gift for a mom or a younger person because they are trendy and very easy to manage.
ANYONE would love an Anker charger. I use this ALL THE TIME! Travel, at home, or when I am working from Starbucks, etc. These last for a long time and give you several full charges. You can also charge more than one thing at a time.
Going along with that is the Anker wall powerport charger. This has 2 USB plugs which is great to charge things like a phone and a Fitbit, a phone and an iPad etc. I use this every single time I travel anywhere!
Of course you need something to take all those amazing and fun pics with right? So how about an Instax camera? These are so fun to have for so many occasions!
Is there anything you would add to this list? Would you personally want any of these gifts for the travel enthusiast?

Cyber Monday Favorites!!!!
A lot of these deals were happening on Friday but some are still going on or even better!! Here are my favorites:
Jcrew 40% off + 10% off till noon with code SHOPFAST

Jcrew Factory 50% off prices as marked

Madewell 25% using code GOODMOOD

Shopbop use code MORE17 to save up to 30%

Anthropologie 20% off everything including some of the cutest MUGS ever!


Nordstrom prices as marked but SO MUCH GOOD STUFF

Tuckernuck up to 30% using code GONUTS (amazing brands and one of my fav places to shop!)
Ulta 50% off TONS of products like Urban Decay, It Cosmetics, Buxom, Benefit and more! 

Target soooo many cute things on sale for up to 50% off

American Eagle/Aerie 40% off all the things

Amazon awesome deals on Instantpot, baby stuff, Echo, and more

Athleta 20% off your entire purchase of RIDICULOUSLY cute stuff

Old Navy 40% off entire purchase NO CODE

Sephora tons of daily deals up to 50% off

Six 02 20% off with code CYBER20

Abercrombie 50% off entire store!!

Back Country up to 50% off North Face, Patagonia and more

`1