I feel like gifts can get tricky when you are trying to stay within budget. So many people to shop for and it really adds up! Well have no fear your gifts under $50 gift guide is here. There is no need to go crazy and spend thousands of dollars. There are TONS of great gifts under $50!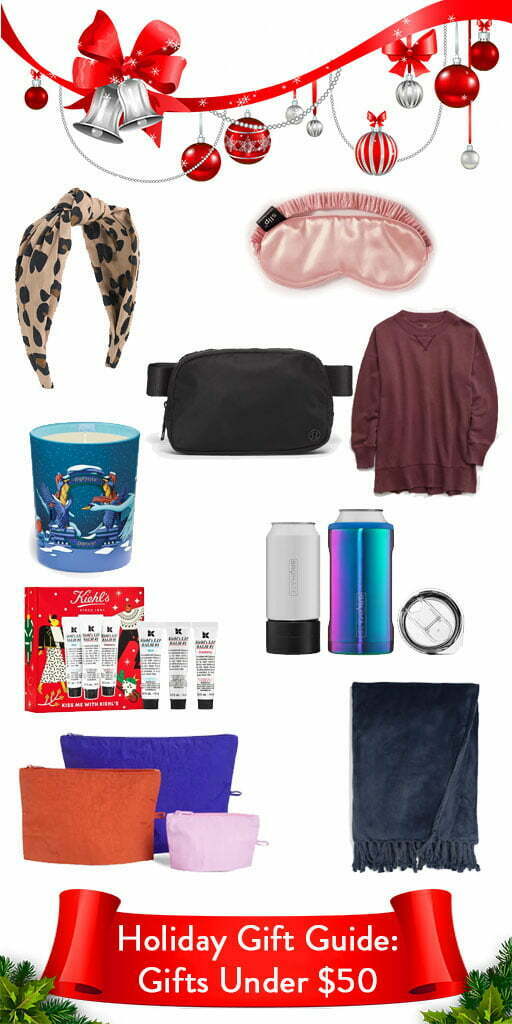 Holiday Gift Guide: Gifts Under $50
I love a great throw blanket. Much to my husband's dismay, it's something I can't stop buying. This Nordstrom one is in our living room and it's beyond soft and cozy! It's also under $40 and comes in a ton of colors.
I love any kind of reusable bags. The Baggu brand has always been a favorite and this 3 pouch set is so great. Would be a fantastic gift for anyone.
I have probably mentioned a Kiehl's gift in every single gift guide but this lip balm set is just too good! The price is amazing and this is just such a great option at $25.
I swear I hear about the brumate everywhere! They are great for keeping cans cold and they can be adjusted. I think this is SUCH a great gift for a guy in your life (think brother, uncle, friend).
Not only does this candle smell amazing but it's beautiful too! $40 is a little steep for a candle but Diptique candles are that good.
I have talked a ton about how much I love my belt bag from Lululemon and I think this would be a great gift for any lady in your life. As a mom of two littles (one of which I carry and the other of which holds my hand), this is a great way to keep the items I need close by and hands-free. Plus they have sooooo many colors!
This headband (currently on sale) is one I wear all the time! It's so cute and really makes a bun not look as frumpy.
This pullover from Aerie is so comfy and under $40. It comes in tons of colors and is perfect for leggings!
I hate lights in my face when I sleep and if you know someone who likes a good lux item this silk eye mask is perfect. It's $35 and comes in several colors.
I hope this gave you a gift idea or two that doesn't break the bank!
Who is the hardest person to shop for on your list?