This is a sponsored post written by me on behalf of INVIA. All opinions are 100% mine.
My husband and I are both people who need a boost of energy during the day. Be it a little extra coffee in the morning or for him sometimes a diet soda in the afternoon. I feel as though a lot of people are like this. Some of us just need more right? I wanted to share with you guys how INVIA can add a little extra for your day!
Recently Andrew tried INVIA and I wanted to tell you guys about his experience with it! INVIA has really changed Andrew's day to day life. He has less headaches (he's prone to migraines), he feels a lot better after drinking it (no sugar crashes), he has a ton of energy to get through the work day and still feel energetic enough to work out, and help out at home (since I'm super pregnant)! It's something that has really benefited him! So if you are struggling with your energy levels and need a little boost to get you through the afternoon, or maybe you need something post workout to perk you up, this supplement is worth a try. Drinking INVIA a couple times per day replaces the need to consume coffee and soda. So if you are looking for a way to drink less soda or coffee this may be a good product for you.
It's really simple to use and comes in great flavor options. You just open the box, take out a packet and mix it into water. So not only are you getting a boost of energy, you are getting hydration with it! If you are having trouble drinking enough water this may be good for you, too! I know for us, having flavored water makes drinking that extra glass or two of water a lot easier! The flavors are Tea Lemonade and Mixed Berry! YUM! Andrew really loves the berry flavor.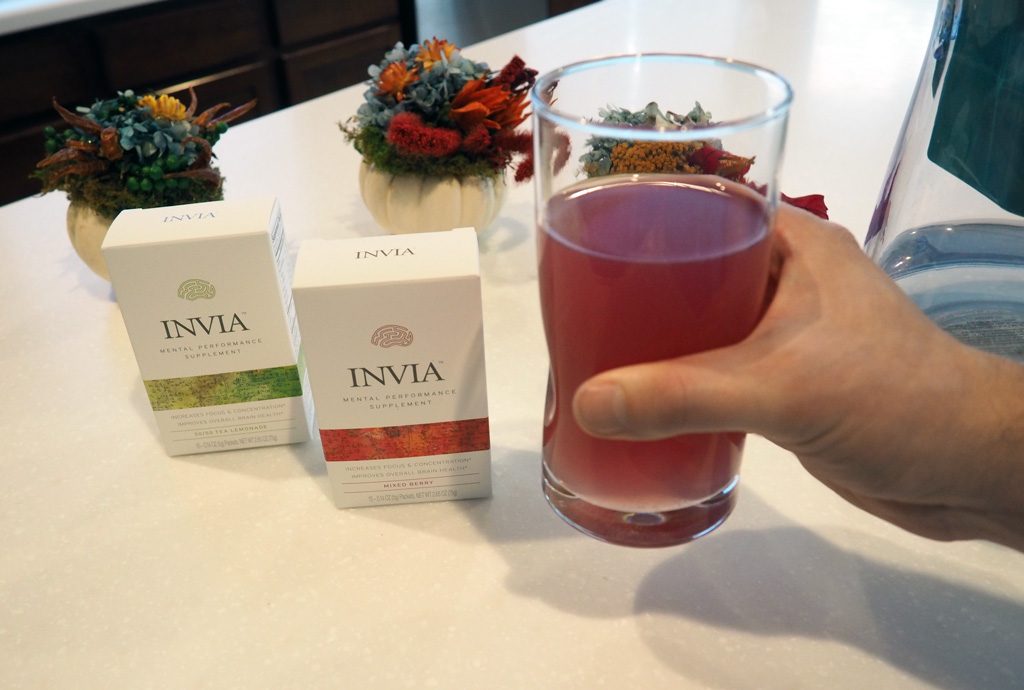 Not only does it taste great but with a subscription membership, re-ordering INVIA is just one less thing to worry about! The packs are so small and convenient that they are easy to take to the gym, to work, and to travel with. Very little fuss! All you need is water. Plus INVIA is good or you! It contains 100% of the daily value of vitamins E, B6 and B12. INVIA is low in sodium. It also has 100mg of caffeine which is about the same as one cup of coffee.
I know this is something that will be a staple in our house and I hope it will be one in your house, too!
Are you going to give it a try!?
*These statements have not been evaluated by the Food and Drug Administration. This product is not intended to diagnose, treat, cure or prevent any disease.