We are almost three months into life with 2 kids. Liam just turned 3 and Charlotte will be 3 months in a few days. It seemed like a great time to talk about my morning routine with a toddler and a newborn. Basically a "how do we get it done and out the door without everyone losing it" post.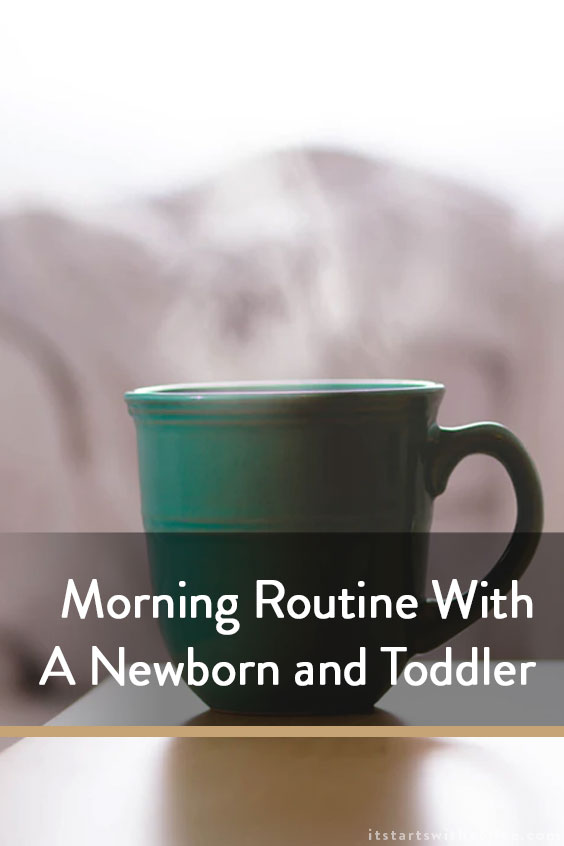 Morning Routine With A Toddler And Infant
5:20: Andrew's alarm goes off. He eats and showers and gets ready. I get ready, wash my face, brush my teeth, and try to eat breakfast. I put Liam's lunch together and put his school bag in the car.
6:30: Liam gets up. He has breakfast and then Andrew gets him ready for school. I lay his clothes out the night before so it's a quicker process. Andrew gels Liam's hair, brushes his teeth, and applies sunscreen if he needs it (depending on the weather). Andrew leaves for work and Liam plays in the playroom.
7:00: Charlotte is up. She gets a bottle, new diaper, and I get her dressed.
7:30-8: We all play in the playroom.
8:00: I start loading everyone in the car for school drop off. His school is less than 10 minutes from our house so it's not a long drive thankfully.
8:15: Liam is at school. Charlotte and I either head home, head to a class, head to the mall to walk, or I take her to my mom's so I can go work out. It just depends on the day. If she goes to my mom's, she takes her morning nap there and I will usually do work at my mom's until she wakes up.
9-11: Charlotte Naps. I work, do an at-home workout. Take a shower, or do any of the 100,000 things that need to get done.
11:00: She's up and has another bottle and we play until her next nap. Some days during this time I have help here with her while I go run errands, work out, or get work done.
That's our morning! It's pretty regimented at this point. Andrew gets to work from home 1-2 days a week and when he works from home he stays with Charlotte while I take Liam to school and then run and work out. Usually, she's napping for this. I am so grateful for a partner who is super hands-on and always wants to help and do more. Please note, not all mornings are perfect. Sometimes there are tantrums, and blowouts, and all sorts of things that aren't pretty and perfect.
What does your morning look like?