Thank you to Aeroflow Breastpumps for partnering on this post. All experiences and opinions are my own. 
When I was pregnant with Liam I honestly thought breastfeeding him would be a breeze. I mean that's what our bodies are made to do right? It was my plan. I had formula ready at home just in case but I had ALL THE THINGS for breastfeeding. I was ready for the journey. I want to share my breastfeeding experience with both of my kids because I think it's something women don't talk about enough… the struggle.

My Breastfeeding Experience
Like I said I assumed breastfeeding would come naturally and easy. That's what all the TV shows and movies tell us. I had seen so many of my friends have GREAT experiences and had no reason to think mine would be different. Well here's what happened…
Liam went to the NICU 4 hours after he was born and I was told to pump. I got NOTHING. Even days and days later I got NOTHING. I still did it but it would be droppers of milk that would come out. After 30 minutes of pumping to not even get an ounce was so upsetting. I kept at it through the hospital experience, and once we got home. It never got better and after a few weeks, I just decided enough was enough. I would wake Liam and feed him a bottle and then pump for 30 minutes. Then 90 minutes later I would have to do it all again and still was getting barely anything. I was emotionally and mentally drained.
So we switched to formula exclusively and I felt like a failure. Not to give him formula but just because my body didn't do what I was told it would do. I got over it eventually and then I got pregnant again!
So here's what went down this time. I went back and forth during my pregnancy. Will I try again? Is it worth it to my sanity? I decided to try a different pump. I got the Motif Luna pump and really loved how compact and simple it was. Andrew said it reminded him of a rice cooker which cracked me up. It fit so easily by Charlotte's rocker and it was really easy to use and figure out. While I am not breastfeeding or exclusively pumping I am happy that Charlotte was able to get SOME milk from me even though it's not much.
What I love about the Motif is that it's comfortable and efficient because I do not have 30 minutes to pump! It's also really easy to use and you are in control of the settings. There's also a built-in night light which is great when you are zombie waking up at 3 AM to pump. There's a quiet mode so you aren't waking everyone up with the obnoxious sound that some pumps produce. It's also only 2 pounds so you aren't lugging around a ton of stuff/weight .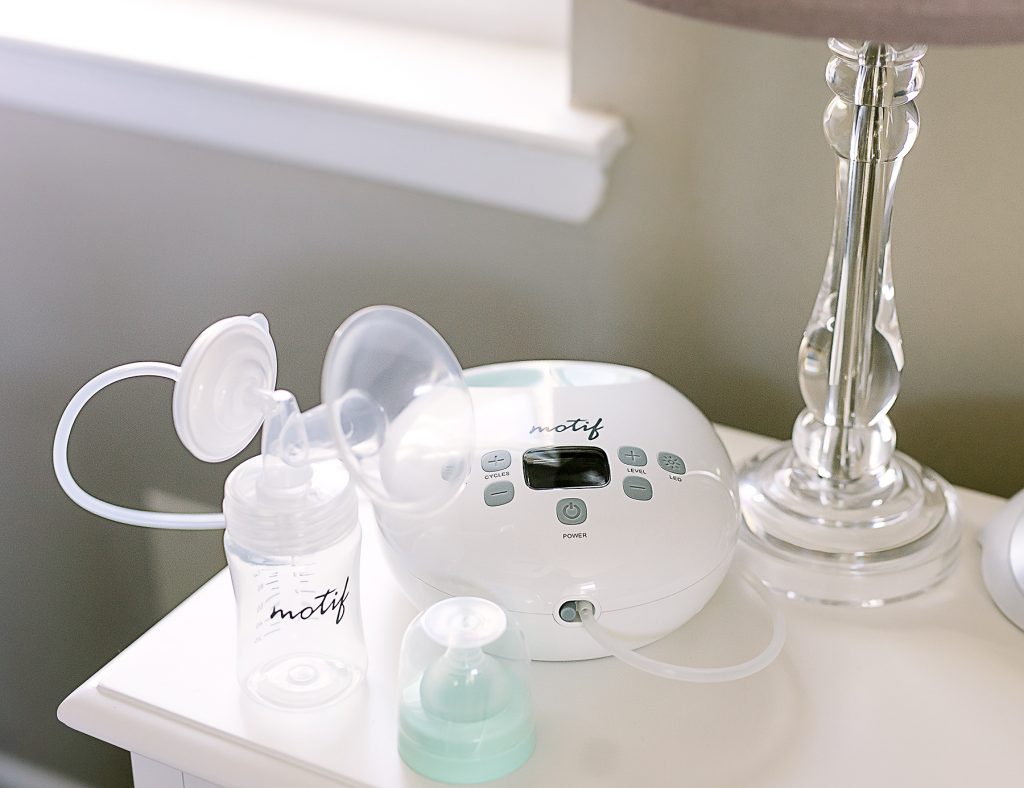 When it was time to get my pump this time I went through Aeroflow. Aeroflow is WONDERFUL and about 1,000 times easier and better than going through insurance directly. If you didn't know you get a breast pump free through insurance. Aeroflow specializes in helping moms get their breast pump AND pregnancy and postpartum support garments (like maternity support bands, compression socks, and postpartum recovery garments) through insurance. Did you know you are able to get all of those things through insurance or by using your HSA (health savings account)?
Aeroflow takes care of the entire process, including filing the insurance claim and getting necessary documents from your doctor All you have to do is fill out the quick and easy Qualify Through Insurance form to get started! Aeroflow Breastpumps also has a great selection of supplies and accessories for new and expecting mamas. The kinds of things I had no idea you could get from there like milk storage bags and nursing pads, to cleaning supplies and hands-free pumping bras, you can get it all when you place an order for your pump!
I think as women we are set up to believe it's all going to be easy and when it's not it can really lead to a lot of guilt. It's something I really think isn't spoken about enough. At the end of the day fed is best and making sure you have a healthy, happy, fed baby is what's most important. I hope by sharing my breastfeeding experience and struggles it lets other women know that it's OK if it doesn't go according to plan and it's OK if your body just doesn't fully cooperate. But that you can be outfitted with all the materials, knowledge, and supplies to set you up for the most success by using Aeroflow!