Hair and Makeup are things us ladies deal with all the time. Sometimes we love it and sometimes we hate it but having the necessary tools to make sure it goes as seamless as possible really does help the process. I wanted to share with you my favorite necessary tools today!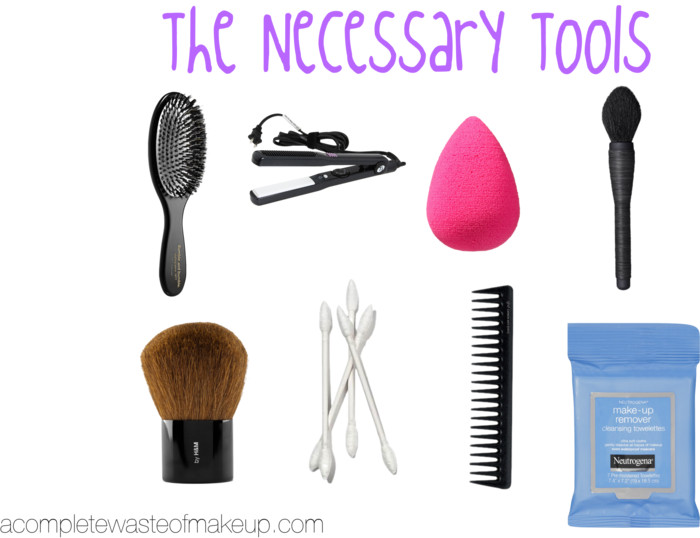 1. A great hairbrush: I have super thick hair. I always have and I can not buy cheap rinky dink hairbrushes. This one I have is from bumble and bumble and I also have a GHD one that I love too. They are both flat brushes because I usually dry my hair straight! These are super durable and the two I have I have had for over 4 years! They are amazing!
2. A flat iron with adjustable temps: I love me a good flat iron but it needs to have adjustable temps because the hair closest to my face is much more fine than say the hair in the back of my head. I adjust the temp as I am changing which part of my hair I am flat ironing. I have a Hana Pro as well as a T3 and the T3 I have has the best and quickest adjustable temps. 
3. A good beauty blender: You can go to a drugstore and buy an inexpensive beauty blender and you can go to Sephora and get one for $20 honestly it doesn't matter but these are soooo great for blending in makeup. The first time I used mine it felt like an "a ha" moment and a "why have I not had this longer moment." Go get one!
4. Good Makeup Brushes: These are great for blush, foundation etc. But the thing is do not buy cheap ones. Anytime I have bought cheap brushes they break and fall apart so easily. I invested in a really nice set of brushes almost 2 years ago and they have stayed so perfect! I also love my poof brush for loose powder!
5. Q-tips: I love them I use them for so many things but one of my favorites is getting unwanted eyeliner and mascara off the skin around my eye where it may have smudged. Also they are good for smudging if thats the look you are going for. They really can be used for so many things. I also use them when painting my nails to get nail polish off my skin because I can not do a great manicure to save my life.
6. A comb that won't break: This is a GHD comb and I love it! They are durable and for my super thick and often tangled hair they are perfect. I use a comb when flat ironing my hair so this one is with me anytime I travel and at home.
7. Great makeup remover: I am obsessed with the Neutrogena makeup remover wipes. This stuff is essential in my life. I always following it up with Neutrogena foaming face wash and my skin feels amazing after. Also I have super sensitive skin so if you do as well these work great!
What are some Necessary Tools you use?