This is a sponsored post written by me on behalf of Alumbre Coffee. All opinions are 100% mine.
Hi friends! As you all know I love me some coffee. I especially LOVE good coffee. Recently I introduced you to a little about Alumbre Coffee and their backstory. Well now I have tried them and you guys. YOU NEED THIS IN YOUR LIFE. I can't say enough wonderful things about how delicious this coffee is.
When you pour that first delicious cup you will see that each coffee bean has its own perfect degree of roast depending on how and where it was grown, the varietal, size and shape of the bean, processing, and storage. You can really tell.
Their roasting facilities include a green coffee warehouse, a state-of-the-art roasting and packaging operation, a distribution warehouse, and the company's main headquarters. This roasting and packaging operation is designed to produce high quality coffees, while still incorporating the artisan's touch needed to produce premium specialty coffee. I feel like with each sip you can tell the artisan deliciousness and love that went into making this coffee.
We tried 5 flavors, and after coming down off my caffeine high I can tell you that I loved each one! They are that good!
La MinitaTarrazu – Costa Rica: $22.00(12 oz. bag)
Alma Del Café De Jardin – Colombian: $17.00 (12 oz. bag)
Yirgacheffe – Ethiopia: $17.00(12 oz. bag)
MutuBatak – Sumatra: $17.00 (12 oz. bag)
French Roast – Blend: $12.50 (10 oz. bag)
But the La Minita Tarrazu was my favorite 🙂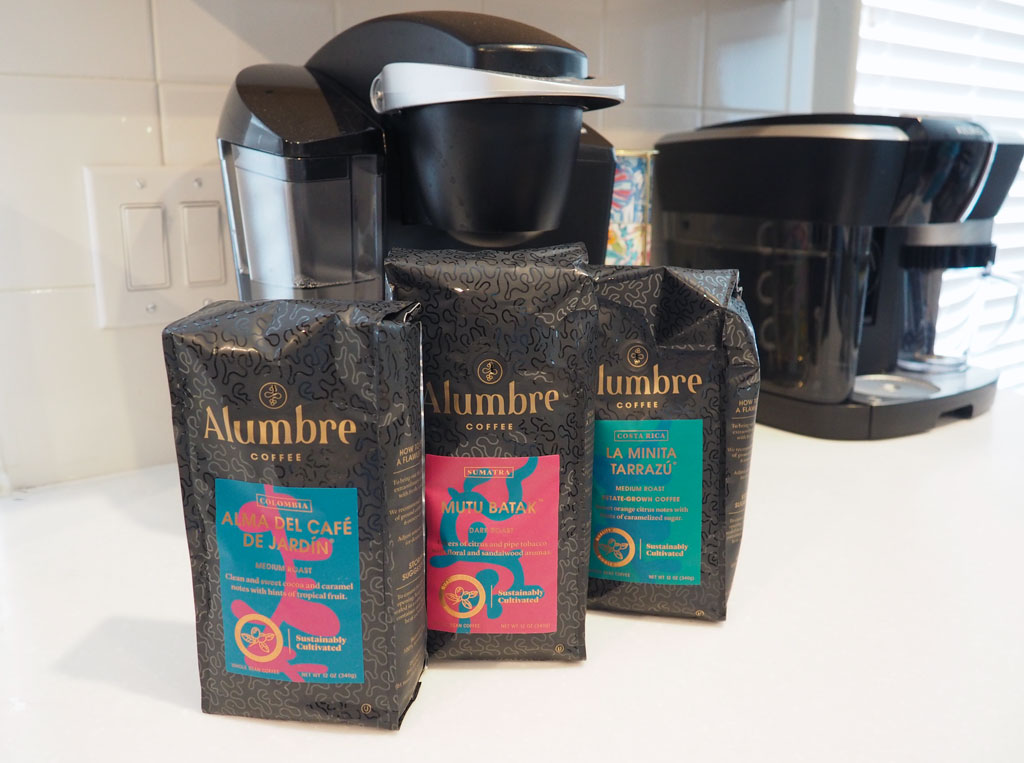 Make sure you Discover Alumbre and Try Alumbre today, you won't regret it! Also Sign up for their emails! That way you don't miss a thing!