Back in January Andrew and I took a just-us trip to Antigua for 6 days. It was hands down one of the best trips I have ever been on. I had never really heard of this resort nor did I know much about Antigua beforehand. This is now the place I will recommend to everyone. I wanted to share our experience at Hammock Cove Resort in Antigua because I truly think this is the vacation everyone should take.
Our Experience At Hammock Cove Resort In Antigua
The Resort:
The resort was absolutely stunning. Every room is a private villa with a plunge pool, lounge chairs, and a swing. There is a VERY comfortable bed, a large bathroom with double sinks, a vanity, and a double shower. There is also a large walk-in closet. You are given a cell phone to call your own Ambassador. The Ambassador takes care of pretty much anything you need from towels, to dinner reservations, to drinks, and more. You have one during the day and one at night. We had the same two our entire trip. They were phenomenal. The resort is VERY clean and there is hand sanitizer EVERYWHERE. It felt very safe and clean. There are less than 50 rooms so the hotel is not crowded at all. The resort is also all-inclusive and has a daily fee that reflects that.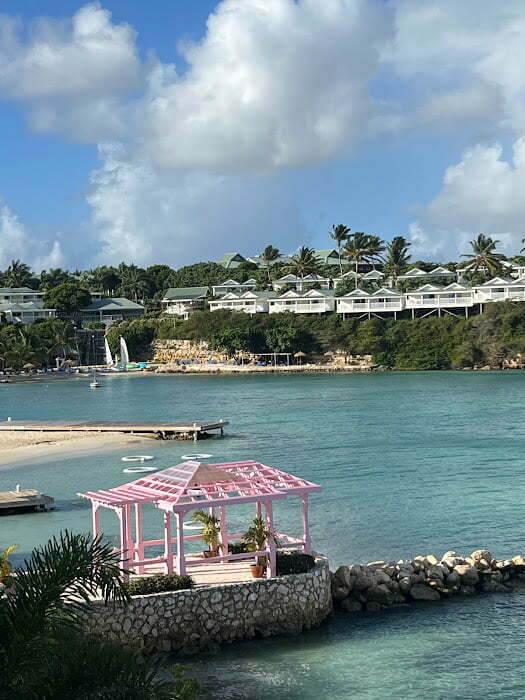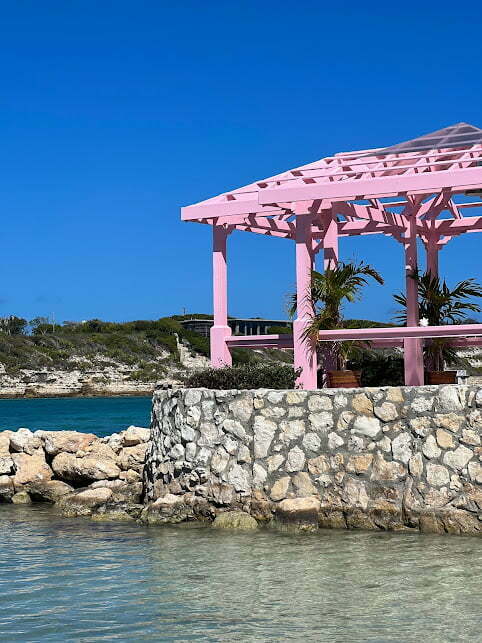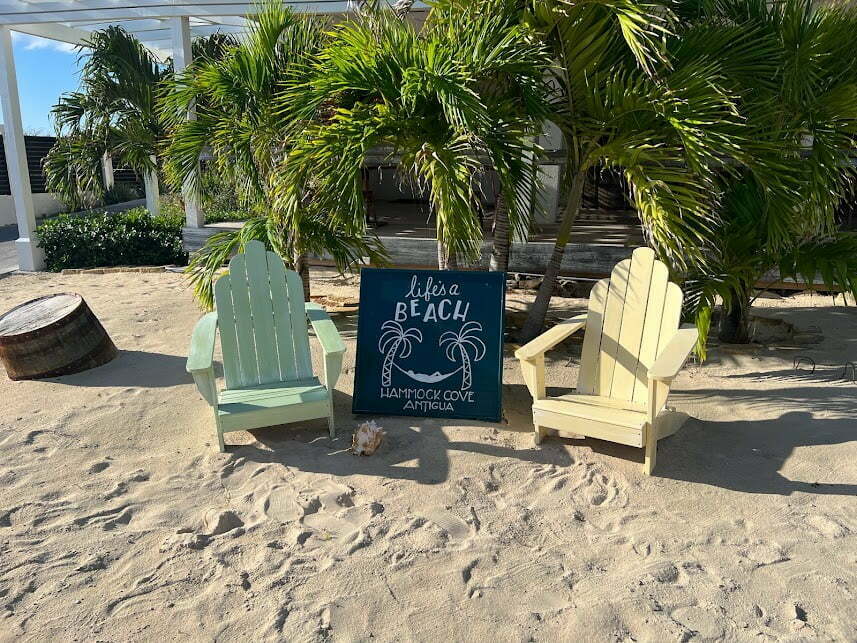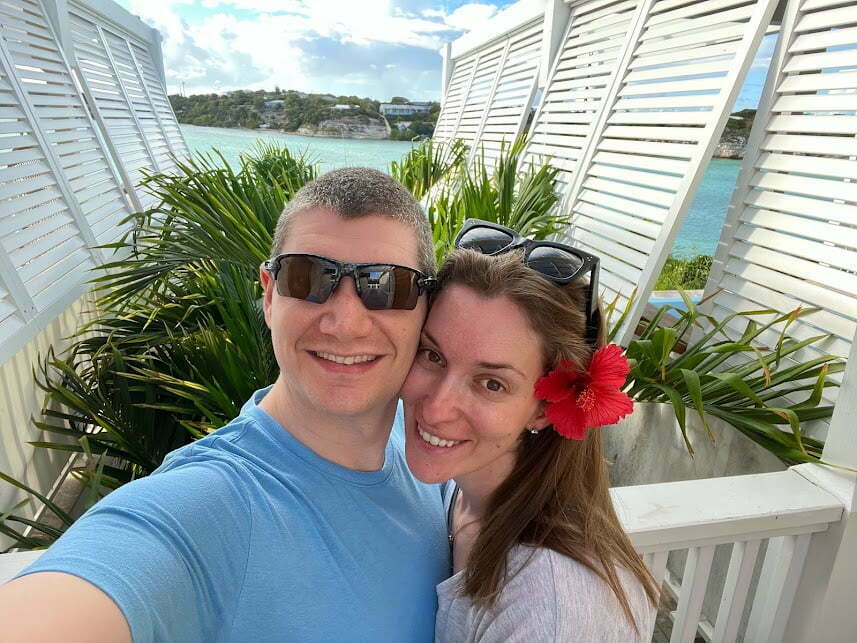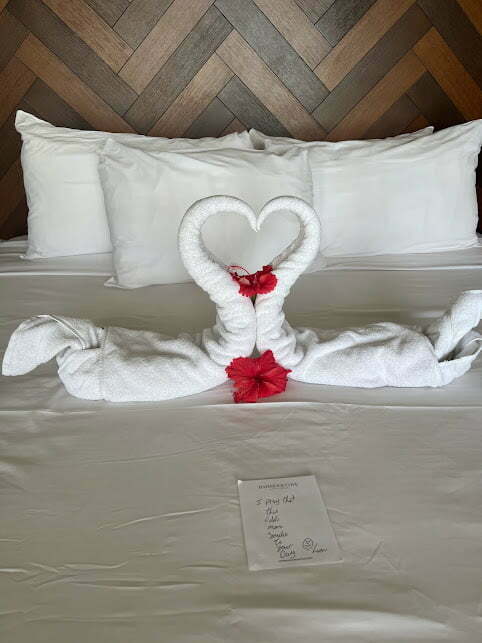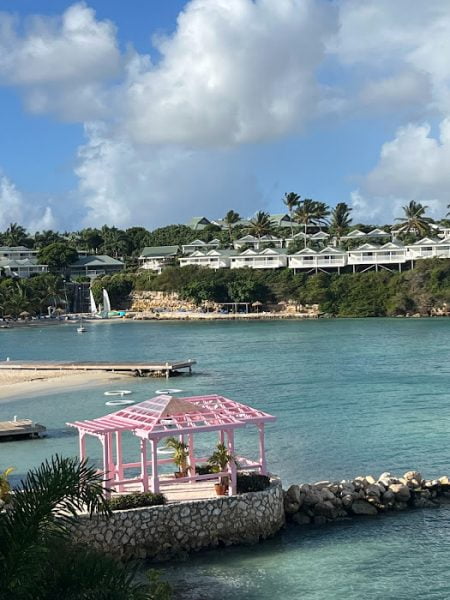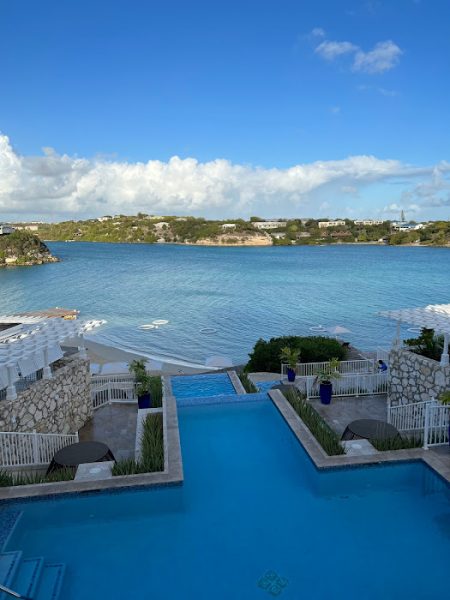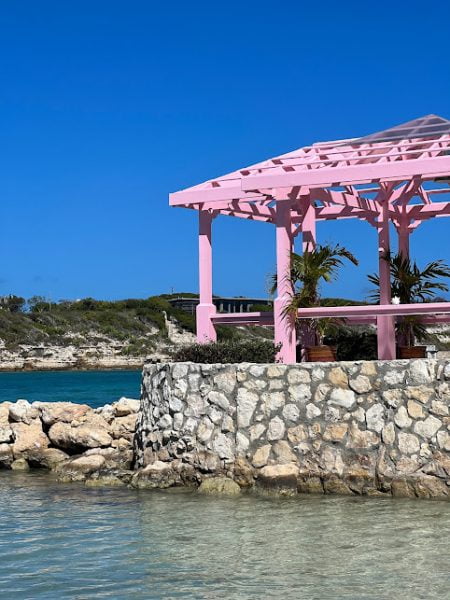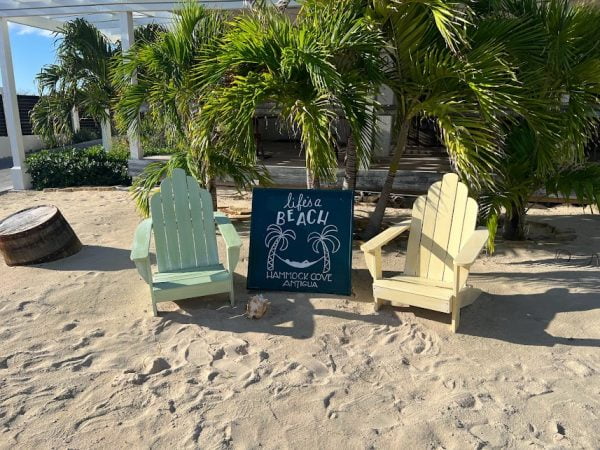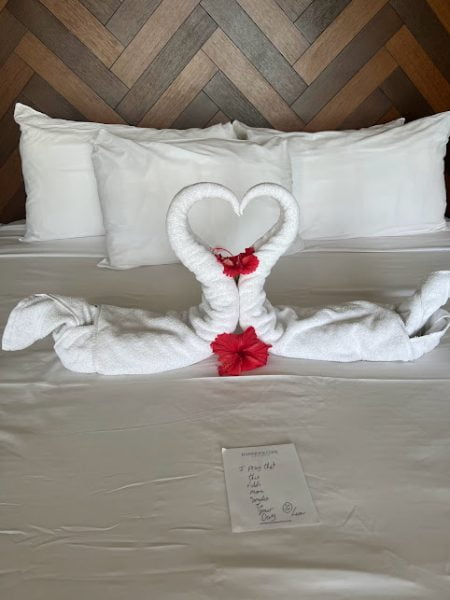 The Food:
The food was good! I wouldn't say it was the best food I have ever had but it was definitely good. The breakfasts were our favorites, you can pretty much get anything. I always got a smoothie or a juice with breakfast too! The bread basket was the best. Lunches we always ate by the water. There was a daily lunch menu with things like burgers, pizza, salads, etc. One of the days they had a bubbles and oysters lunch. They also have BBQ lunch days as well. These things are separate from the menu. Dinners we ate one night in our room, one night at the more relaxed restaurant, and every other night at the fancy restaurant. One of the nights they do a 7-course dinner which was really fun. I had never done that before. You can also opt for a wine pairing with dinner.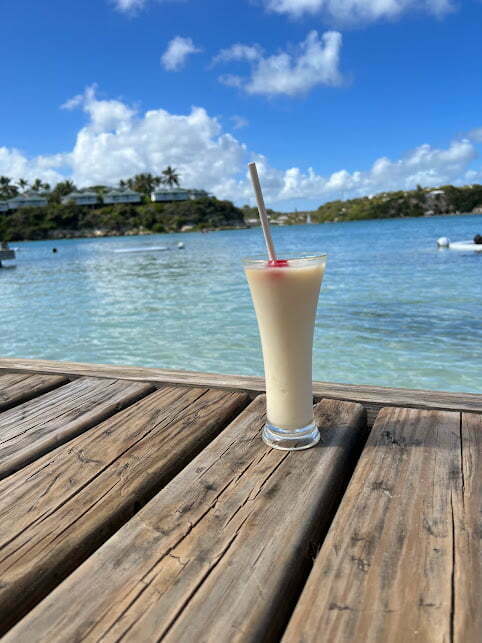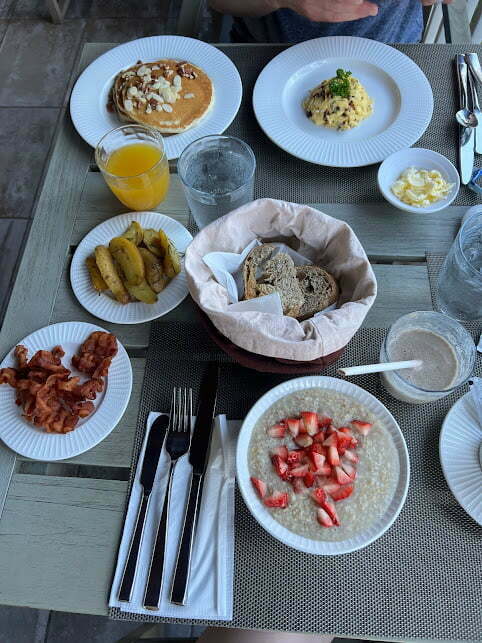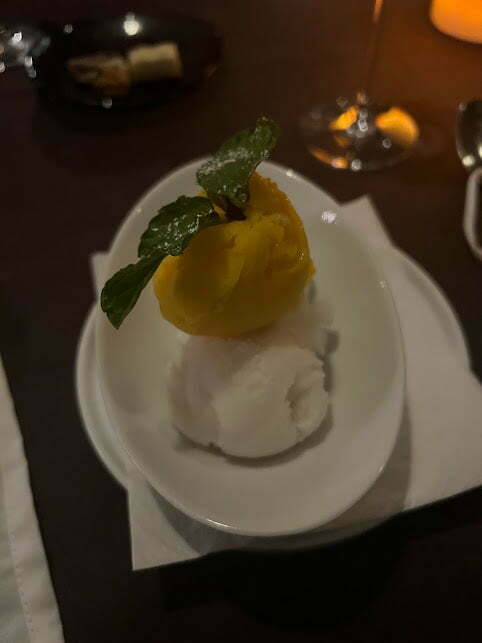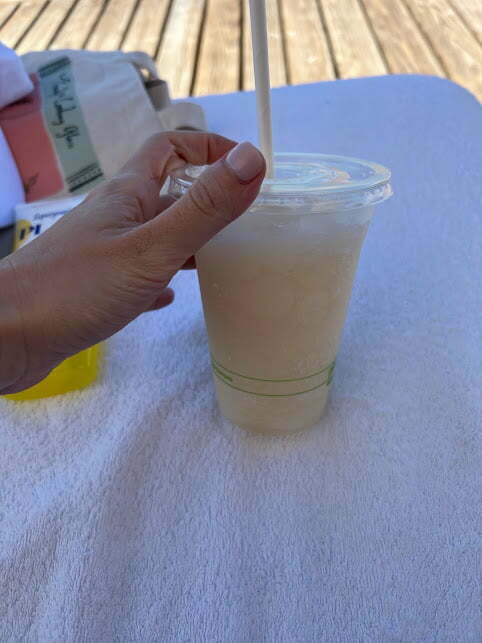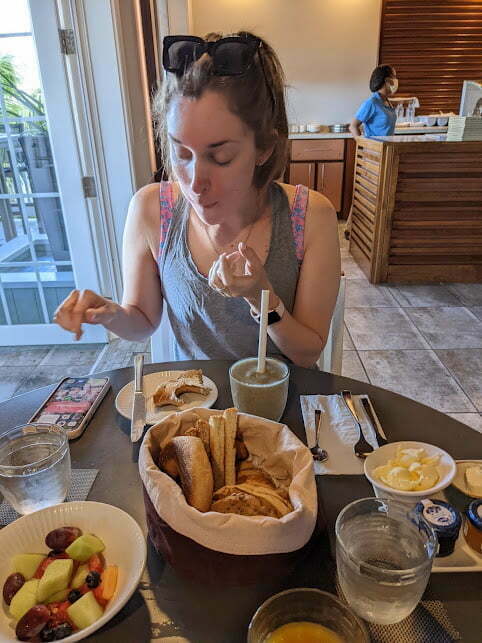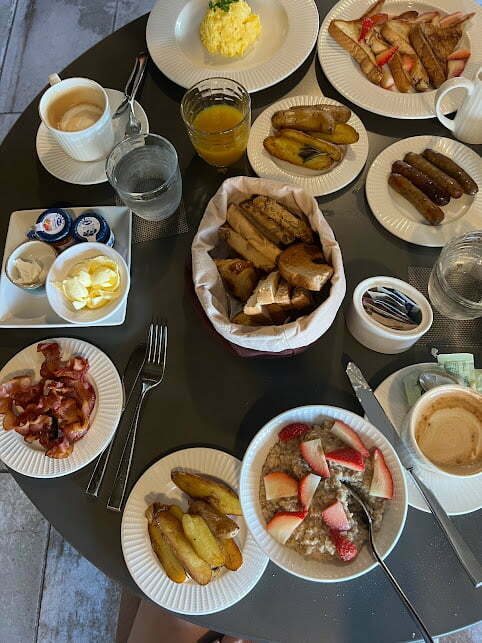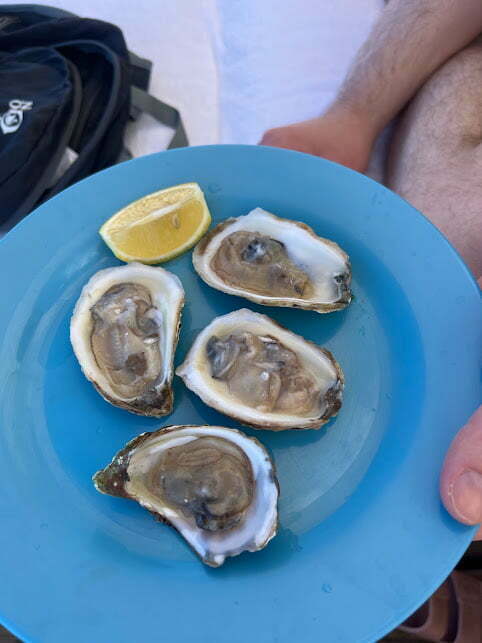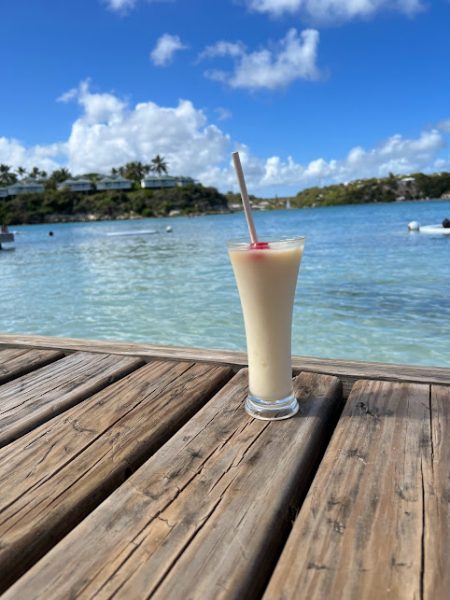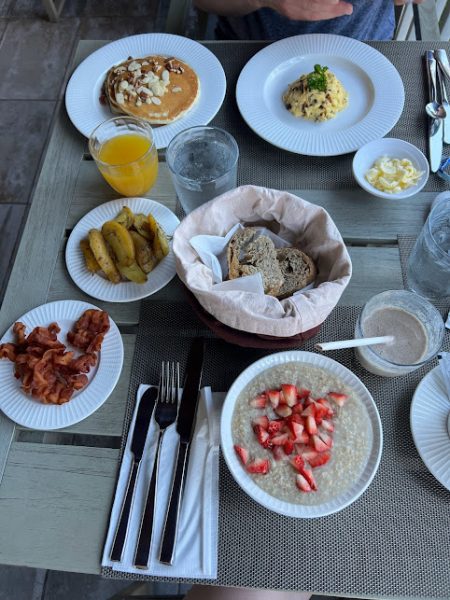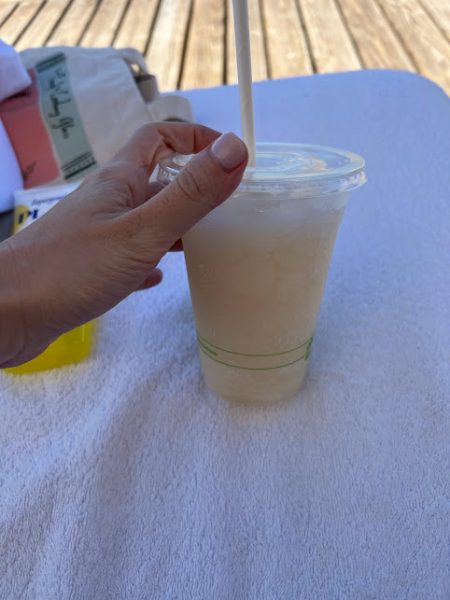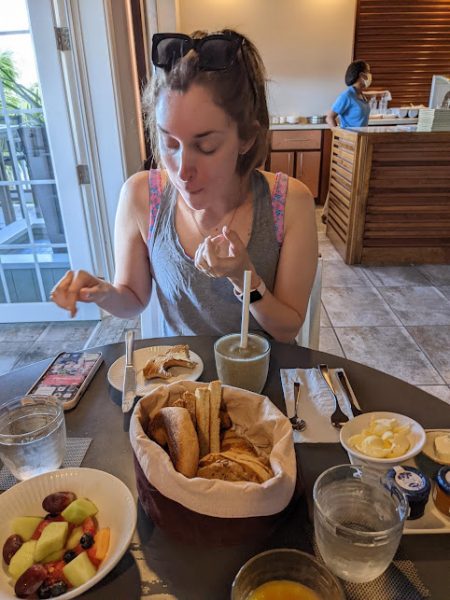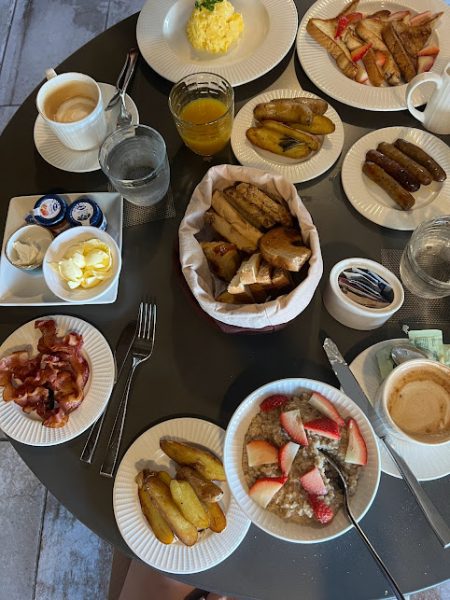 The Activities:
There is a TON to do there. Not only is there a phenomenal spa (get a 90-minute massage), but the gym is also wonderful and looks over the water. Then there are tons of water sports: kayaking, snorkeling, paddleboarding, sailing, paddle boats, fishing, etc. We went Kayaking a few times which we loved. I wanted to go paddle boarding but never got around to it. Andrew went snorkeling.  There are also lots of things to do inside. There is a game room with records, games, puzzles, etc. Each room has lots of books. You can also do yoga on the beach, and book excursions. One thing we did was go for a hike up to Devils Bridge which is about 2 minutes from the resort. It's pretty cool to see in person.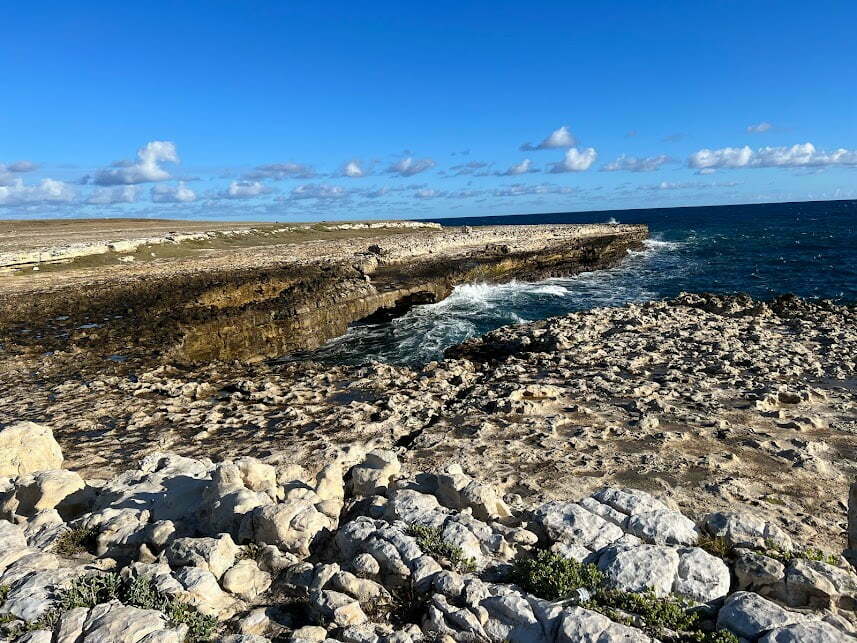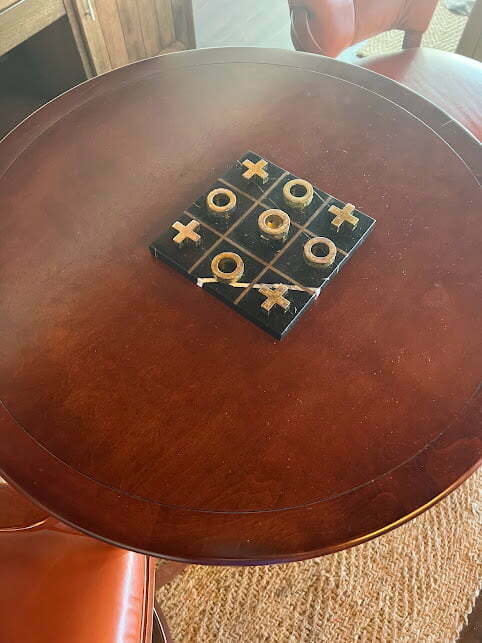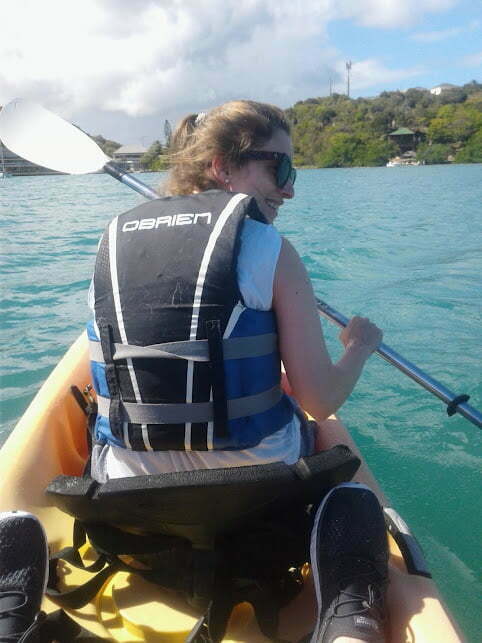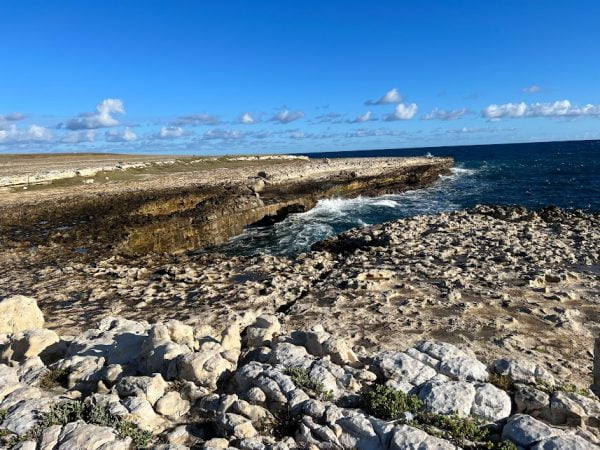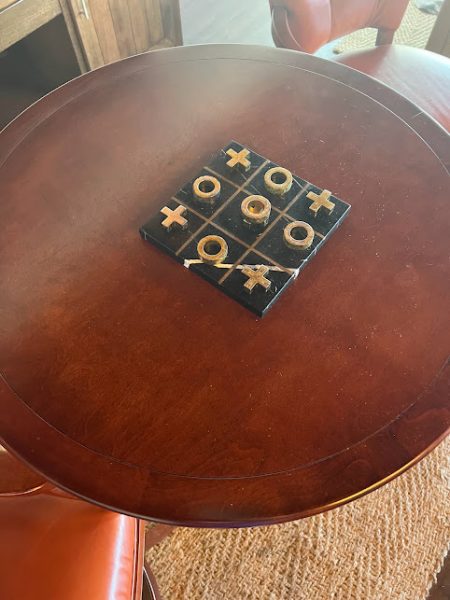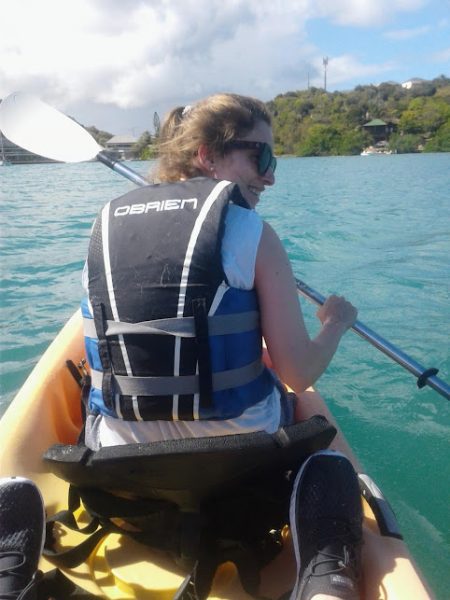 Getting There:
I will say it is required to be fully vaccinated to visit Antigua and Hammock Cove. We also got a PCR test and a rapid test before. We flew from Dallas to Miami and Miami to Antigua. There is no direct flight from Dallas. The travel day is kind of long. It's a total of about 8 hours of flying, plus airport time. Once you get to Antigua you go through customs and a Covid screening. Then it's about 40 minutes to the resort. We did book a concierge service to get us easily through customs and then have a car ready and waiting to take us to the resort. I highly recommend doing this. They also pick you back up from your resort and drive you back to the airport the day you leave.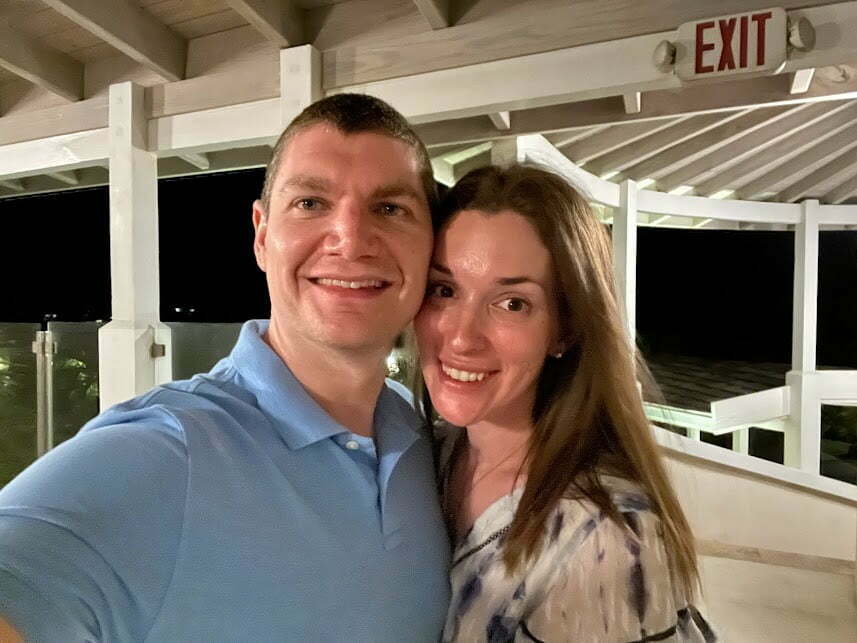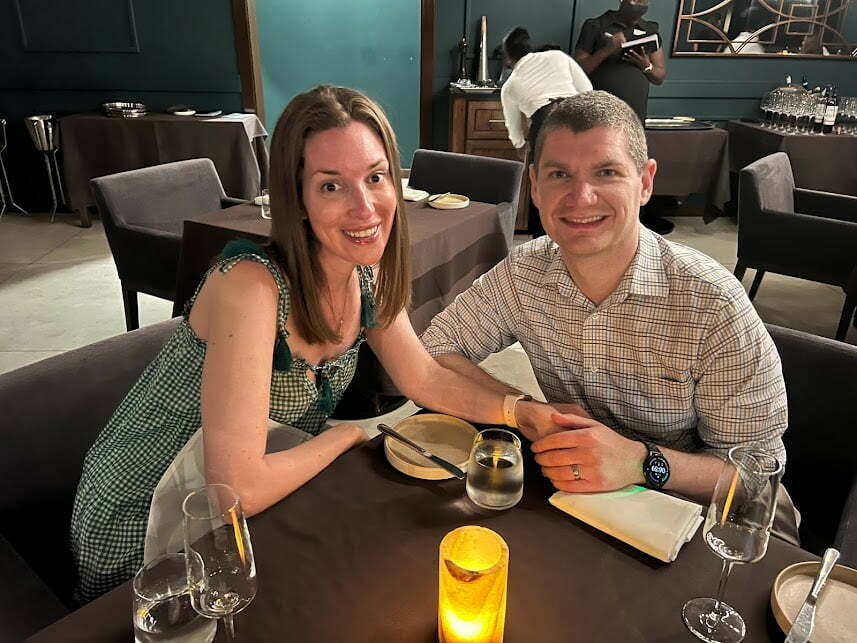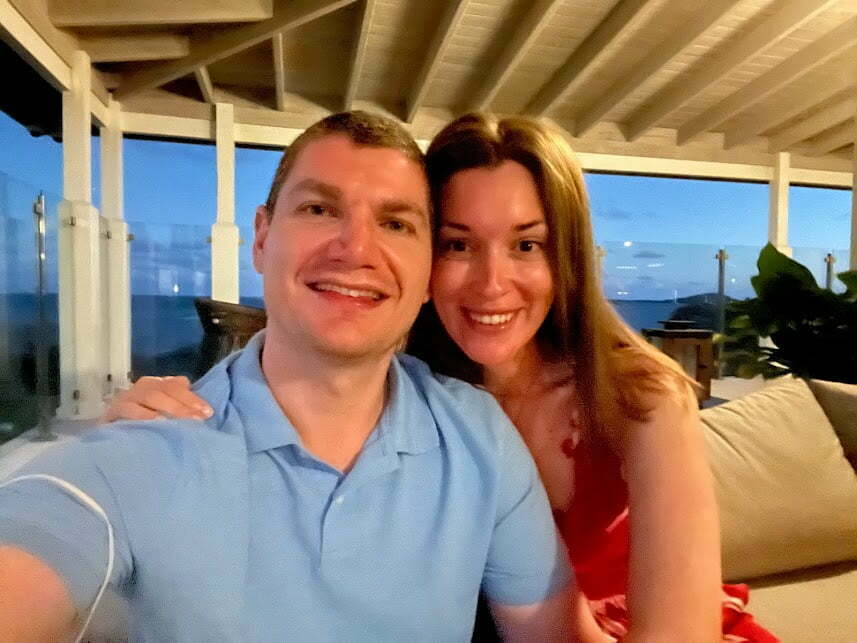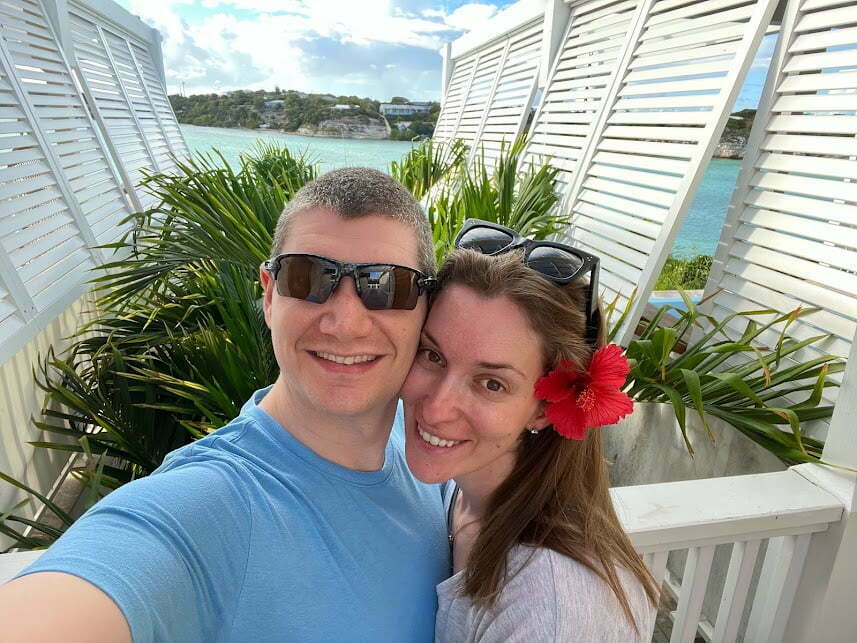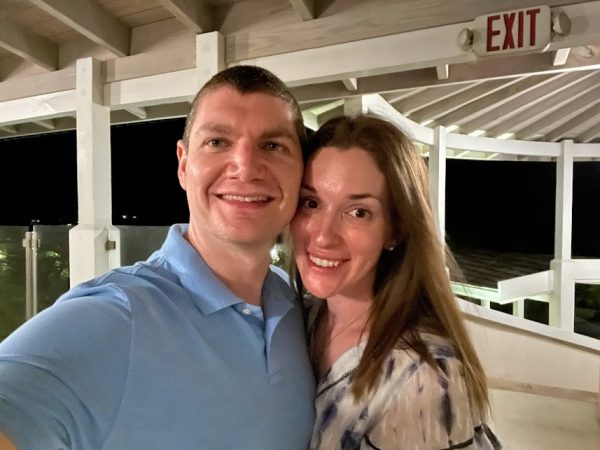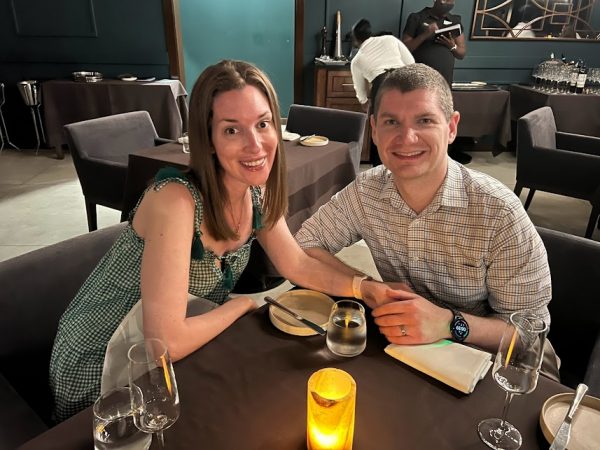 This is for sure a place we will visit again. In fact, we may go back next January. I 10/10 recommend a beach vacation when it's freezing cold back home. This resort is absolutely worth the money, and the long travel day.
Have you ever been to Antigua?