If you recall I did a post about our closet organization experience with The Neat Method. Well that really inspired me to try to do our pantry on my own! Our pantry is incredibly small but has a ton of shelves and space for all we need. Sure I would love to have a walk in pantry but honestly I think I would make a bigger mess. I know that organizing a pantry or any space can feel daunting, but I did all of this over a few hours (mostly during Liam's nap one day). Pantry organization for a small pantry is absolutely key to it being functional.
How To: Pantry Organization For A Small Pantry
Step By Step:
First I took every single thing out of the pantry and put it on our island. I threw out anything expired, that looked gross, or that we did not use.
Then I organized everything into categories and section (Kids snacks, our snacks, baking, oils, breakfast, canned goods, etc).
I used these clear bins and put things in them according to category. I also took things like crackers out of their boxes that take up a ton of space and put a clip on them to keep them fresh.
On the very top shelf I put the items we don't use as often (mixes, oils, specialty items). Then on the next shelf are items we use a ton for weekly meals (rice, ketchup, BBQ sauce, tomato sauces, etc). The next shelf has mostly snacks for us, things I use for Kids' lunch, nut butters. Then there is a shelf with Kid's snacks and other things we use pretty often, protein bars. On the bottom shelf are things like foil, parchment paper, plastic wrap, cereal, oatmeal, flour, etc. On the very bottom on the floor I use these baskets for paper plates and napkins (on basket) lunch boxes/small travel coolers in one basket, bags we keep to reuse and extra food items like apple sauce, cereal, and soda for Andrew.
We ended up with about 4 trash bags full of stuff that needed to be thrown out. We can also now see everything and know where everything is. Now that it's organized this way it's very easy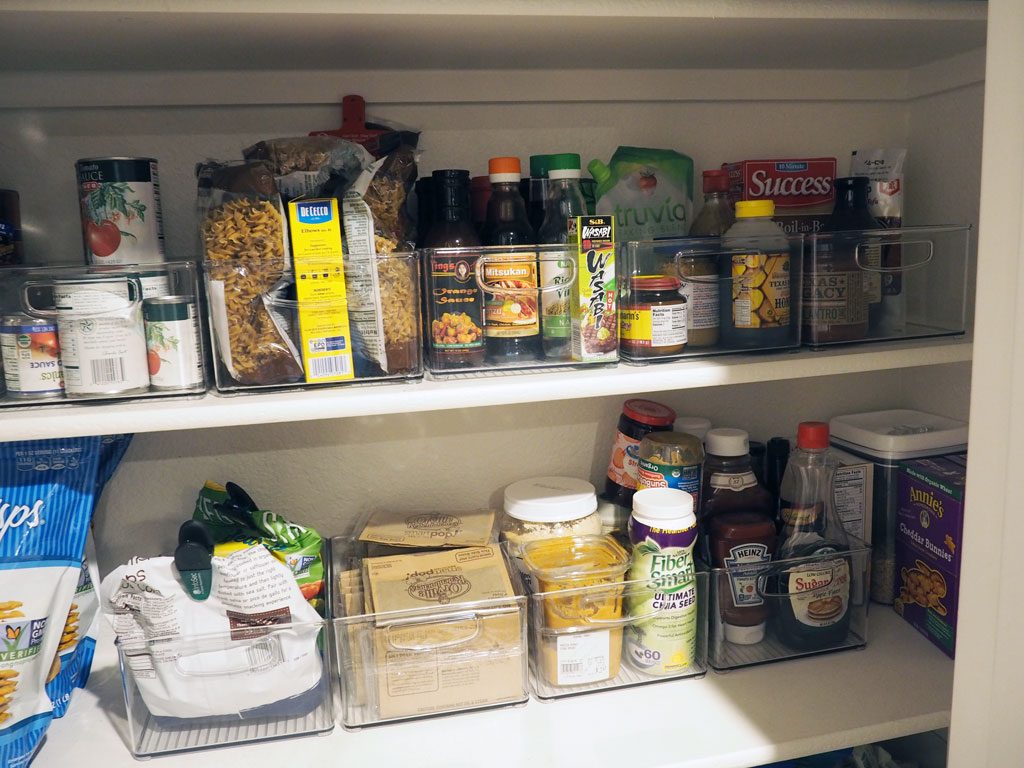 What I Used:
I really only use two NEW things but I did have some of this already.
Before and After:
I really can't thank Valerie with the Neat Method enough for inspiring me to do this. I really need to convince Andrew to let her come do our playroom and kitchen! They both need major help!
This post was originally published in 2019 and has been updated for 2021