When Liam started preschool I remember being so overwhelmed thinking of lunch ideas. I mostly would send the same thing every day. But as kids do they get sick of things and honestly they just need variety. These simple and stress free kid lunch ideas save my sanity and save my kids from food boredom!
Simple and Stress Free Kid Lunch Ideas
How I plan:
Every Sunday I sit down and map our meals out for the week for lunch and dinner. Mostly so I am not blankly staring into my fridge trying to decide and also so we can grocery shop. I have the list of proteins, veggies, fruits, and carbs and I basically just mix and match them up for the week. Just making sure I am not doing the same thing two days in a row in any area and that I give them a good variety.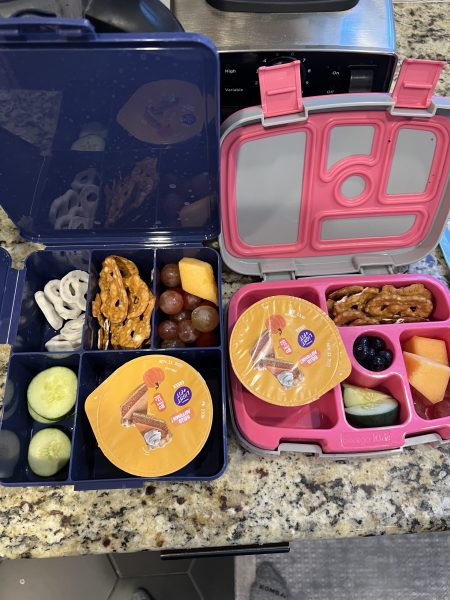 What we alternate:
Proteins: Peanut butter  (wow butter for Charlotte) and either jelly sandwiches or on crackers. Hummus, hard-boiled eggs, turkey bacon, yogurt, turkey.
Veggies: I try to cut them into shapes using these veggie cutters which I do think somewhat helps! We do carrot sticks, cucumbers, bell pepper slices, frozen edamame, and cut-up celery.
Fruits: My kids will literally eat any fruit but mostly I do blueberries, strawberries, watermelon, grapes (sliced), tomatoes (sliced), cantaloupe, oranges, and pineapple.
Carbs: I alternate between a few that I know they love; pretzel crisps, snap pea crisps, pirates booty, goldfish, and veggie straws.
Do my kids eat it:
Honestly yes most of the time. There will be days when some stuff comes home for Liam and it's rare Charlotte finishes everything but they are both decent eaters and they also get snacks at school. The main thing for us is to give them variety. We also kind of go on the philosophy of we decide what and when and they decide how much.
What are some of your go-to lunch ideas for your kiddos?