Oh summer reading. Do you remember when that just made your skin crawl? Now it's like a little luxury we can't wait for. Reading by the pool, on a beach, or in the comfort of your home. Not much like it. I have an amazing summer reading list for you guys full of stuff I've read or plan to read this summer.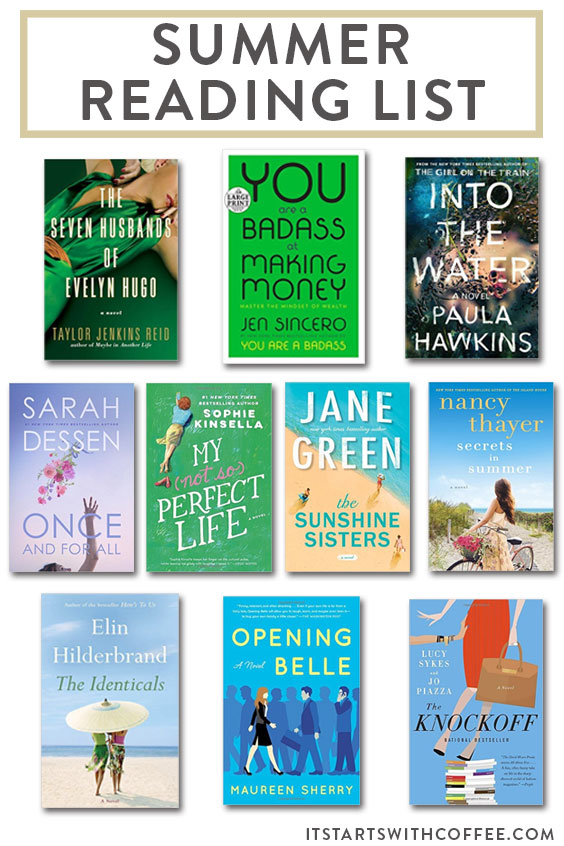 Summer Reading List
It's very rare that I share a book list and don't mention Taylor Jenkins Reid. I was sent an ARC of The Seven Husbands of Evelyn Hugo back in January. Yes January! I devoured it in a weekend, which is basically what I've done with all of her books. It was SO GOOD. The premise is very Liz Taylor and the story will capture you from the beginning. It's out in June so preorder for sure!
If you enjoyed You Are A Badass you will love Jen's new book, You Are A Badass At Making Money. The perfect book for your inner girl boss!
I literally JUST read this book this weekend. If you loved Girl On The Train I have a feeling that Into The Water will be your jam! I am not usually a creepy mystery kinda person, but I love Paula Hawkins books!
Sarah Dessen is one of my favs and her new book out this June, Once and For All has been preordered for a long while! Can't wait to dive into it in a few weeks.
It had been a LONG time since I read a Sophie Kinsella book but I picked up My Not So Perfect Life recently. It was OK. Not my favorite of her books but not my least favorite. It's an easy and quick read.
The Sunshine Sisters by Jane Green has been on my must read list for a while. I have never met a Jane Green book I didn't love so I can't wait till this one appears on my iPad soon. It's out in a few weeks, so if you are a Jane Green lover, keep an eye out.
Nancy Thayer's new book, Secrets in Summer is actually out this week but I read it a while ago. It's REALLY good and will have you hooked from the beginning. Plus, who doesn't love a book that takes place in picturesque Nantucket? So for sure pick this one up!
I am a HUGE fan of Elin Hilderbrand books so I have no doubt that her newest one out next month, The Identical's will be great. If you have liked her past books maybe check this one out. I will report back!
I read Opening Belle in a newborn haze but it was the perfect read for middle of the night feedings. It kept me interested and awake. It's about a Wall Street exec and gives you a peak into what it's like to be a woman in that world and also have a life at home.
The Knockoff has been sitting on my iPad for months and I can't wait to read it. It is right up my alley so I will let you guys know how it is! The cover sure is cute though!
I would love to know what books are on your summer reading list! Share below!