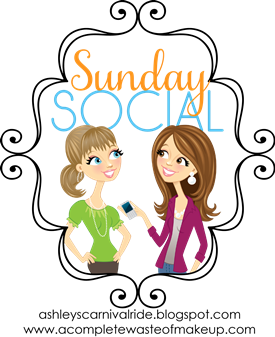 Sunday Social time y'all! Come play along with Ashley and I!
This weeks Questions: All about our Childhoods

1. What was your first car? 2001 Toyota Solara 2 door little white beauty…loved that car
2. Who was your favorite childhood teacher? Mrs Weaver first grade. We are still close. WE text
3. Were you involved in any sports/extracurricular activities? Share pictures if you can! I was a cheerleader, Student Council Officer, Class Treasurer, Key Club President, played some sports, did some dance..you know the usual for an over achiever
8th grade dance…find me

4. What was your favorite birthday party? My third…pony, clown(shudder) magic show, cake…mom with a fro…


5. Who was your teen celebrity crush? Brad Renfro RIP

6. What show/movie did your parents not allow you to watch? American Beauty I was 12 when it came out…Ive still only seen it once.
Next Weeks Questions: All about VD you know Valentines Day
1. Best Valentines Day you've ever had
2. Worst Valentines Day you've ever had
3. What did you do for Valentines this year?
4. Best Valentines Idea if you're single
5. Favorite Valentines Candy?
6. Favorite Valentines Memory from your childhood
Link up and hang out with Ashley and I today!