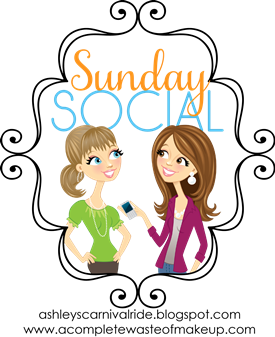 Happy Sunday Social Sunday and Oscar Sunday! My most favorite day of the year…rather one of them.
Tonight of course is Red Carpet awesome Oscar night! But first Sunday Social
This Weeks Questions:
1. Biggest Middle school fashion mistake: Probably waaaaay to big bell bottoms when they came back in style…no I will not share pics
2. Who were your best friends in hs? Pics? Kelly, Erin, Whitney, Laura, Jordan, Hannah and Laura…they were the ones I was usually with.


3. What was a typical weekend like for you in hs? Football games, going to Snuffers or Chili's with friends, seeing a movie that was PG13 or trying to sneak into an R rated one, hanging out with boyfriends, parties etc.
4. Did you have any boyfriends/girlfriends? Tell us about that. I had lots my nickname from a friend was fickle pickle cause I could never make up my mind about guys. I had 2 semi serious long term boyfriends in high school.
5. Did you have any secret codes with your friends? Spill your secrets! Secret codes no…one friend and I had a spiral we would write notes to each other in and trade between classes since she was a grade older we never had class together.

6. If you could relive one day/moment/experience from middle school or high school, what would it be? Oh gosh probably cheerleading tryouts….I was so shocked I made it!
Next Weeks Questions:
1. 5 songs you'll listen to the rest of your life
2. 5 things on your bucket list
3. 5 celebs you'd love to hang out with for a day
4. 5 things you always carry on your purse
5. 5 books on your reading list
6. Share the last 5 pictures on your phone