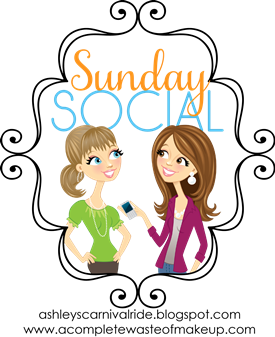 Hey Y'all Happy freezing cold in Texas Sunday to you!
I hope you have had a lovely weekend 🙂
Mine has been very relaxing and productive!!
Its Sunday so lets get Social
Today's Questions are all about Halloween so lets get to it!
This Weeks Questions:
1. What was your favorite halloween costume as a kid?(pictures??)  Sadly I will not be posting pictures of this but I think my favorite costume was going as a princess…I did this 4 years in a row. Also in 4th grade I was the Devil….just saying.
2. If you could go back and dress up as something what would it be? The Pink Power Ranger…my mom never went for that idea.
3. Favorite costume as an adult?(pictures) Oh for shiz 2010 when I went as a Teen Mom
4. Favorite Halloween Candy? Mini snickers or mini reeses peanut butter cups 🙂
5. Favorite Halloween Memory? In 9th grade there was a fun Halloween party at my friend Chases house…it was the first big high school party I went to and it was really really fun! Other than that a few years ago when I went as Twister…at the time it bothered me that guys kept coming up to me and saying right hand red and grabbing me but now its kind of funny…and still sexist.
6. Whats your favorite scary movie? Oh gosh I am not a scary movie person but I love campy movies like Scream, Halloween and Friday the 13th. The ones that are supposed to be scary but really really are not at all!
Next Weeks Questions: 
What is currently on your wish list?
Share a new iphone, droid, ipad app you have recently discovered that we all need
What is a new Fall TV show you have added to your DVR?
Share your Social Media links for us to follow you on(pinterest, twitter, facebook, etc) Tell us which is your favorite and why
What is a TV series or Movie or Song you could listen to or watch over and over and over and never get tired of…feel free to name one of each