My Current Eyeliner Sponsor: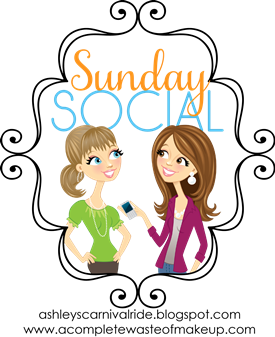 Hi guys happy Sunday Social day!
This Weeks Questions:
1. What were you like in middle school and high school? semi popular, a cheerleader, involved in tons of activities, always with friends, pretty good student, had boyfriends…typical teenager.
2. What were your favorite pastimes? Driving around "the square" with my friends drinking Starbucks of course.
3. What songs were you obsessed with? Backstreet Boys, Britney, Dixie Chicks, Anything popular on the radio or anything heard on Dawsons Creek
4. What fashion statement do you look backing and cringe? tiny shirts with big jeans and bell bottoms oh god …and doc martins ….butterfly hair clips or anything in a Delias or Alloy catalog…yikes

5. Who was your celeb crush? Nick Carter and Joshua Jackson(joey didnt deserve Pacey!)

6. What was your favorite movie? Never Been Kissed, Wedding Singer, Save the Last Dance, the Scream Movies

Next Weeks Questions:
1. What is the first blog you ever followed?
2. What was your first blog post about?
3. Who left you your first blog comment?
4. Who was the first blogger you ever met in person?
5. what was your first "blogging milestone?"
Come link up with us and make new friends! We love seeing the connections formed through Sunday Social!